Just as South Indians are busy celebrating
Navarathri
during this time, so are the North Indians with their
Dussehra
. The plethora of sweetmeats during this time is countless and if you have a sweet tooth, then rest assured, you would find yourself in a candy heaven :) The decorations and processions during this time for
Goddess Durga
is something which you have to see to believe. It would bring goose pimples and is guaranteed to bring that awed look on the onlookers eyes - irrespective of how many times they might have witnessed it. Here is a video about Goddess Kali (another form of Durga) that has a beautiful devotional song playing in the background. The flute is amazing. It explains more about the Goddess. One of the sweet dishes which is like a must for the festive occasion on the Northern parts of India, esp. in the Maharashtrian household are these
Besan Ladoos
. The term "
Besan
" in Hindi denotes Chickpea flour and "
ladoos
" are Indian way of representing sweet balls. If the balls are savory, then they become Koftas ;) These ladoos come under the category of the rare 'get's-done-in-a-jiffy" sweets with not so many complication involved in making them. Just few guidelines and you should be good to go.
I am usually more comfortable with Baking than Indian sweets and on the grounds that the Baking science is explained well while its not really put in words w.r.t Indian traditional sweets. Habit and constant practice make some women (or mm..men ) dish out some amazing sweets but ask them why and how you do so and so in that recipe the answer from most of them would be "well, that's how it is". They work on eye balling the ingredients and can work on the basis of the just eye measure and smell! Imagine that! So for people like me, the result is usually associated with the term 'disaster' and in my small amateur kitchen with no expert body verifying if my so called eye balling and gut instincts make any sense, the end result is not always "sweet" (pun intended!)
But for this one, I will tell you what you can and why you can do so and so to make the ladoos look and taste like one :). One simple aspect to look out for is roasting the flour well until the rawness goes away. That done, the ladoos are a breeze and addictive.
References
this recipe was given by my maharashtrian friend whose mother made some amazing out-of-this-world besan ladoos ever! i have made v subtle changes from the various recipes i saw on the net.
Basic Information
Yield
:
Makes 15-20 ladoos depending on the size
Ingredients
1-1/2 cups Besan (chana flour available in Indian Stores)
4 tbsp Sooji / coarse Semolina for giving texture - not flour. (Optional. Instead replace with chickpea flour to make this recipe gluten free)
1/2 cup Ghee (clarified butter)
3/4th cup sugar
1 tsp Cardamom powder
4-5 tbsp almonds
1 tbsp raisins
Method
1
Method - 1 (For a little more experienced cooks Chop the almonds coarsely. Set aside.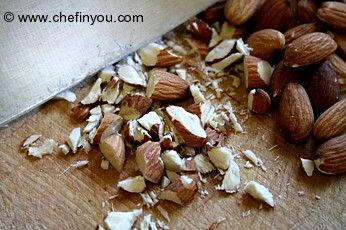 2
First warm the ghee in low heat. If it is solidified, then it will melt. Don't overheat. Warming it is enough.
3
Note: Ghee is essential to this ladoo for 2 reasons - for adding flavor and as a binding agent. In a bowl, sift the chickpea flour.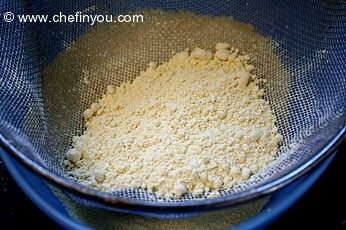 4
Note: I find that mixing the flour later after sifting is much easier and also avoids lumps. Add the semolina and the ghee.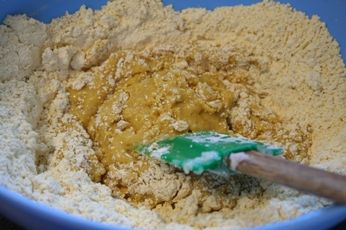 5
Mix well until well combined.
6
Take a pan (non stick works too). Drop the mixture and keep the heat in low-medium heat. Now comes the essential part. Roasting this mixture takes anywhere from 10-15 minutes depending on the heat.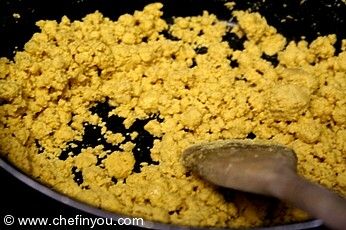 7
Note: Purpose for doing this is to get rid of the rawness of the chickpea flour. You know it is ready when your whole house is filled with sweetish aroma of the roasting chickpea flour. There won't be any change in color hence keep your nostrils vigilant and stirring actions continuous. You don't want to overheat the mixture (if you increased the heat to avoid constant stirring ;)) - the mixture will become v dry.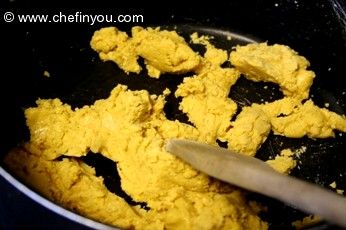 8
Method - 2 (For beginners / those trying this for the first time ** UPDATED **
I thought I will update the post with this too after
Priya's comment
reminded me of what my mother used to do. My mother instead of heating the chickpea flour,semolina and ghee mixture, would first dry roast the chickpea flour first until aromatic. Only after it wafts up that incredible sweetish aroma would she add the Ghee to it. Rest of the process is all same. Only difference is roasting the chickpea flour before hand and then following up with adding rest of the ingredients. Note: You don't have to use Semolina in this method (my mother never did) but if you are going to, then toast the semolina separately too!
***************
Meanwhile in the same pan (where you melted/warmed ghee), toss the raisins. If there is no ghee, add a little to help the raisins plump up. Set aside.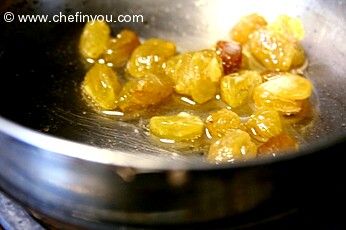 9
In the same pan, add the almonds and toast them for 1-2 minutes. Set them aside.
10
Now Remove the Besan mixture from heat and set aside in a bowl to cool.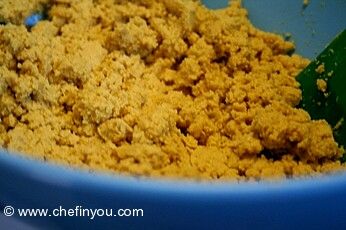 11
Note: When I say cool, I actually mean cool down to warm from hot. Now add the sugar,cardamom and half of almonds to this mixture.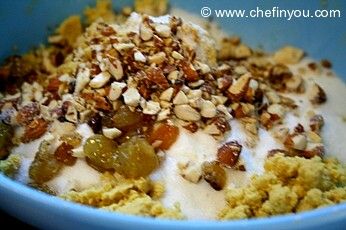 12
Note: The chickpea flour should be warm and not cool. We require the mixture it to be warm since this warmness will help the sugar to melt a bit thereby binding the flour - enough to bind it into ladoos. Take a little of the mixture in your hands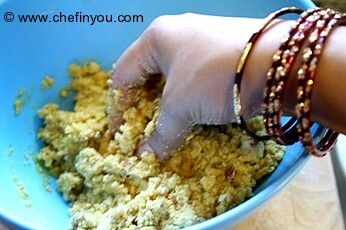 13
Clump your hands with the mixture to tighten it.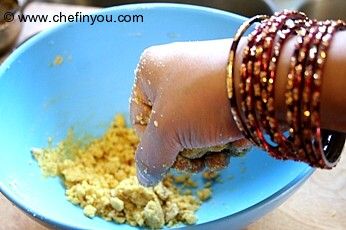 14
Slowly using your inner palm, rotate it to make small balls.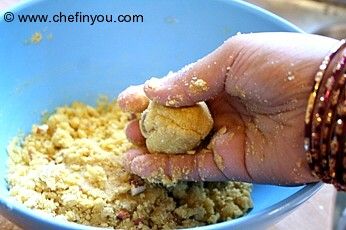 15
Though the mixture will not look sticky enough - it will get together to form beautiful ladoos.
Depending on the shape of your ladoos - this mixture makes anywhere between 10-20 ladoos.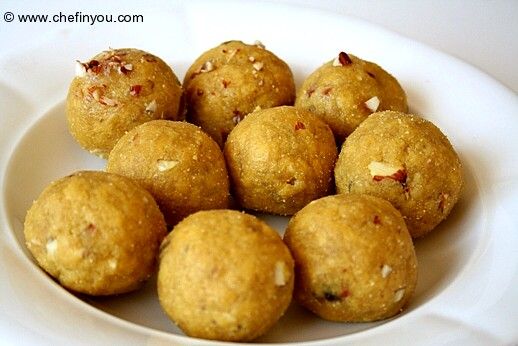 Related Recipes You May Like
Did you make this recipe?
Please click below to share your experiences while you were making this recipe. Thanks for your input!
Have a favorite recipe?
Know a family recipe your mom used to make? Or maybe a go to recipe that works everytime? Share it with your fellow foodies!