Oven Roasted Fingerling Potatoes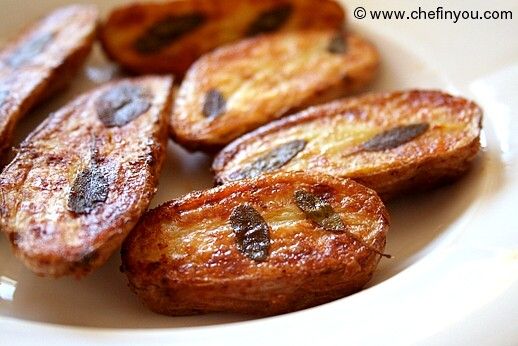 Who doesn't like potatoes? I am a die hard fan of this root vegetable and find it immensely versatile in my cooking needs. Roast it, grill it, bake it, mash it, steam it - everything and almost anything works with potatoes. I esp. love them roasted and enjoyed them a lot in my growing up years and do so even now. But with growing health concerns and 'looks' conscious world in which we live today, roasting is such a 'taboo' word. With heavy heart, I bid adieu to roasted potatoes at some point in my life. But with the advent of Oven in my life, things have been quite hunky dory in my kitchen. I have started dreaming as well as enjoying roasted potatoes again, of course with so much less oil and fat, that it makes a happy and satisfactory splurge.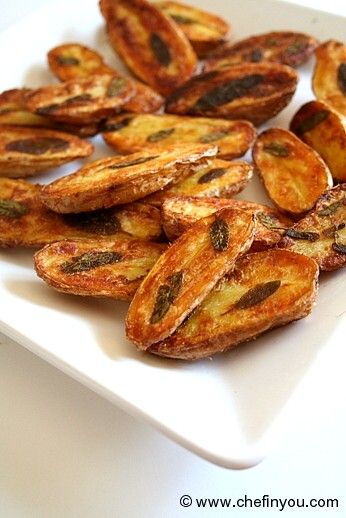 This post has been lying around in my drafts for a while now - I was in my usual grocery shopping when these immensely cute fingerling potatoes beckoned me. Chopping and cooking fingerling potatoes is a sin! They are made to be roasted. These crunchy bites are the thing to uplift your moods as well as that damp weather. I made these crispy and spicy oven-roasted potatoes encrusted with sage leaves from my garden. I adapted this recipe from 'Better Homes and Garden's magazine which published an 'Appetizers' special.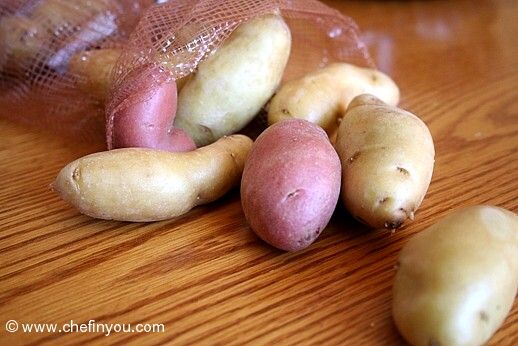 I added Indian spices to it - little pinch of Garam Masala, Red chili powder and a dot of turmeric to heat up things a bit. You can add any seasoning of your choice. I have eyeballed the measurements - they are not at all complicated to mix and match things suited to your needs and taste buds.
Ingredients
About 15 fingerling potatoes
1 tbsp Olive oil ( little more or less depending upon the size of potatoes)
1/4 - 1/2 tsp Garam Masala
1/2 tsp -1 tsp red chili powder, as per taste
pinch of turmeric powder
about 30 fresh sage leaves
salt to taste
Method
1
Preheat Oven to 425F. Line a baking sheet with foil or parchment paper. Grease the foil lightly with PAM spray or oil. Cut the potatoes half lengthwise. Place them in a bowl and add the seasoning to it. You need just enough oil to coat the potatoes with the spices. For the size I had, I found almost 1 tbsp of oil enough though the original recipe called for 2 tbsp of oil.
2
Now press a sage leaf against the cut side of the potatoes. The oil will help it to stick to its surface.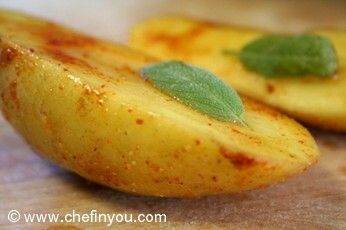 3
Arrange the potatoes on the baking sheet, cut side down.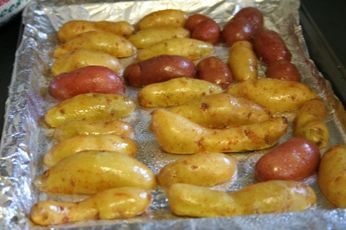 4
Bake them for 15-20 minutes or until tender.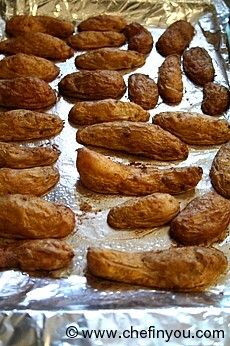 Serve them warm or at room temperature.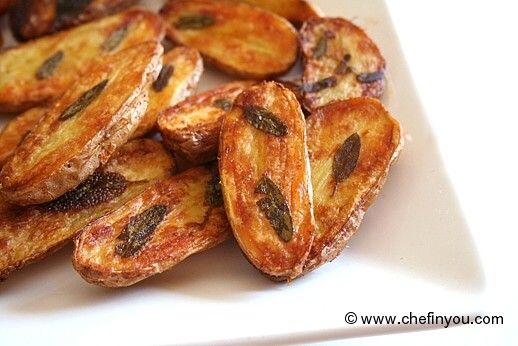 Couldn't have been more simple than this now, don't you agree?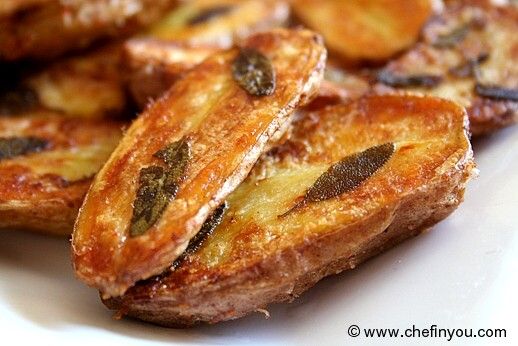 Related Recipes You May Like
Did you make this recipe?
Please click below to share your experiences while you were making this recipe. Thanks for your input!
Have a favorite recipe?
Know a family recipe your mom used to make? Or maybe a go to recipe that works everytime? Share it with your fellow foodies!