I love Kulchas! I just can't get enough of them! The variety of filling one can stuff inside these Indian flatbreads are mind boggling to say the least. These are sisters of the more
famous Naan.
While
Naan
is made with yeast, these beauties are made with Baking powder/soda combo. You can see the difference between kulcha and
Naan
in my
previous Onion Kulcha post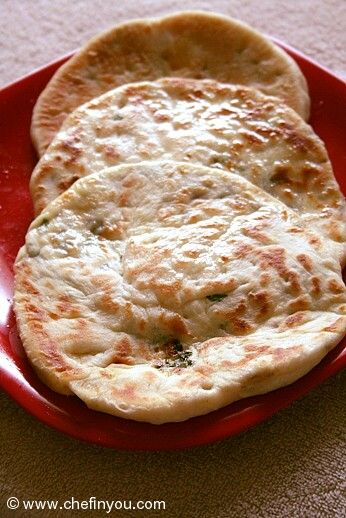 Regular readers know of my passion for
Paneer
and I wouldn't pass an opportunity to stuff some paneer in a kulcha. This version is just adapted slightly from my previously posted
Onion Kulchas
which is the famous one. I add little grated paneer to the onions mixture and that makes all the difference to these kulchas.
Immensely fluffy, soft and bready texture, these I assure you will be a hit in any dinner party. Every time I make it, be it for my family or for friends, the last piece always gets "won" over after some good fighting ;) That's how delicious it is! Its fuss free and makes use of ingredients which are probably lying in your pantry right now! Go ahead and give these a try! Any spicy and light side dish works perfect with these :)
Basic Information
Yield
:
Makes around 10-12 parathas
Ingredients
For the dough
3 cups all purpose flour (maida)
1/2 tsp Baking powder
1/8th tsp Baking Soda
1 tbsp sugar
salt to taste (approx 1 tsp)
1/4 cup oil
1/2 cup Yogurt
1 tbsp Ghee
For the filling
1 red onion (gives a great color)
2-3 green chillies, v thinly sliced (or as per taste)
1/4 tsp carom seeds (ajwain)
1/2 tsp grated ginger
1/4 tsp cumin
1/4 tsp fennel (optional)
1 cup paneer
few sprigs of cilantro, chopped finely
a little salt (make sure to adjust accordingly since the dough has salt too)
Method
1
Place all the dry ingredients for the dough together and mix well.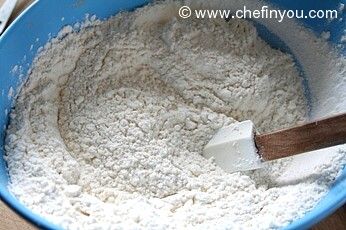 2
Now add the wet ingredients to the dry mixture.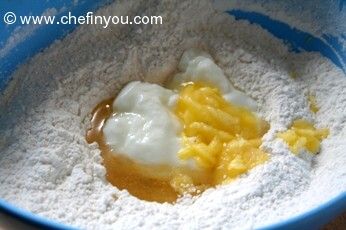 3
Mix well.
4
Place this mixture on a lightly floured surface
5
and knead well for few minutes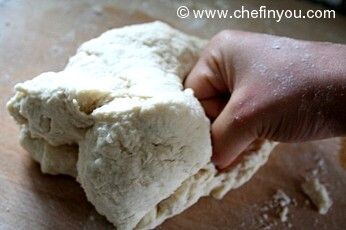 6
until it becomes a smooth pliable dough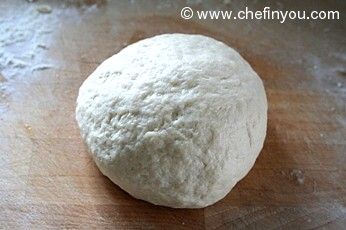 7
Place it in a bowl, cover and let it sit for 1-2 hours.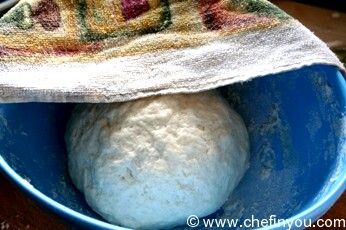 8
Meanwhile mix all the ingredients for the filling together in another bowl.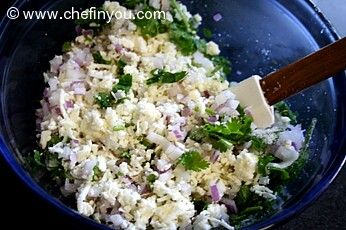 9
After the dough has been sitting for the specified hours, take a small ball and using a rolling pin roll into a very small circle.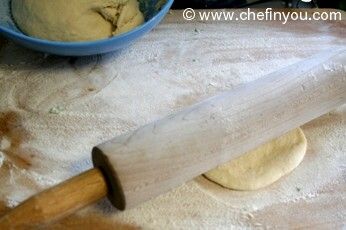 10
Make a small ball of the filling, smaller than the dough circle so that it can fit within the dough enclosing.
11
Bring all the sides of the dough together to the top, covering the filling.
12
Bunch it up together, pinch it so that it closes completely.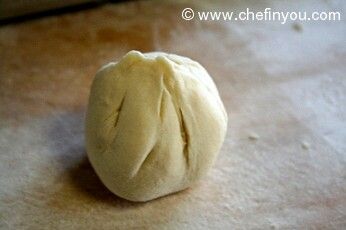 13
Now lightly using your palm, press down the dough.
14
You will see that the seam has almost disappeared.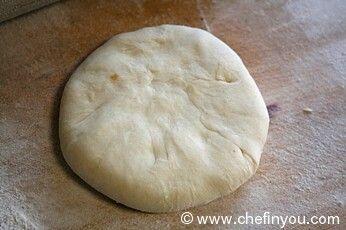 15
Now using a rolling pin, very gently roll the filled dough.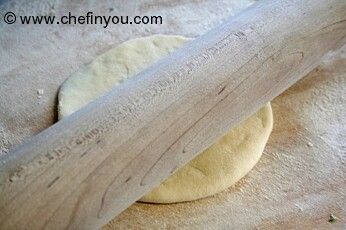 16
Roll it out to a desired thickness making sure that you don't press it too hard and that the filling does not come out of the dough.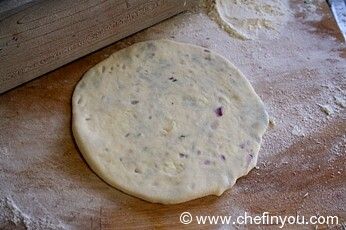 17
Now place this on a greased non stick or cast iron pan and cook until browned on both the sides.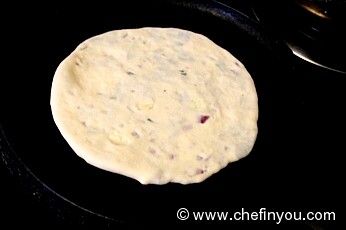 Serve them warm. Can you see the soft and bread'y texture of the kulchas in the picture below? Heaven!  If you cannot serve them pronto, then stack them up and cover them with aluminum foil and re heat them in an oven. Serve them with
Channa Masala
which is usually what Kulchas are enjoyed with. But I have also enjoyed them with
Channa Palak
,
Saag Paneer
,
Dal Makhani
etc. Any spicy gravy based dish would work :)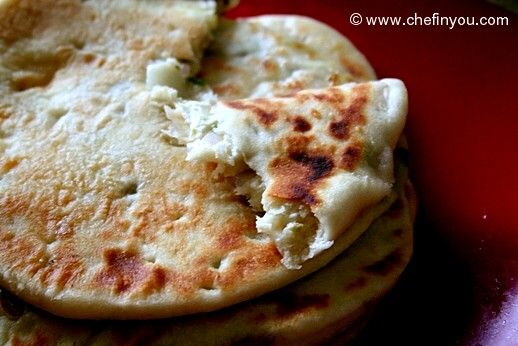 Related Recipes You May Like
Did you make this recipe?
Please click below to share your experiences while you were making this recipe. Thanks for your input!
Have a favorite recipe?
Know a family recipe your mom used to make? Or maybe a go to recipe that works everytime? Share it with your fellow foodies!