Kachumber (cucumber & tomato salad)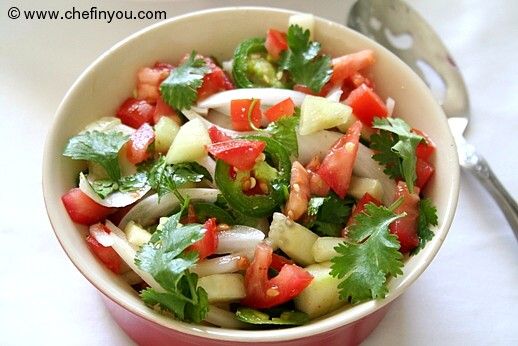 May be few of you can relate to me when I say this - I hate coking for myself. The one common logic that's applied is, if you are passionate about cooking enough to blog about it constantly, then how can you hate cooking. Period. I dunno! When it comes to making anything for myself, I can be the most laziest bum around. My better half will run away at the sight of whatever I throw in if  only I have to eat it! Its so boring, what else can I say. For a long while, I was content with pasta - but it can get very monotonous, don't you think? Sometimes, I made use of canned beans to make myself a burger. At times when I am in the middle of my work, to go and cook something  can really get frustrating. (I work from home). Most of my kitchen disasters happen then since I keep something on the stove and forget about it in the middle of breaking my head over some code. Then the new and improved version of me arrived - where I started taking care of balancing my meals which made it almost hard to keep up my lethargic attitude. That's when I started making simple adjustments - Couscous, Semolina, Brown rice pilaf's, savory wholegrain bread pudding , soups, salads - started making their way into my lunch plate. They were v simple, got done in a jiffy and I could still afford to be my lazy self :) But most of the time, they lacked that color and depth in flavors, I so needed. That's when this salad started making its regular way into my table. My mom has always been making this (but sliced thinly not chopped this way)- but only last year or so did I come to know that it actually has a name - its called Kachumber.
One site tells me
that: "
In Hindi, Kacha means 'Raw or uncooked'. Kachumbar is literally small tiny pieces of raw vegetables. In the olden days, Kachumbar consisted of finely chopped onions and Kakri (English Cucumber). Sometimes, grated Mooli (Indian radish) was added. The chopped raw vegetables were allowed to rest so that the flavors would blend in. A dressing of Sugar cane vinegar, or Lime juice was used."
And yes - If from the looks of the picture, "
Mexican Salsa
" came to your mind - you are right. It mimics the same. I always knew that Indian and Mexican cuisines share food boundaries and this simple salad goes on to vouch for it even more. Its ridiculously simple and adds a great accompaniment to your entrees - be it rice, pilafs, rotis etc. And yes - a good deal of consuming raw vegetables will provide you a good nutrition kick. I sure know that I need that!
Ingredients
1 onion, thinly sliced
1 cucumber, peeled and chopped
1-2 jalapeno chillies (optional, as per taste)
2 medium tomatoes, chopped
1/2-1tsp roasted cumin powder (as per taste)
juice of 1 lemon along with zest, as per taste
some cane sugar for sprinkling
salt to taste
few sprigs of cilantro for garnish
Tips
Note:
The measurements are ap;proximate since all out taste buds differ. I love lemon flavor hence add more. You can use little, do taste testing and add more. Same goes for sugar, cumin and salt. It will also vary depending on the size of your vegetables
Method
1
Add all the vegetables together. Squeeze the lemon juice.
2
Add the spices (cumin, salt and sugar)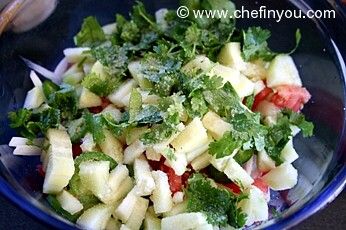 3
Toss them well together.  Do a taste test to see if the seasoning is right for you. Better to start with little seasoning and build it along the way. Cover with plastic wrap and keep it in the refrigerator. This sitting time helps the flavors to blend.
Serve it chilled. I enjoyed mine with herbed couscous.
Related Recipes You May Like
Did you make this recipe?
Please click below to share your experiences while you were making this recipe. Thanks for your input!
Have a favorite recipe?
Know a family recipe your mom used to make? Or maybe a go to recipe that works everytime? Share it with your fellow foodies!