Kara Kondakadalai Sundal (Spicy Black Chickpeas Salad)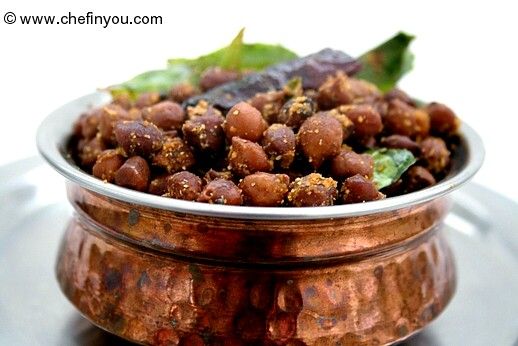 Navarathri Festival
is just round the corner. I am missing my home town already! I miss the environment that this festival brings. People inviting one another to their homes for Golu  (its placement of dolls in a steps type arrangement), distributing sundals, small gifts for kids, devotional songs sung my adults and children during such visits etc etc. Since we did not have a habit of doing such Golu(s), I enjoyed seeing them at relative/friend's house and at Temples. There is this temple near the place where I worked (back home) that I visited regularly. I used to visit it daily after work especially during this festival where this arrangement would be done on a large scale. It used to be so beautiful and on such days I used to bring delicious
prasadams
home. Sigh!
Golu Image Courtesy: Wikimedia
. Ok before I get lost in memories galore, lets come back to this delicious Sundal recipe. When my parents visited me last year, they got me caboodle of tamil magazines and recipe books to cook from (luv them :)) In one of them was this recipe for Hot and Spicy Chickpeas Sundal (a.k.a South Indian style salad for the rest) titled
Kara Kondakadalai Sundal
. "
Kara
" depicts "(Spicy)Hot" and "
Kondakadalai
" is Chickpeas in Tamil. I wanted to try something different than my regular Sundals (that I usually make with grated coconut. Yum!) and tried this. We loved this one and I would definitely make this again. I like this as a dry chickpeas curry too and would like to pair it with a South Indian meal.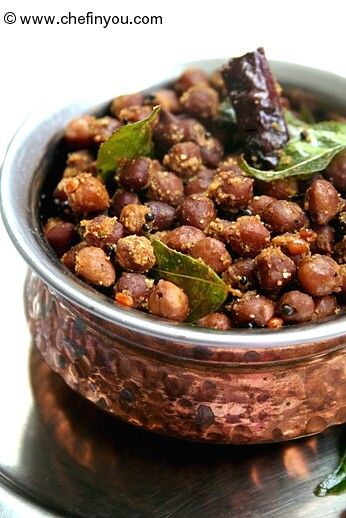 Changes I Made : I made very minute changes to suit the pantry and taste preferences. I used Black chickpeas that I wanted to use up instead of regular White Chickpeas. Also my family has "extremely" low endurance to hot foods (Spice is fine but my husband will run the other way the minute the word "Green/Red Chillies" is mentioned) though I love spicy hot dishes.  But at the rate I have abstained from it in last few years, I am in the danger of developing low endurance too..! Anyways, I used only 1 large dried Red chilli and my husband quipped "Love it. Its perfect. Yes, the red Chilli could have been reduced. I taste it a little but its fine. Does not bother me I think". You think???? I used only 1 chilli! Sheesh! Ok thats my house :) Well you might actually get to use 6 of them as the recipe suggests though I cannot imagine that EVER happening in my place :)
References
Recipe minimally adapted from a tamil magazine
"mangayar malar"
Ingredients
1 cup Black Chickpeas
Salt to taste
For the Spice (Hot) Powder
1 tbsp Coriander Seeds (dhaniya)
1 tbsp Black Gram, split, skinned
6 Dried Red Chillies (See Tips)
1/4 tsp Whole Black Peppercorns (Milagu)
For Tempering
1 tsp Mustard Seeds
1 tsp Black gram, split and skinned (urad dal)
1-2 Dried Red Chillies, or as per taste
few Curry leaves
Tips
1. Instead of Black Chickpeas, you can use white (regular) chickpeas.
2. To make life easier, use canned chickpeas instead of overnight soak and cooking. In that case, make sure to drain the chickpeas and rinse in cold water well before using.
3. Use the Spice powder as per taste.  I used only 1 Dried red Chilli since we hardly consume "Hot" foods. It was borderline hot for us and we loved it. You can add the original amount but reduce the amount of powder you add to the chickpeas if you find it too hot. Also reduce or eliminate the chilliesif you are making it for kids.
4. If you do not want to use the spice powder at all, you can instead follow the other variation of this sundal made with coconut. Recipe is here:
Chickpeas (kondakadalai) Sundal
Method
1
Wash and soak the Chickpeas overnight.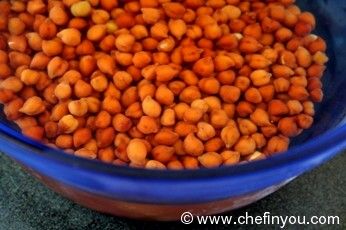 2
Drain and add enough water to cover the chickpeas and pressure cook.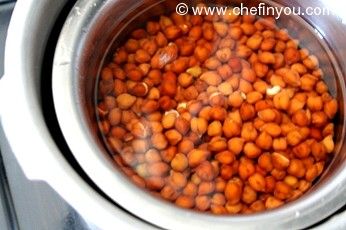 3
I do it for 2 whistles - about 10 minutes. The texture should be soft yet must have the bite to it.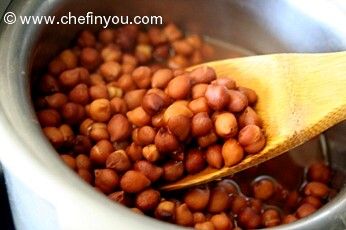 4
While the chickpeas are cooking, lets make the spice powder. Take a skillet, add 1/4 tsp oil to it and roast the spices given under the "Spice (Hot) powder" section (about 4-5 minutes in medium heat).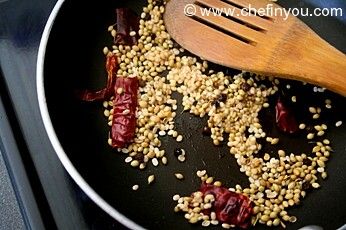 5
Cool it slightly and powder it in a processor until fine. Set aside.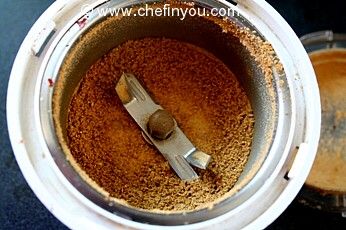 6
Remove the chickpeas from the cooker. Drain the cooking water. You can use it to make stock, soups, add to rasam/sambar(s), or instead of water while making your chapathi dough.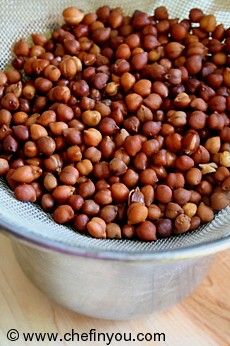 7
While its draining, lets preparing the tempering. Use the same skillet that you used to roast the Spiced powder previously. Add 1/2 - 1tbsp oil and when hot, add the mustard seeds. When it starts popping, add the Black gram, red chillies and then curry leaves.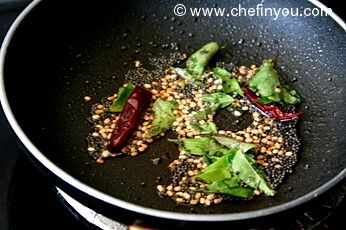 8
Drop the chickpeas to it and give it a quick toss.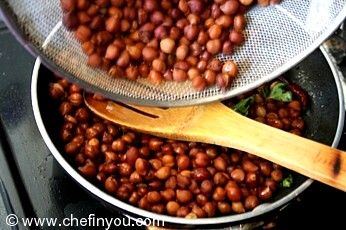 9
Add some salt and the spice powder (add little by little to check the spice level)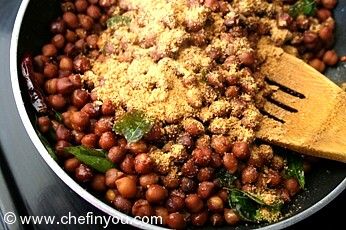 Serve Warm or Cold. Try this nice variation to regular Sundals (if you have not done so already :))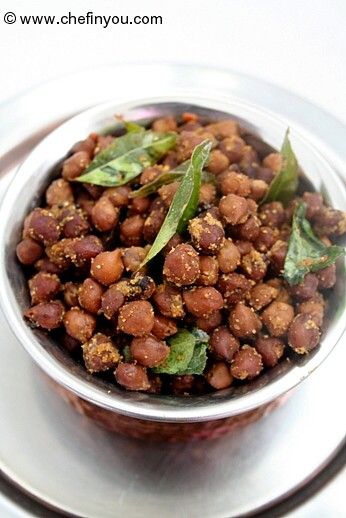 Related Recipes You May Like
Be the first to showcase this recipe!

Your Name
Did you make this recipe?
Please click below to share your experiences while you were making this recipe. Thanks for your input!
Have a favorite recipe?
Know a family recipe your mom used to make? Or maybe a go to recipe that works everytime? Share it with your fellow foodies!