We are, whom you might call as a,
"Dal family"
! No, not 'cos we have "
Dal
" as our last name but due to the fact that we love our lentils way too much. Or..err..truthfully that's what I make often enough. Can you blame me if I find it simpler and faster to put together than other side dishes? So, most probably I have made all the types of dal recipes there is! Talk about confidence! If you think, I am mouthing too much, feel free to send me your
favorite dal recipes
. You know I will def. make them ;)  Coming to this recipe, it is a popular restaurant favorite. I have seen it used interchangeably or at times in the same lines as
"Tadka Dal".
I personally think they are different albeit minimally. To me, Tadka Dal is about the "Tadka" (duh!) or "Tempering" whereas this is about the richness of the Dal by itself. See, the minute you hear the word "Fry", you think about richness whereas "Tempering" mnemonics something simple, comforting and warm. OK, even to the point of you accusing me of trying too hard to see the difference, I am sticking to my stance :).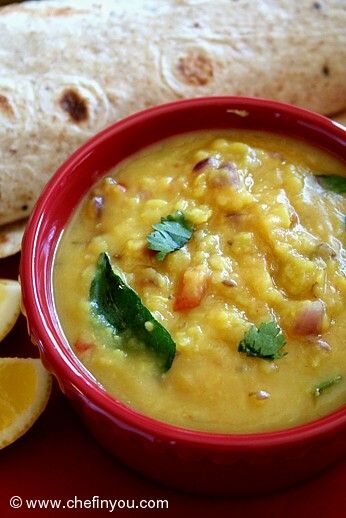 The highlight of this recipe is "
Ghee
". The generous you make it, generous the taste although a little does add enough dimension to this otherwise simple dal. While the
Tadka Dal
follows the method of preparing the dal completely along with onions and tomatoes with the tempering poured right before (or while) serving, this dal is all about the tempering acting as a base for the dal instead of just a garnish. I provide the difference to this otherwise twin cousin of
Tadka Dal
by using a different lentil. I normally use Red Lentils for Tadka Dal whereas I use Pigeon peas for this version. While I compromise on the Ghee when it comes to
Tadka Dal
by using only oil, Ghee is a must for me when I make this. Pigeon Peas and Ghee is my idea of comfort food. Bliss!
Ingredients
For the Base
1 cup Pigeon Peas (Toor,Tuvar Dal) see Tips
1/4 tsp Turmeric
3 cups Water
For the Tempering
2-3 tbsp Ghee, see Tips
1 small-medium Onion (about 1/2 cup), chopped
1 med-large Tomato, chopped
1 tsp Cumin Seeds
1-2 Dried Red Chilies, or to taste see Tips
2-3 Cloves
1 inch grated Ginger
1/4 tsp Asafoetida
Curry Leaves and Cilantro to garnish
Lemon Juice to taste
Salt to taste
Tips
1.
Pigeon Peas
: Different recipes for Dal Fry use different type of Dal. You can use any lentil of your choice - be it Red Lentils (Masoor dal), Skinned Split Green Gram (Moong Dal), Bengal gram (channa dal). I personally use Pigeon peas for this recipe and Red lentil for
Dal Tadka
. Growing up on Dal rice which is basically cooked pigeon peas mixed with steamed rice and ghee spells comfort to me and this Ghee + dal combo for this recipe reminds me of those days. Hence the preference for this type of dal.
2.
Ghee
: If you are trying to recreate that Restaurant touch, then I would suggest going for more generous serving of Ghee, say to the likes of 4-5 tbsp. Or if you are really against the usage of Ghee, then use vegetable oil or oil-ghee in 50-50 ratio. But personally for me, Ghee is the main factor which spells this dish as "Dal Fry". Without the Ghee, its just plain
Tadka Dal
.
3.
Red Chillies:
You can also use regular Green chillies as per your taste.
Method
1
Wash the lentil in cold water. Drain well.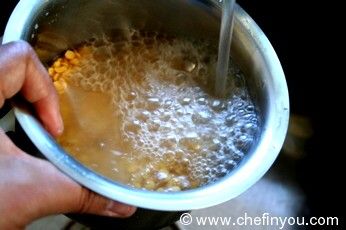 2
You can either soak the lentil in water for 1-2 hours and then cook over stove top or simply use a pressure cooker. If you are planning the soak and cook method, I would suggest using the water used for soaking for cooking too. Simply add additional water while cooking the lentils. The amount of water for cooking depends on the consistency you like. Start with 2-1/2 to 3 cups for cooking and then add more later if required. I used a pressure cooker to cook my dal with turmeric and 3 cups water.
3
About 3 whistles or 10 minutes of cooking should be sufficient.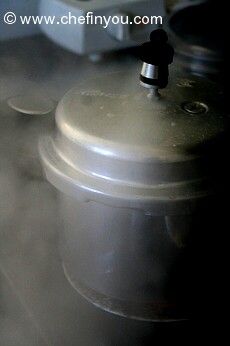 4
While the lentils are cooking, heat a pan. Add Ghee, then cumin, cloves, chillies, ginger, onion and then salt.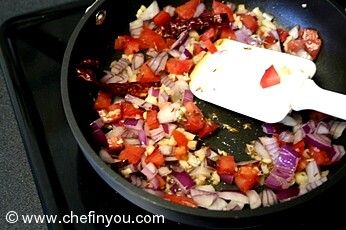 5
When the onion starts sweating (becomes soft), add the tomatoes and asafoetida. When the tomato is cooked, add the garnish. Set aside.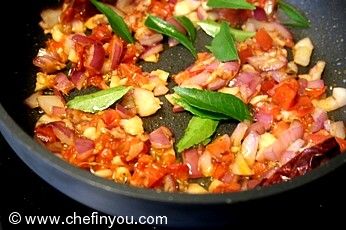 6
Remove the lentils from the pressure cooker. The lentil should be cooked completely. Mushy is good.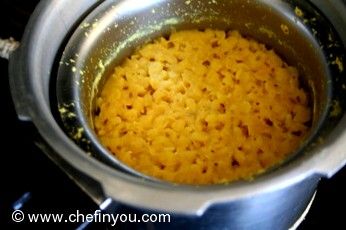 7
Give it a good stir. If required, warm some more water and add it to the lentils.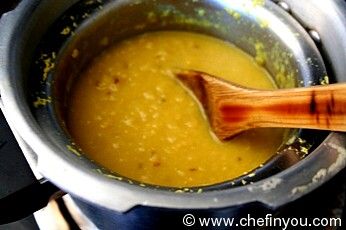 8
Add the fried onion -tomato mixture to the lentils.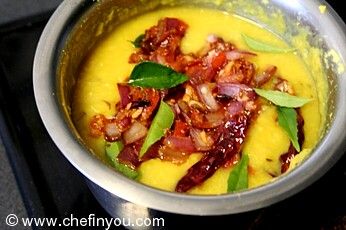 9
Stir to combine. Add lemon juice to taste.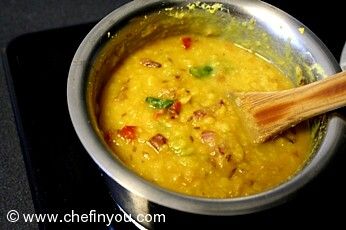 Serve this warm with  Chapathi bread, Tortillas, Naan or Steamed Rice.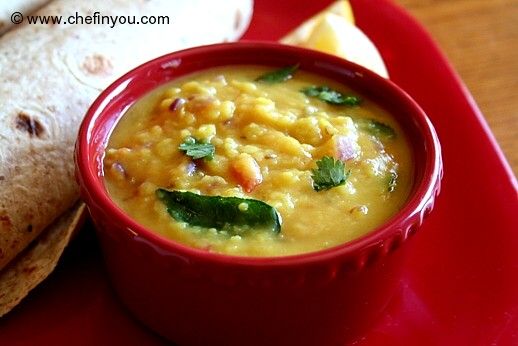 I usually pair it up with Roti(s) and Steamed Rice with additional lemon wedges. I add lemon to all my dal prep since the citrus aids in iron absorption from the lentils.
Related Recipes You May Like
Did you make this recipe?
Please click below to share your experiences while you were making this recipe. Thanks for your input!
Have a favorite recipe?
Know a family recipe your mom used to make? Or maybe a go to recipe that works everytime? Share it with your fellow foodies!