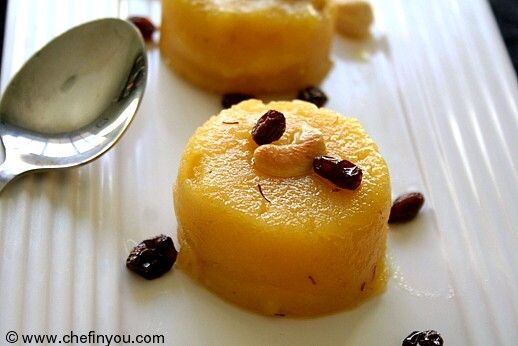 This month's
ICC-Challenge
posed us with another interesting dish - esp. for me since I have never attempted to make it before. For a good reason, since I have no takers for sweets in my house. I knew about Moong Dal Halwa (Sweet Yellow Lentil Pudding) - the rich and creamy pudding recipe which is enjoyed and cherished throughout Rajasthan where it is believed to be made during the Winter due to the fact that this dessert keeps the body warm. Not only that, it also forms part of auspicious occasions be it festivals like Holi, Diwali etc but also during happy ceremonies like Weddings. I have heard that it is also famous in Pakistan.
Yes, agreed that it takes hell lot of patience (at least for a person as lazy as me!). The dal (lentil) has to be sauteed slowly in low heat for a long time - try to think of even the word 'multitasking' - you will have Madam 'Burn's visiting your kitchen. If you are anti-calorie in your house - then forgive me for posting this and tempting you...Ghee is revered in this dish and shines (and I mean it literally!) through this dish. If you know how velvet feels, then you will know how the texture of this halvah should be. Velvety smooth with a creamy texture where one spoonful simply vanishes in your mouth before you even realize whats happening. Yes! Its like magic! Coming from a sweet hater, you gotta accept the fact that I indeed must be serious and must have given it a long thought to write this one down...yes I did indeed!It could make even me slowly turn my loyalties to sweets (my weighing machine will never forgive me...)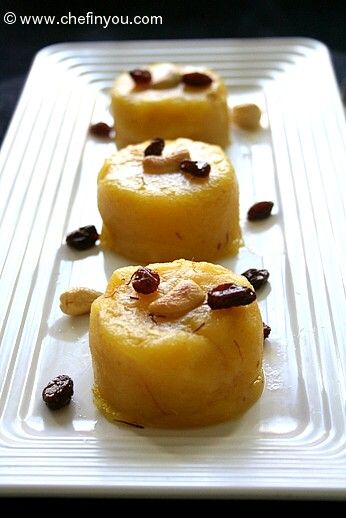 Guess, now that you get what I am trying to put across (you did better, unless you want me chewing off your ears...No wait..shouldn't it be virtually chafing your eyes with all this reading..!! #@!#$ When did I become a deviant????!!!!!!), lets go to the recipe now shall we?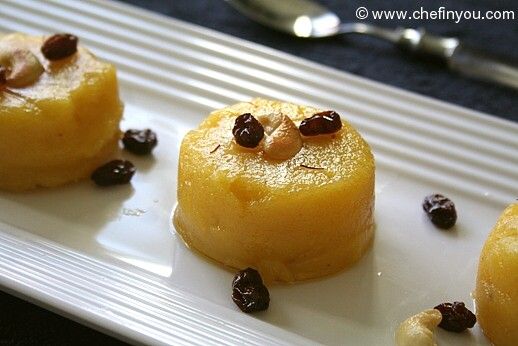 We were given 2 methodologies to follow, out of which we could choose one. The one with Khoya was obviously not used by me...(you ask why?? I couldn't get my lazy bum to travel all the way to the Indian stores!!! Isn't that obvious if you know me?). So the other one used ingredients which were waiting to be used in my pantry...so 2nd method it was...I added few additional stuff to the recipe.
Love Indian Sweets? Then check these out :
Gulab Jamun
,
Badam Halwa (Almond Fudge)
,
Rava Ladoo
,
Pink Diamonds (agar agar dessert)
,
Puran Poli (Obattu)
,
Sakkarai Pongal
,
Hyderabadi Double Ka Meeta
,
Pal Kova
,
Besan Ladoo
,
Kheer (Pal Payasam)
,
Gajar Halwa
Basic Information
Prep Time
:
8 hours to 1 day
Yield
:
Makes around 4-6 servings
Ingredients
1 cup - Split (Yellow) Moong dhal
1/2 cup Ghee
3/4 cups to 1 cup Sugar (as your sweet tooth demands)
1/2 cup Milk (or water - I did something in the middle! Used Low fat milk! Its just little better than water)
Cashews/ raisins roasted in ghee for garnish.
1/2 tsp cardamom powder
few strands of Saffron
Tips
* Saffron and cardamom powder are my additions. Can't imagine a sweet without these!
Method
1
Soak 1 cup moong dal overnight.
2
Note: You can optionally dry roast the lentils in a skillet until aromatic and lightly golden and then soak it in water. It helps to enhance the taste and fragrance of this dessert though it is optional.
3
Next morning, grind to a paste.
4
Take a heavy Kadai/ Non stick skillet. Heat 1-2 tsp of ghee and saute the cashews and raisins, until the raisins get all puffy and cashews are roasted.
5
In the same skillet, add 1/4 cup of ghee and warm it up.
6
Add the dhal paste and stir continuously, not allowing lumps to form. This part is very tricky since the dhal cooks really fast, irrespective of the ghee.
7
Keep the heat at the lowest and keep stirring even after the dhal becomes thick.This is when your hands will become your enemies and hate you for making them work
(console them the way I did - 'we are building you up baby! Imagine how less flabby you will look?" - It works , believe me ;))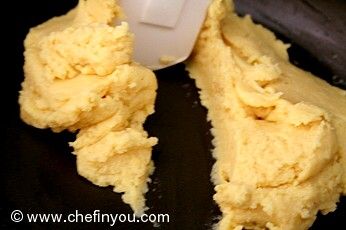 8
Add the rest of the ghee intermittently (I warmed the ghee before adding it) and cook the dhal until aromatic and the ghee starts oozing out.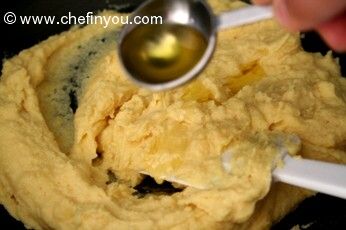 9
As far as the oozing word, I am assuming that they meant the shine part on the surface cos no ghee oozed out for me...mine became shinier...so if your halwa starts glowing (or shining..) guess you can rest easy...Dont make the mistake I made, of taking your magnifying glass and inspecting for something oozing out from it (aaah!!! I just realized its sounding gross!)
*UPDATE*
Dear Medha informed me that the Ghee actually does ooze out of the halwa around the 2 hours mark. I don't think I cooked my halwa that long, hence I personally am not aware it. But if you are just trying this halwa and you are as patient as Medha - do give it a try :) Meanwhile mix the sugar with water/ milk in a pan and bring to a boil. You can add the saffron and cardamom powder to this mixture. Otheriwise you can simply add them towards the end to the dish directly. Whatever works for you.
10
Add this slowly to the cooking dhal.
11
Keep the heat low at all times and break lumps if formed while adding the sugar and water/ milk mix.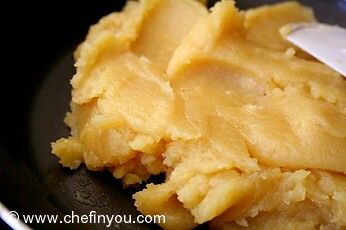 12
Cook until the ghee surfaces and halwah gets a shiny creamy texture.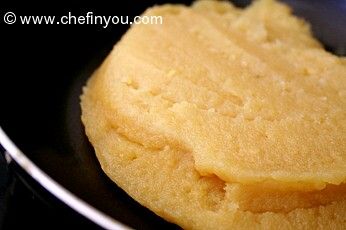 Garnish with cashews and raisins. I have tried my level best to capture the shine and the creaminess  in this Halwa via my photo. I wish I could transfer the picture captured by my eyes - it would have done these halwa more justice than the man made gizmo. Amazing dish!
Related Recipes You May Like
Did you make this recipe?
Please click below to share your experiences while you were making this recipe. Thanks for your input!
Have a favorite recipe?
Know a family recipe your mom used to make? Or maybe a go to recipe that works everytime? Share it with your fellow foodies!