Sometimes a simple dish is all it takes, to make me feel warm and cozy. Its like that fuzzy/secure feeling you get while lying down on mom's lap. Its like all's safe with the world. Its like home. This simple dish of lentils for me is all that and more. A total comfort food. Something I grew up with. I make it often and every single time, it gives me weird sensations in the pit of my stomach - the type that makes me feel homesick. But the minute I sit down to spoon some in my mouth along with warm roti(s), I feel better - as if my mom is next to me serving it to me- the way she always used to. When life carries you away from the comforts of what you knew, you rely on such dishes as a mnemonic to transport you back to what feels familiar, doesn't it?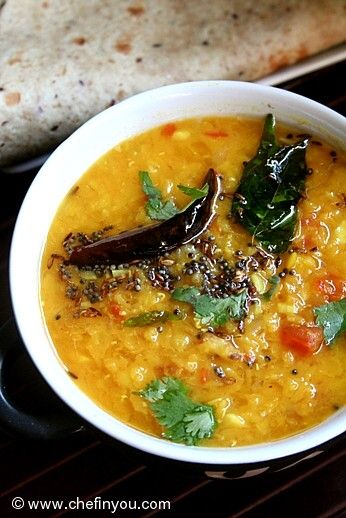 Tadka Dal is a popular Indian dish made of red lentils and tempered with aromatic spices. Tadka refers to "tempering" and Dal is "lentils" in Hindi language where the tempering acts like a garnish in this hearty yet very simple stew. Tadka Dal is also referred to as Dal Fry by many I know. But I beg to differ. In my humble opinion, I think there is a subtle difference.  In a dal fry dish from what I have observed, the ingredients in the "Tempering" section are first prepared to which the rest of the preparations for the base is continued and built over. Whereas in this dish, the tempering is added towards the end, right before serving which makes it not only for a beautiful presentation but also there is an enhanced flavor thanks to the ghee spread right on top adding richness and aroma to the dish. Yes - I hear what you are saying. The differences are minute but well its a difference nevertheless! (yes, I can be sometimes picky this way :))
Ingredients
For the Base
1 cup Red Lentils / masoor dal (See Tips)
1 Onion
2 medium Tomatoes
1-2 cloves garlic, minced
1/4 tsp Turmeric
Salt to taste
Lemon juice to taste (optional - see Tips)
For Tempering
1/2 tsp Cumin
1 tsp Mustard Seeds
1-2 Dried red Chilli (or use Green Chilli)
2 inch Ginger, julienned (see Tips)
pinch of Asafoetida
few sprigs of Curry Leaves (optional, see Tips)
few sprigs of Cilantro, for garnish
2 tbsp Ghee (see Tips)
Tips
1.
Masoor Dal:
Instead of Red Lentils, some variations use Yellow lentils, Split and skinned Green Gram lentils etc. You can use them on their own or with combination. I sometimes add few spoons of Green gram to this dish.
2.
Ginger:
I like the fried taste of julienned ginger hence add them along with the tempering ingredients. But you can instead chop them/grate them and add it along with the garlic while preparing the base.
3.
Ghee:
The restaurant version use about 4-5 tbsps of Ghee for tempering which gives it that gourmet taste. At home I tend to use 1-2 tsp. of oil (to make it Vegan too) instead for regular consumption using the 2 tbsp of ghee when I entertain. You can use a combination of ghee and oil or only oil for your preparation depending on your preference.
4.
Lemon Juice:
dding lemon juice or any kind of citrus helps in the absorption of iron from the lentils hence I tend to add lemons juice to all my dals. I especially love adding Meyer Lemons to it. It makes the dal taste even better.
5.
Curry Leaves:
If making it
Punjabi Style
, skip the curry leaves. Few punjabi versions tend to also add Garam Masala (about 2-3 tsp.) and kalonji (1/4 tsp.) to the dal.
Method
1
Wash the lentils well in cold water until the water runs clear. Red Lentils tend to require a little tedious cleaning process.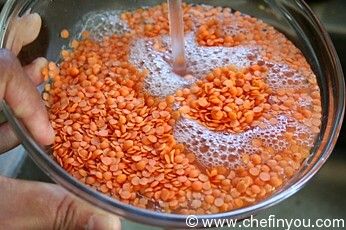 2
Heat 1 tbsp of ghee (or oil) in a saucepan and add onions and garlic along with salt and turmeric - about 2 minutes. I usually tend to skip the oil for this. The salt helps the onions to sweat and hence I personally feel that fat perse is not needed to make it soft.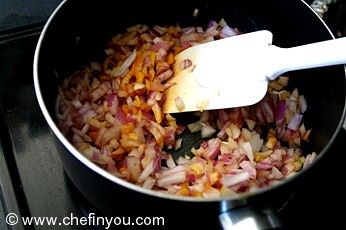 3
Add the chopped tomatoes and saute for another 2 minutes.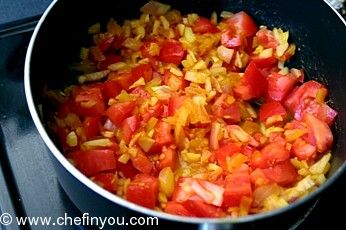 4
Add the lentils along with 3 cups of water.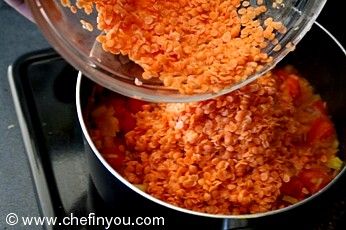 5
You can adjust the amount of water once the lentils are cooked depending on the consistency you prefer.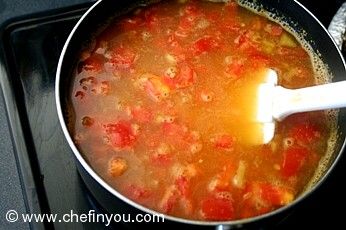 6
Stir and bring to a boil. Lower the heat, close with a lid and simmer for 15-20 minutes or until cooked. I have this lid with a hole on top which prevents the lentils from boiling over cos of steam. If you do not have such a lid, make sure to partially close the lid/ or open cook to allow the steam from escaping. Otherwise it will boil over the pan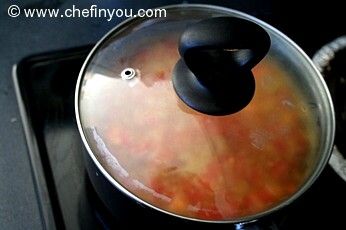 7
Once the lentils are cooked, give them a stir and adjust the amount of water as per your liking.
8
In another pan, heat the remaining ghee. Add mustard seeds and when they start popping, add the cumin, ginger, red chillies, asafoetida and curry leaves.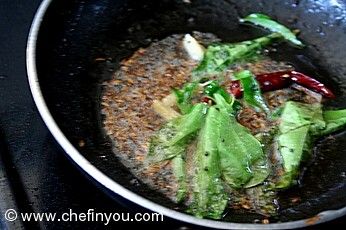 9
Add it to the dal. Give it a quick stir and serve hot garnished with cilantro.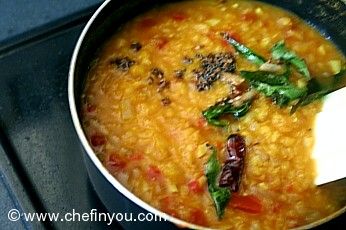 They can be enjoyed with plain rice or with roti's, phulkas or parathas. On this particular day we paired it with Oat roti(s).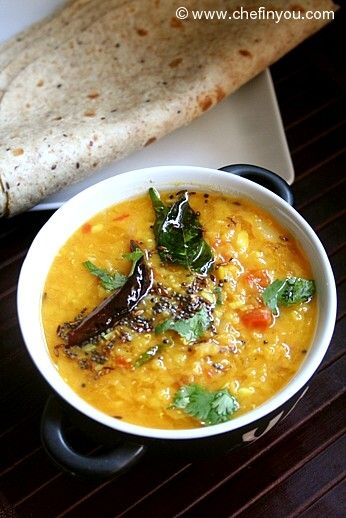 Related Recipes You May Like
Did you make this recipe?
Please click below to share your experiences while you were making this recipe. Thanks for your input!
Have a favorite recipe?
Know a family recipe your mom used to make? Or maybe a go to recipe that works everytime? Share it with your fellow foodies!