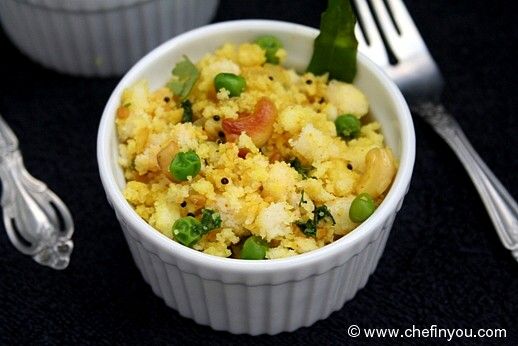 This is a simple and easy recipe which every
South Indian
worth his/her salt would make and for the most simplest of reasons -  leftover
idlis
! The logic being there would be hot piping idlis for breakfast as a regular feature and then there's bound to be leftovers. This upma is almost always the first thing that comes to mind when there are leftover idlis. Well,
not so in my house as I already mentioned here
, but nevertheless I make these for myself when the husband has had enough of his
idli fries
(which is rare, if truth be told!).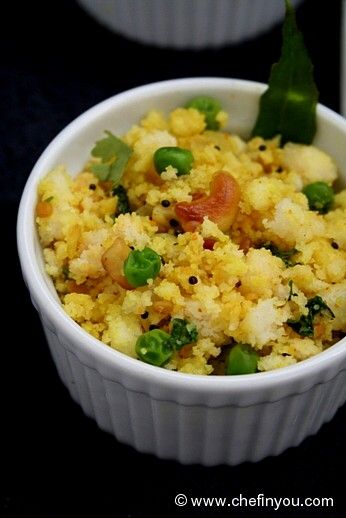 This is one of those dishes which doesn't  really deserve a post all for itself, but keeping with the nature of this
blog
, I thought I might as well. You can add as many vegetables to this or as little. Treat it like a
pilaf
or treat it like a
stir fry
. Anything and everything goes (almost).  Mine is a very basic version. You can call it a lazy (wo)man's version cos that's precisely when I make these. Frozen vegetables are a blessing and can be used to their full potential in this. Get the idea and go get creative in the kitchen. Its as accommodating as that. Its great for
breakfast
, light
lunch
or a light
dinner
.
References
from my kitchen notes
Ingredients
About 8 medium leftover Idlis (See how to make South Indian Idlis)
1 tsp Idli Chutney Powder, or as per taste (optional)
1 tsp Mustard Seeds
1 tsp Urad Dal (split, skinned Black gram)
1/4 tsp Turmeric powder
1 medium Onion, chopped
1/2 cup boiled peas (or frozen peas)
4-5 Curry leaves
pinch Asafoetida
3-4 Cashews
Salt to taste
Few sprigs Cilantro to garnish
Method
1
Crumble the idli pieces.
2
Add the chutney powder to the idli crumble. At times I tend to add some 1 tsp Ghee and the powder to help the powder stick well to the Idlis. Its not really necessary to add it separately but I personally find that adding it first, gives them more flavor. You can skip this step if you do not want it to be spicy, esp. when feeding little kids.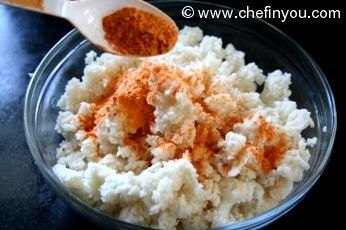 3
Mix them well until combined.
4
In a skillet, add 1 tsp Ghee/oil. When hot, add the mustard seeds. When it starts popping, add the Urad dal, cashew pieces and curry leaves.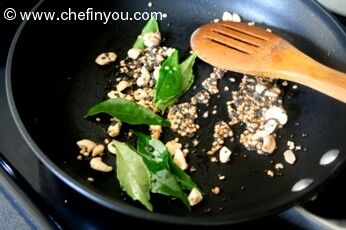 5
Next add in the onion and cook until soft. If you are using frozen peas (like I did), add the peas along with the onions. Helps to thaw and cook along with the onions. If boiled, you can add it towards the end.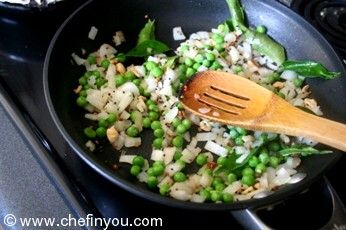 6
When the onion and peas are cooked, add salt, turmeric and asafoetida. Cook for 2-3 minutes.
7
Add the crumbled idlis to the onion-peas mixture.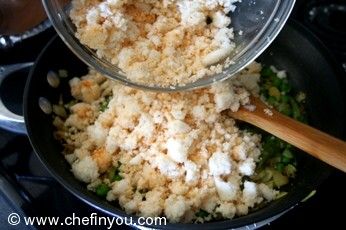 8
Mix until combined, reduce the heat and cook for another few minutes (about 5-6min)  with a closed lid so that the idli can absorb the flavors.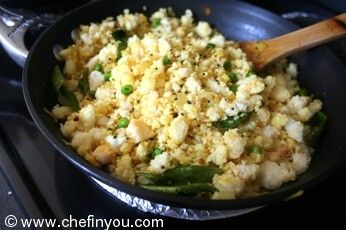 Serve it hot, garnished with cilantro.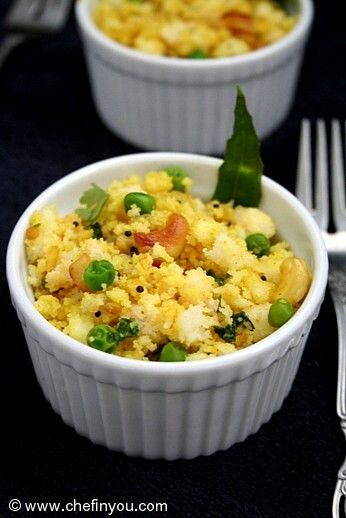 Related Recipes You May Like
Did you make this recipe?
Please click below to share your experiences while you were making this recipe. Thanks for your input!
Have a favorite recipe?
Know a family recipe your mom used to make? Or maybe a go to recipe that works everytime? Share it with your fellow foodies!