Manga Pachadi (Green Mango Jaggery Chutney)
Sigh - I miss home! Have been missing it for a long while now. Although I have managed to create a  beautiful one for myself in the place where I live, nothing beats the original - the place I grew up and have abundant of memories. I am sure many of you, like me, believe that your growing up years play a huge role in shaping up the way you are now. And of course - the food. When I really sat down to analyse and dissect my memories, I was surprised to find that most of them involved food in some way or the other.  Sitting with my mom during festivities preparing sweetmeats like
Mysore Pak
,
Murukku
,
Akkaravadisal
,
Kesari
etc, eating luscious homemade
Badam Halwa
, fresh mangoes and gulping down tender coconut water (plucked from the trees) in my grandma's backyard, eating spicy and addictive bakarwadis in my uncle's house, being a glutton for '
never-eaten-anything-like-it-anywhere-else
' Puttu at my aunt's place.....and the list goes on and on.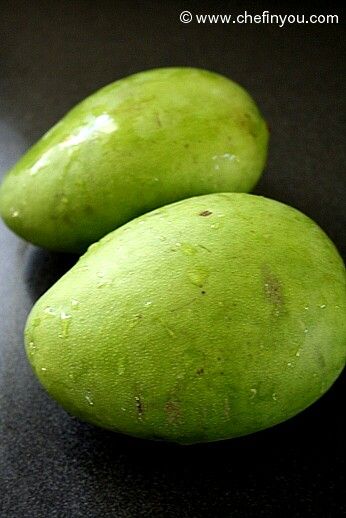 This Green Mango bought all the memories back to me during my last visit to the local Indian store. The roadside stalls with cut green mangoes sprinkled with salt and red chilli powder were abundant back home.  I remember the one right outside my school with all my friends clamoring around it to buy these tangy pieces. I used to stand in sidelines cos I never was one to like the tangy sourness of Green Mangoes. I do so now.  Call it maturity in tastes or simply being plain homesick - I buy these in hoards now, when I can get it.
This Mango pachadi represents everything I have been talking about. Home, Family, Festivity  and the tangy Green Mango. This is what I call as "In-the family" recipe. A recipe that comes from grandmom's aunt's sister's cousin's daughter who also happens to be the mom's sister-in-law! Confused? I assumed so :) Simply put,  its a family version, the one that comes with no proportions, no specific directions, with loads of little of this and more of that - but that which comes out tasting like a million bucks every single time whoever makes it. Is it cos of love? I suspect so.  But I belong to a generation that thrives on love-yes, but who cannot translate that love to food which comes without measurement! Well, at least I don't - esp. for traditional goodies. After lots of attempts of trying to translate my mom's "specification" in measurement - this is what came out finally which is close to my mom's version. Only "Close", why?  - 'Cos, I am obviously missing her loving touch :)
References
from my kitchen notes
Basic Information
Yield
:
Makes around 2 cups depending on the consistancy of the chutney
Ingredients
1 large (about 350grms) Raw mango (see Tips)
1-3/4 cups (about 350 grms) Jaggery, powdered
1/2 -1 tsp Mustard Seeds
2-3 tsp Ghee/oil
a pinch of Turmeric (optional)
1-2 dried Red Chilli (optional)
pinch of Salt (to taste)
Special Seasoning for Tamil New Year Festival (see Tips)
1/2 - 1 tbsp Neem Flowers (see Tips)
Tips
1. Mango:
If possible, opt for the tangiest raw mango you can get. Tangiest makes the best tasting (in my opinion) giving a beautiful balance with the sweetness from Jaggery.
2. Tamil New Year Festival:
An optional seasoning done only during the festival of Tamil New Year. This is a must for the occasion.
This Pachadi is a representative of Tamil word "
arusuvai
" meaning 6 tastes –
Uppu (Salty), Thithippu (Sweet), Pullippu (Sour), Kasappu (Bitter), Uraippu (Hot/Pungent) and Thuvarppu (Astringent)
. Some recipes use an additional 2-3 tsp. of Tamarind paste, but I have never personally used it.
I am assuming that the ingredients associated with the said flavors are : Astringent (
Mango, Turmeric
), Bitter (
Neem flowers
), Pungent (
Red Chillies
), Salty (
Salt
), Sour (
Green Mango & possibly tamarind when used
), Sweet (
Jaggery
)
3.Neem Flowers:
You can use both fresh or dried Neem flowers. In India, traditionally fresh Neem flowers are used. If fresh, try to use fully blossomed flowers, otherwise it would taste more bitter. But in the place where I live, I do not get fresh neem flowers and hence tend to use the dried version instead.
Method
1
Peel the mangoes. Its optional but I have always peeled it like my mom.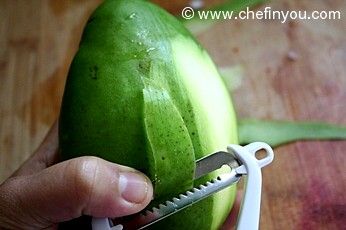 2
Now slice it into flat pieces.
3
Its OK if it gets uneven - it doesn't really matter.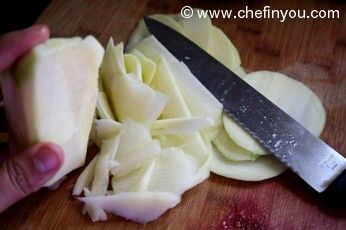 4
To  a pan, over medium heat, add jaggery and 1 cup of water.
5
This is done to melt the jaggery - takes around 4-5 minutes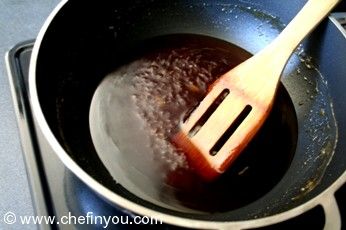 6
Filter this to a cup. This straining is essential to remove any scum or debris (that's mostly found in jaggery). Keep aside.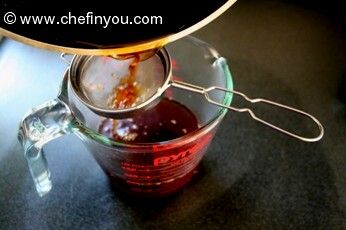 7
In the same pan, add the Ghee and when hot, drop the mustard seeds. Add Red chillies if using.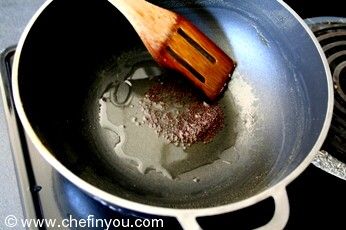 8
When it starts spluttering, add the mangoes.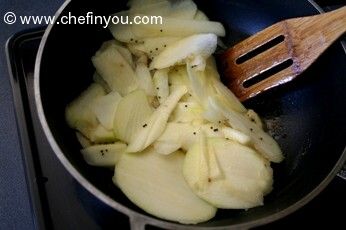 9
Stir gently for few seconds. Add turmeric, if using.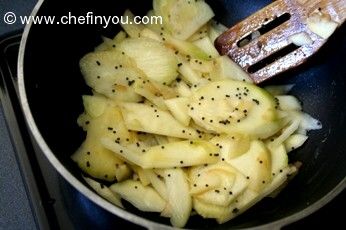 10
Add about 1-1/2 cups water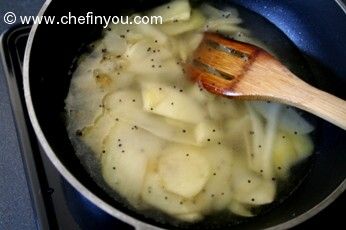 11
cover and cook for around 5 minutes.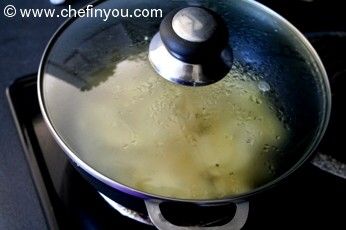 12
Remove the lid, give it a gentle stir and without the lid continue cooking for another 8-10 minutes or until it starts becoming mushy.
13
Now add the Jaggery water,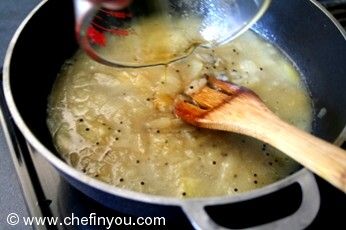 14
stir and simmer further for another 10-15 minutes,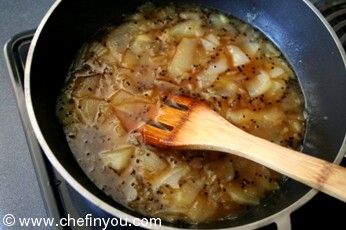 15
until it comes together into a thick sauce. The consistency will depend on your family's preference. If it becomes too thick for your liking, add few tbsp of water to rectify it.
Alternate Pressure Cooker Method:
There is another method to making this. Instead of cooking this mango over stove top, simply pressure cook it for 2-3 whistles along with turmeric.  Separately warm 1 cup water and add the jaggery to it. When it melts strain the jaggery. In the pan temper the mustard seeds and chilli. Then add jaggery water. Then add the cooked mango pieces along with salt. Cook until it comes together into a thick sauce.
Tangy and sweet, this serves as an festive accompaniment to our South Indian feast. As mentioned in the "Tips section", if making this for "Tamil New Year's" day, then temper the neem flowers in ghee  until golden brown and add it to the pachadi.
Related Recipes You May Like
Did you make this recipe?
Please click below to share your experiences while you were making this recipe. Thanks for your input!
Have a favorite recipe?
Know a family recipe your mom used to make? Or maybe a go to recipe that works everytime? Share it with your fellow foodies!