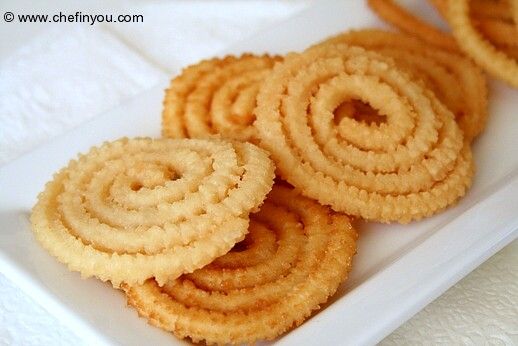 Festivals in India
are too many to sit and count. The country is almost always bursting in celebration in different location housing different cultures. People get together, share sweets and gifts and enjoy much fanfare observing some aspect of their heritage/religion. One cannot even come to imagine the bewitching time children have. For them, its more about holidays, cousins/friends getting together and most importantly - the food. For them, the importance of any given festival is decided by the food prepared - the more they like the snacks/sweets prepared for a particular festival, more they like that festival. At least that was how it was for me. I loved festivals like
Diwali
(crackers, new clothes and abundant savories prepared ) and
Krishna Jayanthi
( I loved drawing small feet in the floor of our house and of course
seedai's
and
Thattais
) - and oh
Vinayaka Chaturthi
for those absolutely heavenly Kozhukattai's.
One such savory prepared for Diwali and Krishna Jayanthi in our house by my mom used to be these Murukku. We used to love it to death and it used to get over even before one finished spelling the word Murukku. So much so that we pestered our mom to prepare it even otherwise, which she did in these huge air tight containers. Absolute bliss! I miss sitting around, having my mom prepare those as and when I craved for it. Times have changed - Now I am the one preparing this as and when my family craves for it!!!!! And thus during one such occasion, I prepared these and needless to say - they are over and I am being pestered to make some more.....I miss you mom :( I know what you went through :)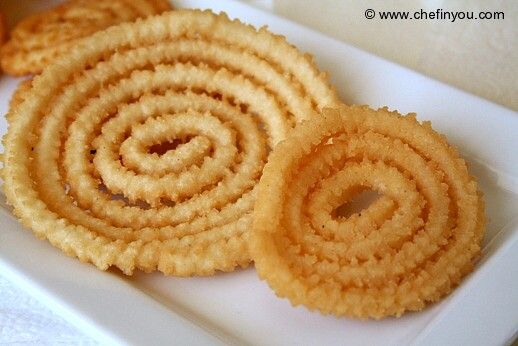 All said and done - it can be prepared in a jiffy, if like me you don't have the time and patience to make it the traditional way. The traditional way dictates that you prepare the rice flour from scratch at home. The taste is beyond explanation. But instead of not doing it altogether, instead one can use Rice flour. I have always had the advantage of getting good quality rice flour from the stores and I use the same to make snacks which entail making some from scratch. These still come out extremely crunchy and yummy for me and lasts for at least a week in its crunchy taste ( I don't know after that since however many I make, they have never lasted more than that!) Lets go to the recipe shall we?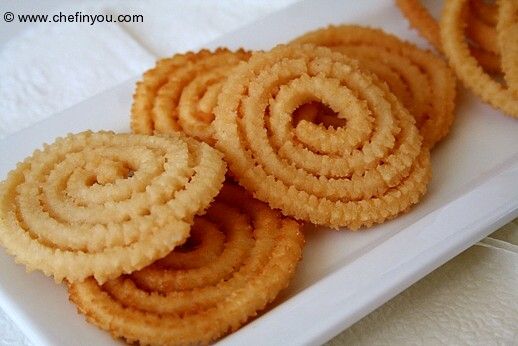 Basic Information
Yield
:
Makes around 10-15 medium sized murukkus
Ingredients
2 cups rice flour (sifted well - also make sure there aren't any stones/debris etc)
2 tsp. Urad dal flour ( see how to make Urad dal (black gram) flour here )
2 tsp. melted butter (nope - ghee will not do)
approx 1/4-1/2 tsp Asafoetida powder
salt to taste ( it varies from family to family - apprx. 1/2 tsp to 1 tsp or as per taste)
Method
1
Mix all the ingredients in a bowl.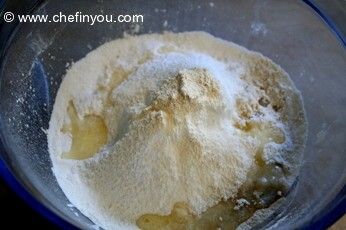 2
Adding water little by little, form a stiff dough.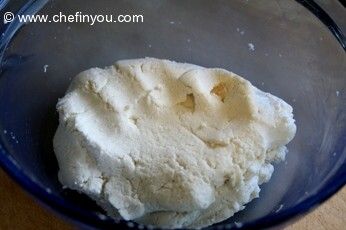 3
Now there are two ways to go about making these Murukku using the Murukku maker ( yes you need this to make  murukku ) Among different attachment that you get for this maker - you will find 1 star and 3 stars plates. Lets start with 1 star shall we? Using 1 Star attachment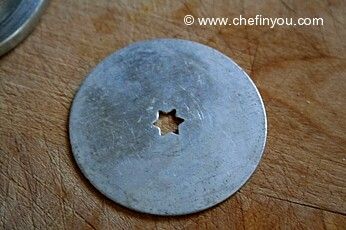 4
Take the 1 star attachment and fix it to the maker. Alternatively take a damp clean cloth and lay it on the counter. Or use plastic sheet lightly brushed with oil/butter. Take a small amount of dough and place it inside the maker - the one which has narrow hole in it
5
Now place the other mould which is used to press the dough through the hole on top.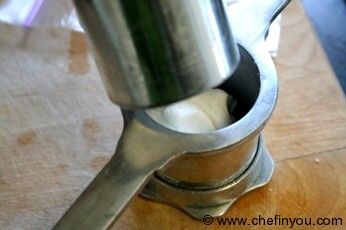 6
Press the dough on the plastic sheet and you will find the dough coming out shaped as per the one star attachment. Slightly rotate the maker round and round until you make a circle.
7
You can make as many spirals as you please.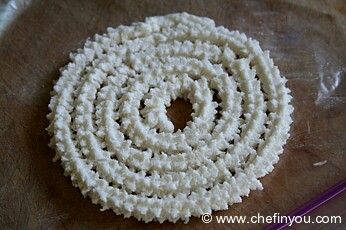 8
Just remember that you would have to remove it from the plastic to your hands and then drop it into the hot oil.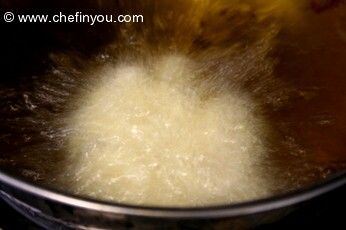 9
With practice it gets easier to retain the shape of the circle while dropping into the oil.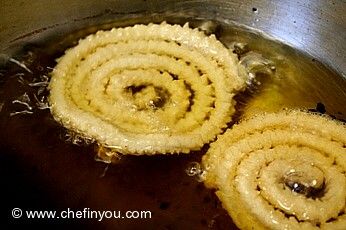 10
Even if it gets shapeless - don't worry. It still tastes yummy :). Start with says 2 spirals, then slowly increase it as your confidence grows. Using 3 Star attachment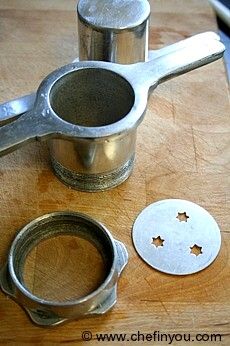 11
This is much easier than 1 star - in the sense that you don't have to worry about maintaining the shape per se. Repeat the same process as mentioned for 1 star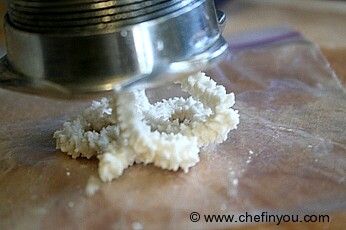 12
- only that you wont get spirals to form a circle. Make sure you just spread it wide on the plastic and drop it in the oil.
13
You can completely skip the plastic/cloth for this attachment and if you are comfortable enough, just press the dough right on top of the oil. Press it until a sufficient amount has dropped into the oil and break off the rest of the dough from dropping - just stop pressing the maker.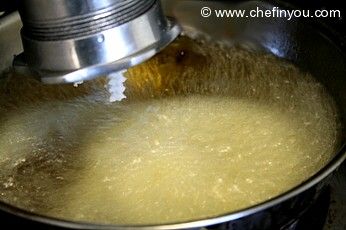 14
Now fry them until done - You can make it red, light brown or golden as per preference.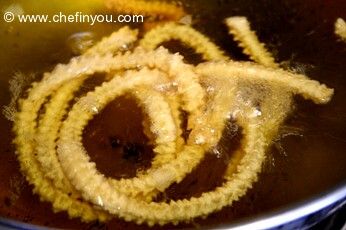 Drain them on paper towels.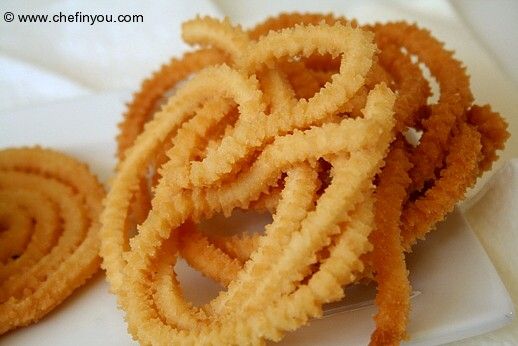 Let them cool and store in air tight containers. Crunchy snacks right from heaven :)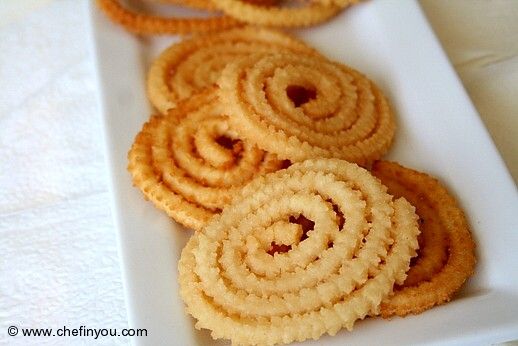 Related Recipes You May Like
Did you make this recipe?
Please click below to share your experiences while you were making this recipe. Thanks for your input!
Have a favorite recipe?
Know a family recipe your mom used to make? Or maybe a go to recipe that works everytime? Share it with your fellow foodies!