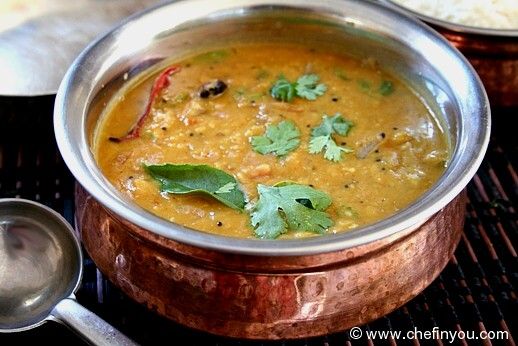 The quintessential meal in a South Indian's household is Sambar. The chances of a tangy mouth watering aroma wafting when you enter such a household during evenings (and/or mornings) is high. This humble stew gets various makeovers depending upon the mood, taste, occasion and creativity of the family. It highlights two main flavors - pigeon peas and tamarind. Additional warming spices, typical to Southern region of India completes the picture. I probably am not exaggerating if I say that there are as many versions and varieties to a Sambar as there are South Indian families.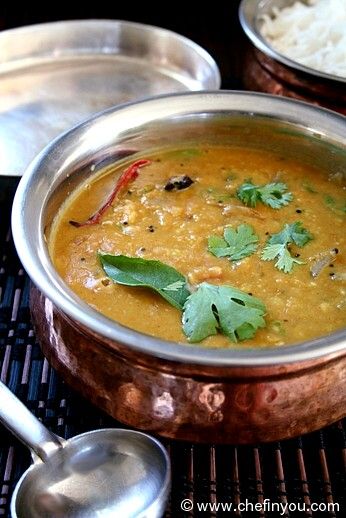 I know of few bloggers who take offense to name translations of Indian foods. For example: If  I call this a Pigeon Pea and Tamarind stew, I would be disbarred as an Indian cook. But I also realize the responsibility of taking the food overseas and the first thing you do is to put forth in terms understandable what the dish stands for.  Yes, its a stew in its humblest sense but its much much more for each family -  a pot of aromatic Sambar eaten with (hand) mashed steaming rice, combing and mixing the stew with fingers (CLEAN fingers!) until it blends with the rice with an accompaniment of a vegetable curry and a papad is integral to the memory chip of  every South Indian.
This forms part of a mostly 3 course menu, starting out with Sambar Rice (or
sambhar sadam
as a Tamilian would call it), followed with a
Rasam sadam (Rice
)  and finishing off the meal with Curd Rice. At many times, a big pot rice pre-mixed with sambar forms the main course instead of you mixing it in your plate. Oh yes - if you haven't guessed this already - Rice is a staple :) I am a Sambar girl - always have been and continue to be one till today. I always skipped the 2nd course - now not so much, but the point is never would I skip the 1st course. Its taken me ample time to post this recipe inspite of making it like 2-3 times every week. The issue lies in nimble fingers that has its own mind with respect to measurements which is a problem when it comes to blogging about it. But I have managed to do a decent job today. This is my mom's recipe, slightly adapted to accommodate my family and change in taste preference.  Play around the measurements until one of them hits you and binds you to become its eternal flavor slave :)
References
minimally adapted from mom's recipe
Basic Information
Yield
:
Serves 2 people as a main course and probably around 3-4 as a side dish
Ingredients
For the Sambar
1/2 cup Pigeon Peas (Toor/Tuvar Dal)
1/4 tsp Turmeric
1 tsp Tamarind Paste (see Tips)
1 tbsp Sambar Powder (see Tips)
Salt to taste
1-2 tbsp grated Coconut, optional (see Tips)
For Tempering
1/2 tsp Mustard seeds
1/2 tsp Fenugreek seeds
1 Dried Red Chilli
Pinch of Asafoetida powder
1 small Tomato (optional)
Optional Additions
1 med-large Onion
Other Vegetables , see Tips
Garnish
Few sprigs of Curry Leaves
Few sprigs of Cilantro
Tips
1.
Tamarind Paste:
The amount will vary depending on the brand you use and the taste. I use a Tamicon brand and for us 1 tsp of this works fine. You can go the traditional route and use regular tamarind (a lime sized ball should suffice), drop it in hot water (1 cup worth) and extract all the juice. Discard the tamarind and use this water instead of regular water in this recipe.
2.
Sambar Powder:
Like any dutiful daughter, I tend to follow my mom's recipe for
Sambar powder
. So for us with this powder, 1 tbsp works great. But if you have your own recipe for the powder or are using store bought powder, you will have to adjust the amount. Start with 1/2 tbsp and work around your requirements.
3.
Coconut:
The addition of coconut takes this humble stew to greater heights. Frozen coconut also works. But in case you do not want to use coconut (health or unavailability reasons), use 1 tbsp Rice flour instead. This is needed to thicken the stew. My mother never used coconut but always rice flour in this recipe and it still would taste good.
4.
Vegetables:
Almost any kind of vegetables can be added to enhance the stew. More often than not, you would need to parboil the vegetables separately with little salt before pouring the tamarind.You can optionally saute it in some little oil to enhance the taste before boiling. Vegetables like Okra, Brinjal, Drumstick, Cauliflower, Potato, Carrot, Bell Pepper etc can be used.
Method
1
Cook the lentils in 1-1/2 cups water along with the turmeric. I use a pressure cooker and cook it for 10-12 minutes or to 3 whistles.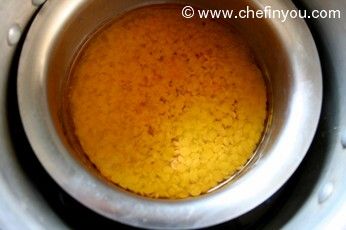 2
Its Ok if its gets mushy. For this recipe, mushy is good :)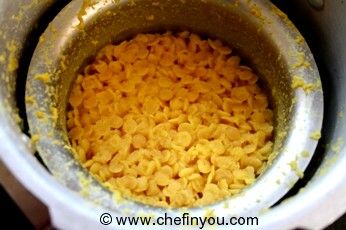 3
Mash it and set aside.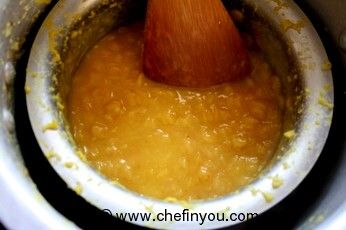 4
While the lentils was cooking, you can alternatively saute or boil any vegetables that you may be using. A rough chop (usually big pieces) would do. I used only onions for this recipe.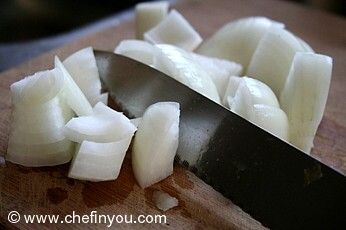 5
Saute the Onion in 1 tsp Sesame oil (not the toasted variety) and salt until aromatic and slightly soft.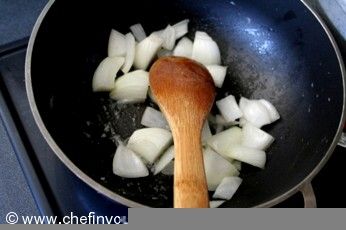 6
Add 1 cup water along with few torn curry leaves.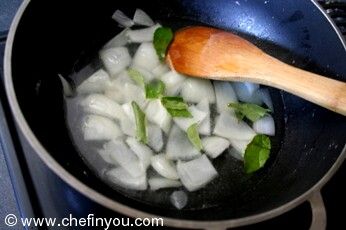 7
When the water starts shimmering, add the tamarind paste and Sambar powder.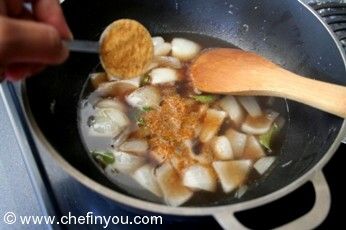 8
Stir to mix and let it come to a boil. This is done to eliminate the raw sweet smell of  tamarind.
9
While that comes to a boil, in another pan, heat 1 tsp Ghee (or oil, though ghee imparts better taste to this), add mustard seeds. When it starts popping, add the fenugreek seeds, asafoetida and dried red chillies.
10
When the fenugreek seeds starts to change color (do not let it burn 'cos that would give it a bitter taste), add the tomatoes if using. Switch off the flame. A light saute for few seconds is enough for tomatoes. This is not really necessary. You can directly add it to the sambar. I like it better this way and hence opt to do this.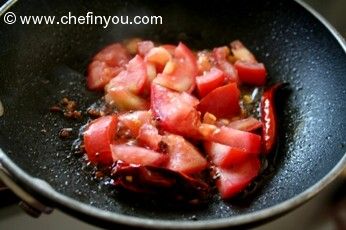 11
Add that to the tamarind mixture.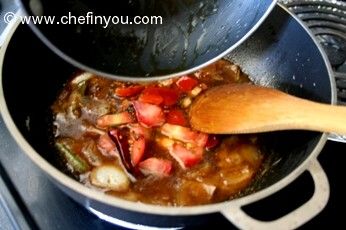 12
Cook for 2-3 minutes and then add the pigeon peas to this mixture.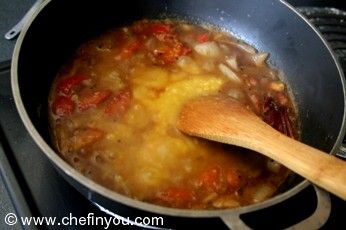 13
Stir to mix. You can check the seasoning and adjust accordingly.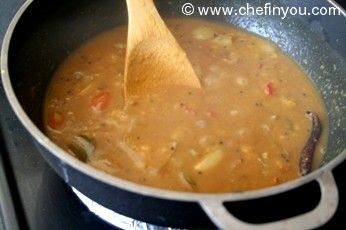 14
To thicken the stew if needed (the consistency is neither thick nor thin), you can do 3 things. You can either simmer the stew until it thickens, or add some coconut ground with 3 tbsp water to this mixture.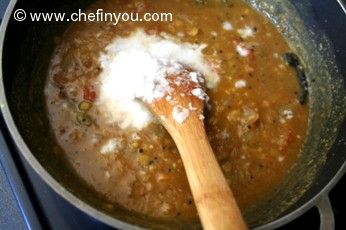 15
Or you can dilute  1 tbsp of rice flour in 2 tbsp water and add it to the boiling stew until it thickens.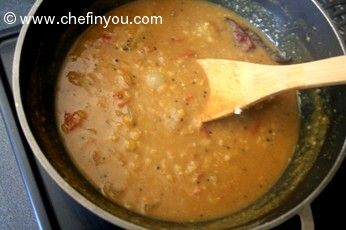 16
Garnish with remaining curry leaves and cilantro.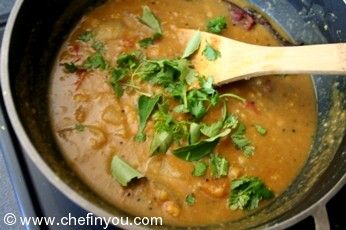 Serve hot with steamed rice as a main course as mentioned earlier. This can also be enjoyed along with Tiffin items like  Dosa, Idli, Pongal , Vada etc.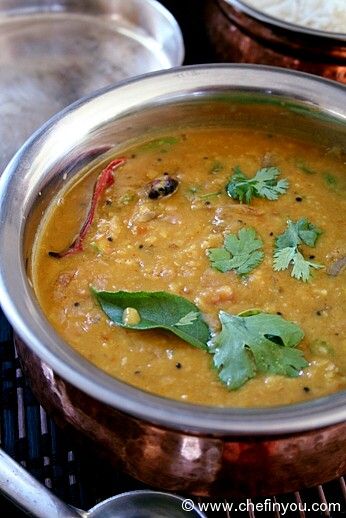 Related Recipes You May Like
Did you make this recipe?
Please click below to share your experiences while you were making this recipe. Thanks for your input!
Have a favorite recipe?
Know a family recipe your mom used to make? Or maybe a go to recipe that works everytime? Share it with your fellow foodies!