Aloo Jeera (Cumin Roasted Potatoes)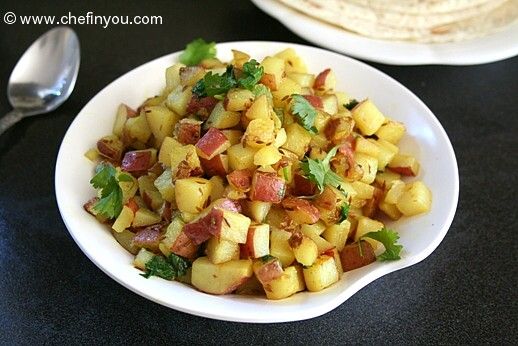 "If you spend time sitting around like a couch potato - trust me, you will look like one when you grow up!" - was something an intelligent pal of mine told me when I was 12 yrs old. With an intelligence expected of a 12 year mind, that made quite an impression with me.  I mean, how else can you explain the brilliant retort I made when my mom made a bitter comment about my report card with "See - you eat all that bitter gourd. No wonder you are bitter. Now, don't ask me to eat that vegetable ever again 'cos I sure don't want to be a bitter person when I grow up!". You can be sure of the fact that I had my mom confused for a while there (and no, for those wondering, I still got scolded -bitter gourd or not! Turns out, mom's don't get easily distracted when your report card is involved. Oh well - it was worth a try ;))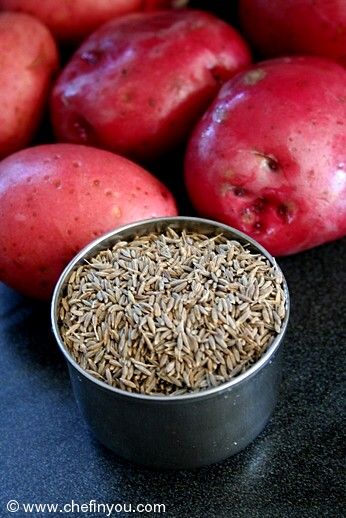 Its said that Okra has enough nutrition to
increase your brain power.
But potatoes made me tactical, I guess. Like a billion kids (and adults!) before me, I am a fan of
Potatoes
in any shape or form. Variations of a dish is simply an excuse for trying it again and again. I know I already posted
something similar
when I was just a baby in blogging years.  But like I said, its an excuse for loving something so much. And anyways, I know scores of families who would do the same potato dish week after week to no complaints which reminds of
this college pal of mine whose mother gave her a potato dish
every other day for lunch box. Every. Other. Day!
And yes, I was actually jealous!
This popular Indian dish would fall under the same category. Repeatable without the curse of boredom associated normally with routine. A simple dish that highlights only 2 ingredients. Potatoes and Cumin (and well Turmeric for that color - but well, its such an used and abused spice in an Indian's household that nobody really cares to "highlight" it as such!). Extremely simple to make and pretty fast if you want to whip up something together after a long day ( or before you are rushing to face a long day, for that matter)
References
my kitchen notes
Ingredients
500 grams (abt 1.1 lbs) Potatoes, see Tips
1 tsp Cumin, see Tips
1/4 tsp Turmeric
1/2 tsp Chilli Powder, or as per taste (optional)
1/2 tsp Cumin powder, see Tips
Lemon Juice to taste, see Tips
Salt to taste
Few sprigs of Cilantro to garnish
Tips
1.
Potatoes:
You can use any Potato for this dish. For today's post I used the red variety - I might want to sound like a pretentious know all and say "
for color and texture and best suited for roasting
" or accept that its the type I had on hand on this particular day ;) But I do think New Potatoes would be best for this dish.
2.
Cumin:
You can also try this dish with Caraway seeds instead of Cumin.
3.
Cumin Powder:
For the less fussy cook, you can also use Cumin-Coriander powder that you get in the Indian stores which I know is lurking around in that pantry refusing to get over. But for the meticulous ones, if you don't have have some in hand, making your own is ridiculously easy. Dry roast some cumin until aromatic in a skillet. And grind it into a fine powder with that fancy
Coffee grinder
you have been dying to put to regular use ;)
4.
Lemon Juice:
If you cook Indian food more often, then most probably your pantry would carry a spice called "Amchoor"/ "Dry Mango Powder" made from dried green mangoes. It adds a nice tang to the dishes. Add
1/2 tsp of mango powder
if you have it. But if you don't or like me are partial to fresh lemon juice (
too many lemons in the backyard
), then simply add it as per your liking.
Method
1
Chop the potatoes into sizable cubes.
2
Heat a skillet on medium along with 1 tbsp Ghee/ Butter. OK, spoil the fun and insist on 2 tsp oil!. Add the cumin, turmeric  and chilli powder and let the cumin sizzle.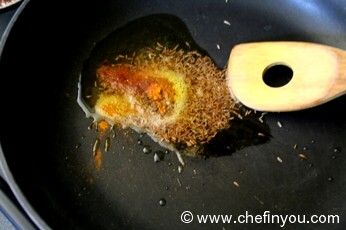 3
Before it threatens to burn on you, add the potatoes along with salt.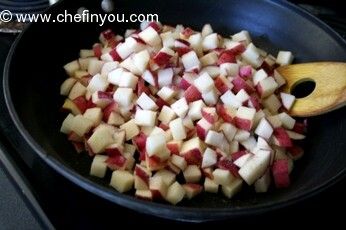 4
Stir until well combined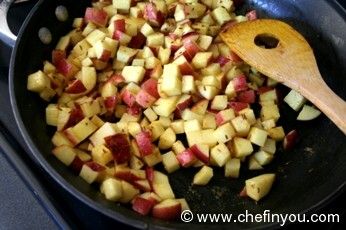 5
Sprinkle some water and close it with a lid. The water helps to steam cook the potatoes. Give it a toss on and off to avoid sticking to the bottom of the  pan (although, trust me, that roasted part is where all the fun is)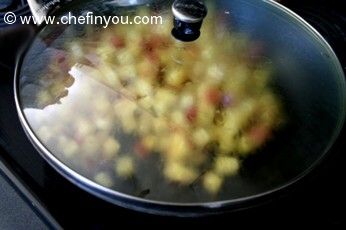 6
It takes around 10-12 minutes max (If you own a good gas burner or shucks, even a decent electric stove, it might take you less than what it takes me!) If the potatoes are soft when you press them with your fingers , its done. Garnish with lemon juice  and cilantro. Toss slightly to combine.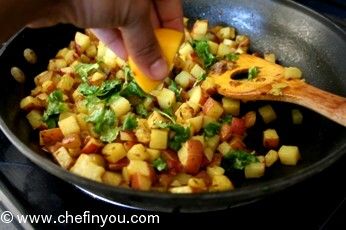 Serve hot with steamed rice, pulavs or rotis.
Related Recipes You May Like
Be the first to showcase this recipe!

Your Name
Did you make this recipe?
Please click below to share your experiences while you were making this recipe. Thanks for your input!
Have a favorite recipe?
Know a family recipe your mom used to make? Or maybe a go to recipe that works everytime? Share it with your fellow foodies!