Do you need reasons to eat potatoes? And a fried one at that? Crispy, roasted potatoes....mmmm! Well, I certainly don't and this recipe today will prove it to you. More knowledge = greater awareness ; Cool gadgets = low calorie improvisations. Agreed? Right. That's what I do when I try antics like
Oven roasting Potatoes
,  
Baking/Broiling Taro Root
and
using searing technique with traditional roast
. Anything and everything to cut down some of the fat but get that impeccable taste of the fried ones. Like I said, anything goes!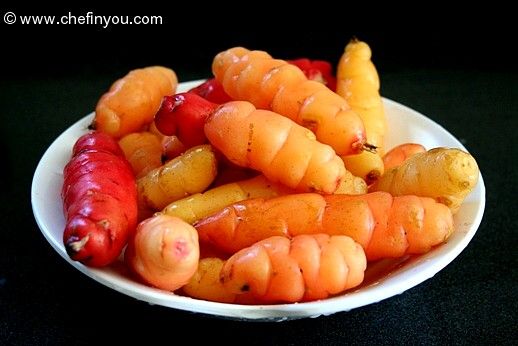 But at times, you have to let go and let the inner "you" take its rightful place. A place where you can munch on a fried potato without worrying about the consequences. Ahem! Does this seem too much PR for eating roasted potato? I thought so.  Anyways, I have been seeing these Oca Potatoes for a while at my Farmer's market and finally last week gave in to buying some.  I know, it looks weird right? But curiosity got the better of me and I finally gave in. But wow, am I glad. These are delicious. Though they lose their color when cooked, they taste slightly sweet. Reminded me of fried plantains (a type referred to as "Nentharanga" in Southern India)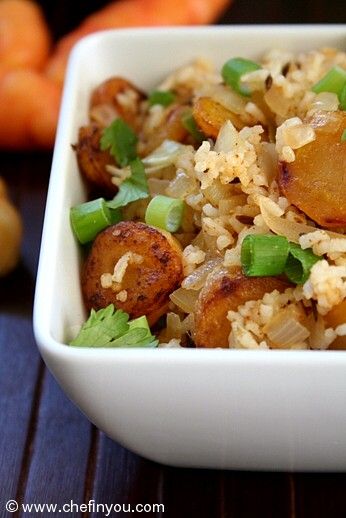 The idea for this recipe comes from my college mate's mom who made potatoes often for her lunchbox. Potato recipes of all kind and varieties. Given that they were always simple, I see why it made perfect lunchbox items, this being one of them. Though she called this Potato fried rice, it was not a typical "fried rice"  - the one that we Indians refer to. No soy sauce or vinegar or other yada yada Chinese stuff. Just simple masala typical to a South Indian household, rice and fried potatoes. Every time she brought it, she hardly got a bite of her own lunch thanks to rest of us :). I think her mother used some kind of store bought masala , something in the lines of  Pulao Masala, Channa Masala or some Subji Masala. I remember this familiar taste though years later, I have no recollection to what that masala could be. But irrespective of whatever masala you use, this dish will be a winner. It has roasted potatoes -  its a winner already!
References
my kitchen notes
Ingredients
2 cups (abt 250 grams/9 oz) Oca Potatoes, see Tips
2-1/2 to 3 cups leftover cooked rice
1 Onion, finely chopped
2-3 Spring Onions/Scallions, sliced and white and greens separated
1 tsp Ginger-Garlic paste
1-2 green Chilies, or as per taste (optional)
1 tsp Cumin
Salt to taste
Few Cilantro sprigs for garnish
Additional Seasoning Suggestions
Abt 1 tbsp Pav Bhaji Masala, or as per taste see Tips
1-2 tsp Garam Masala
2 tsp Coriander-Cumin Powder
Or any of you choice
Tips
1. Potatoes
You can use any potatoes on hand. A regular potato will also work equally well for this recipe. Hey! Its Roasted Potatoes after all - what's not to like ;)
2. Pav Bhaji Masala:
I am sure that Pav Bhaji masala box you got ages ago feels like an  
Akshaya Patra
. It never gets over and I am not one to make Pav Bhaji often. So I use it in other dishes like
Tawa Pulao
and similar dishes. I think I added around 3 tsp for this recipe. You can use any of the suggested seasoning or something of your choice. Its a simple recipe, make it your own :)
Method
1
Wash and clean the potatoes. Remove any bruises (and these tend to have some serious ones!) and slice them.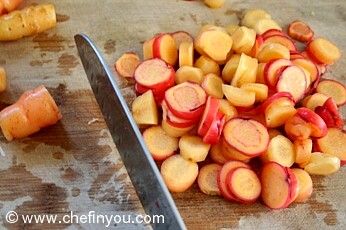 2
Steam them for around 6-7 minutes
3
or until tender enough to be able to prick through a knife.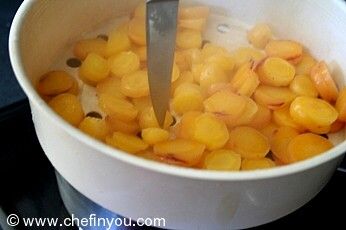 4
Add around 1-2 tbsp of oil in a  hot skillet. Now add the steamed potatoes. The amount of oil will depend on your "generosity" and the kind of skillet you are using. You will need this amount if using a cast iron skillet whereas just about 1 tbsp might be enough for a non stick skillet.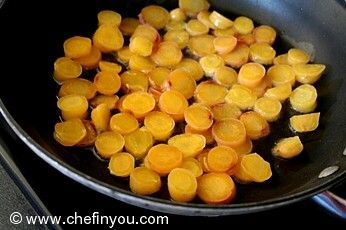 5
Roast them until crispy and browned - takes about 8-10 minutes. (And if you have a lousiest electric stove like I do - it will take you for EVER!)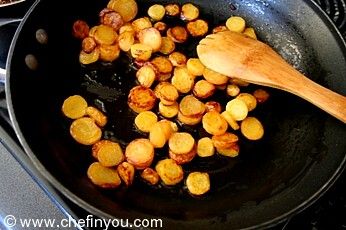 6
Remove the potatoes and drop them on a paper towel to remove excess oil if any. Sprinkle some salt immediately over them. Keep aside.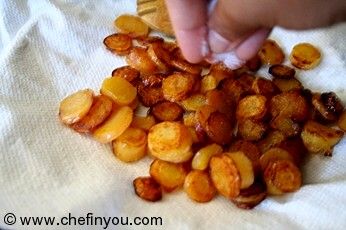 7
In the same skillet (no need to add oil), add the cumin seeds. When it starts to get aromatic and splutters, add the onions, spring onions and chilies (if using) along with little salt (remember there is some salt already in the potatoes). Add the ginger garlic paste and saute for another minute or two.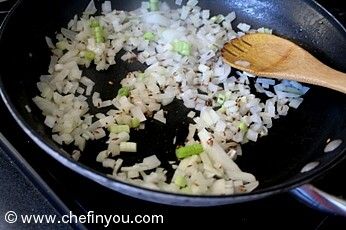 8
Next add the seasoning of you choice and cook for another few seconds. Next goes the cooked rice.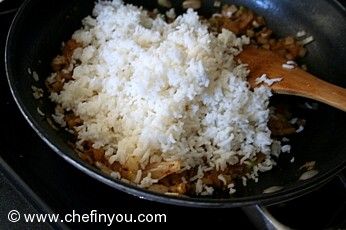 9
Give it a mix until combined.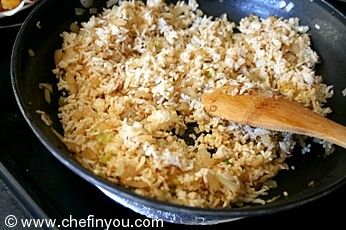 10
Add the fried potatoes next.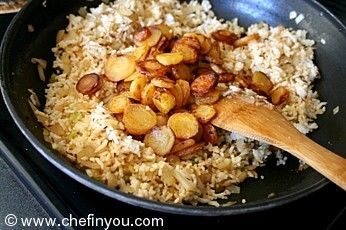 11
Mix well and close with a lid for 1 minute or so in low flame. This is for the flavors to mingle.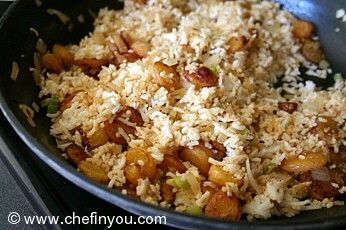 Serve hot, garnished with spring onion greens and cilantro. You can serve it with a simple raita and a papad.
Related Recipes You May Like
Be the first to showcase this recipe!

Your Name
Did you make this recipe?
Please click below to share your experiences while you were making this recipe. Thanks for your input!
Have a favorite recipe?
Know a family recipe your mom used to make? Or maybe a go to recipe that works everytime? Share it with your fellow foodies!