The  most loved of all
parathas
in my family is Paneer Paratha, an Indian flatbread stuffed with Farmer's Cheese. Its taken me a good 2 years to perfect this paratha to suit my husband's taste buds who compares it with some restaurant version he enjoyed god knows how long ago! But making a good
paneer
paratha is as easy as any paratha.
All you need is some good quality paneer and you are all set. I have tried to make this paratha with all kinds of flours and flour combination, but in all honesty, the humble Atta flour (Indian's primary bread flour) makes the best recipe. Of course, I might be biased, but well its totally for you to decide.
The smooth, soft and chewy bread tasting of spongy cheese is extremely addictive to put it modestly. Its pretty heavy hence is better when enjoyed on its own with just pickle and plain yogurt or Raita.  But it does go well with any other spiced curries you can think of like
Palak Paneer
,
Dal Makhani
,
Dal Bukhara
etc. You can even pair it with some sort of
Chutney
as well.
Variations, that you might like:
References
my kitchen notes
Basic Information
Yield
:
Around 6-8 Parathas depending upon the size and thickness
Ingredients
For the Cover
2 cups Indian Atta flour, plus 1/4 cup of dusting see Tips
2 tsp Oil,
Salt to taste
For the Filling
2 cups crumbled Paneer, see Tips
2 tbsp chopped Cilantro, or to taste
1-2 Green Chilli, thinly sliced (optional)
Tips
1. Atta flour:
To make the best paratha, the way Indians make it, you need Atta flour - a flour milled from semi-hard wheat (Durum Wheat). It consists Endosperm and bran. Its high in protein ( 11.5-13% ). Using any other type of Wheat flour will make for coarser bread (including Whole Wheat Pastry Flour) albeit tasty. I read somewhere that King Arthur's white whole-wheat flour makes for a great substitute given that its quite high in protein content (13.5%) as well. I haven't tried this myself. Use any flour with similar protein if you don't have either. You can also use Whole Wheat/All Purpose 50-50.
2. Paneer:
I use around 3 cups generally in this recipe given my family's utter love for paneer. My husband esp. prefers heavily paneer stuffed parathas!
Method
1
Take the flour in a large bowl and mix it with salt.
2
Add the oil. Mix it with fingers so that it forms into small crumbs. You can also use butter or Ghee for additional flavor. I, at times, also use some
yogurt
along with water to add softness as well as protein to the paratha.
3
Add enough water
4
to bind into a semi soft dough.
5
Knead it for 5-10minutes, until it becomes smooth.
6
It should not be sticky or rough/dry.
7
Set aside for around 15 minutes covered with a kitchen towel.
8
While that's resting, lets get to the filling. Ideally, you would want to use fresh made
Chenna
. Chenna is cheese made from curdling milk using acidic medium. See my
Homemade Ricotta Cheese
(till step 14) for details. This makes the bestestest paneer parathas.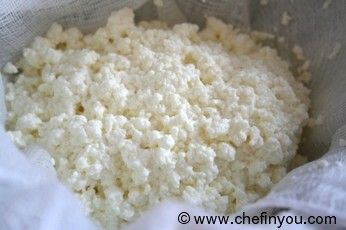 9
But "ideally" is not always practical, so I am going to assume that you would opt for using store bought paneer. Fair enough. I do it pretty often - esp. since I get awesome paneer (organic even!) around here. Its kept at cold storage, so you would need to bring it to room temperature to soften it.
10
But if you don't have time for that, you can do what I do. I usually tend to cube the store bought paneer into chunks, place it in a bowl and pour boiling water on top of it.
11
Let it sit for few minutes and drain the water.
12
Now crumble this  - you will find it crumbling easily
13
until it kinda sorta resembles our Step 8 :) This should be about 2 cups worth or as needed - see Tip 2
14
Add the Cilantro and Green chilli (if using) and mix until combined. Note: Depending upon your taste buds, you can add in any other spices of your choice. My family likes it without any additional flavoring so that the cheesy and blissful taste of paneer shines through and remains the star. Set aside.
15
Pinch a small dough and place it on a lightly floured surface.
16
Flatten it into a small disc
17
Roll it out into a small circle - little bigger than your palm using a rolling pin.
18
Place some stuffing in the center.
19
Bring the edges of the dough over the filling
20
and pinch it on top.
21
Using your palm,
22
press to flatten it out slightly.
23
Dust it very lightly with flour
24
and gently roll it out to form a circle.
25
With practice, you will be able to stuff some more and roll it out into a big circle - but honestly its very simple really! The thickness is medium but you can roll it out as thick or thin you want. No hard or fast rules here as long as you can keep the stuffing inside.
26
Heat a skillet and place the flat bread on it. Cook it for few seconds.
27
Drizzle some oil all around or for a true Punjabi experience, use Ghee/butter instead.
28
Turn it the other side after few minutes or until you see brown spots on its surface. Its not necessary to grease the other side once again.
29
Repeat likewise for all the parathas.
Serve hot. We usually enjoy this with spicy pickle and Raita (or
plain homemade yogurt
) but you can also serve it with other light gravy side dishes.
Related Recipes You May Like
Be the first to showcase this recipe!

Your Name
Did you make this recipe?
Please click below to share your experiences while you were making this recipe. Thanks for your input!
Have a favorite recipe?
Know a family recipe your mom used to make? Or maybe a go to recipe that works everytime? Share it with your fellow foodies!