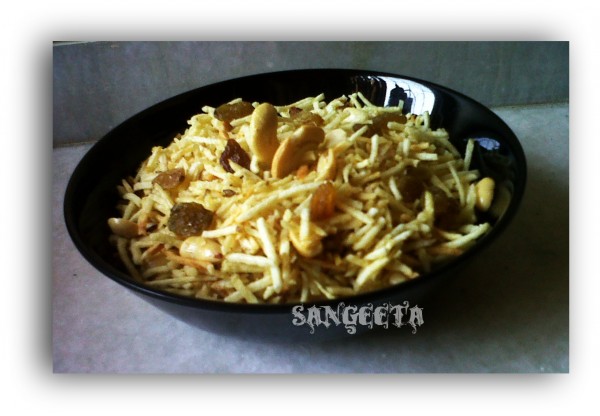 FaraLi Chiwda is a very famous and most sort out dish,during any of the Indian fasting...I made it today for Maha Shivratri..a very easy to make dish,can be stored on self for a month in air tight jar...:)
Basic Information
Yield
:
make 300 gram chivda
Ingredients
250 gram potato (raw and grated in thick straws)
50 grams cashew nuts
50 gram raisins
50 gram groundnuts (raw)
1o gram powdered sugar
5 gram black pepper (crushed)
5 gram rock salt
10 gram green chilli (chopped)
10 curry leaves (chopped)
Oil for deep-frying
Method
1
In a deep pan, heat oil,fry potato straws till crisp.Drain the straws on an absorbent paper.
2
Deep-fry cashew nuts,raisins and groundnuts till crispy.Drain and add to potato straws.
3
Now fry chopped chillies and curry leaves,drain and mix to other fried ingredients.
4
Now mix all spices,salt and sugar,till chivda is still hot.
5
Mix well,cool for 5 min and transfer to airtight jar.
6
NOTE:You can make chivda with same process out of raw banana or yam.
This recipe was contributed by a ChefInYou member.
Related Recipes You May Like
Be the first to showcase this recipe!

Your Name
Did you make this recipe?
Please click below to share your experiences while you were making this recipe. Thanks for your input!
Have a favorite recipe?
Know a family recipe your mom used to make? Or maybe a go to recipe that works everytime? Share it with your fellow foodies!