Fresh Cranberry & Orange Bread
Delicious, bright red and fresh cranberries have been checking me out for the past few days (or is it the other way?!). Every where I go, there they are nestled among other fruits, yet standing out with their juicy appearance! I could not resist the temptation any longer (can't remember what the heck was stopping me in the first place!) and bought some home last week.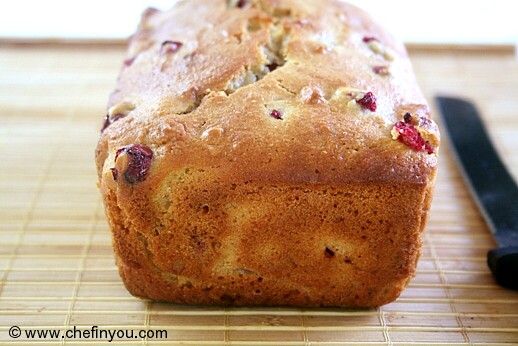 Just like
I suffer from C.D.U.W.F
, I also suffer from
C.D.F.M.B
-
"Compulsive Disorder for Making Breads"
with anything and everything! My smarter half accuses me of a misleading tag line in my website. He says, instead I should name it, - "Cooking only two things - Wholegrains and Breads"! Ah, well - for all that accusation, haven't come across one bread or wholegrain recipe the past few days now at Chef In You have you??? (cough! Nope -
Cornbread
and
Vegetarian Meatloaf
are not counted in breads and if you made a smart quip about
Polenta Pizza
being wholegrain, ahem - well too much smartness is bad for your health is all I am going to say!)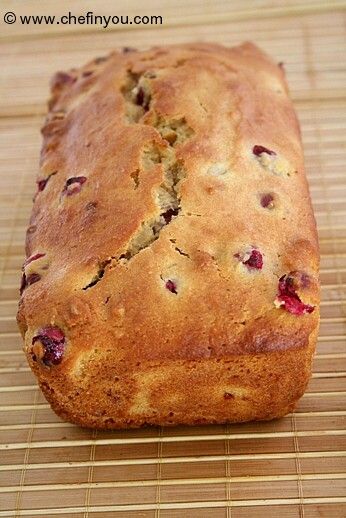 Anyways - now that we have established that I haven't posted a bread for a long while - Here it is again - Cranberry and Orange Bread :) :) Low fat Baking book gave me this recipe but I had to tinker - I am known as tinkering queen not for nothing you know. I made it a little more nutritious by substituting part of the all purpose flour with whole wheat pastry flour, half of butter with vegetable oil and 2 whole eggs with egg whites. If you like the tartness of the cranberries, then this recipe is for you. The juicy tartness is complemented very well with the citrusy flavor of Orange. The walnuts add a nice crunch to this otherwise moist bread. If you have a sweet tooth then this bread will benefit from some additional sugar. Even we (the anti-sugar club) thought that it needed some - Now that's a first in any of the recipes i have tried so far :)
Basic Information
Cook Time
:
30 min to 1 hour
Yield
:
Makes one 9X5 inch loaf
Ingredients
1 cup whole wheat pastry flour (see substitute here)
1 cup all purpose flour
1/2 cup sugar (add 1/4-1/2 cup more for those liking sweet bread)
1 tbsp baking powder
1/2 tsp salt
zest from 1 orange
2/3 cup fresh orange juice
3 egg whites, lightly beaten
3 tbsp melted butter
3 tbsp vegetable oil
1-1/2 cups (6 ounces) fresh cranberries
1/2 cup (2 ounces) walnuts, chopped
Method
1
Preheat Oven 350F. Line the bottom and sides of a loaf pan with waxed paper and grease. Set aside. In a bowl, sift and mix all the dry ingredients together. Stir in the orange zest.
2
Make a well and one by one add the orange juice, eggs, butter and oil. Stir from the center and gently mix them all together. Make sure not to over mix the mixture.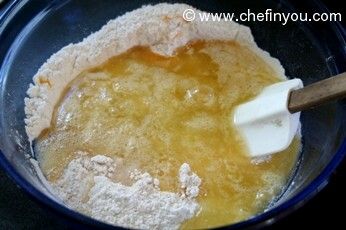 3
Add the cranberries and walnuts and mix into the batter.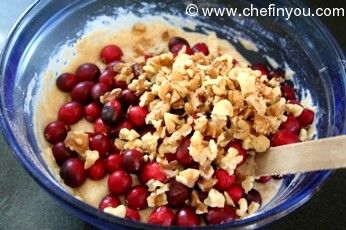 4
Transfer this batter into the prepared loaf pan.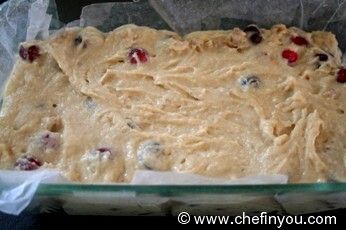 5
Bake for 45-50 minutes or until a skewer inserted into the middle of the loaf comes out clean.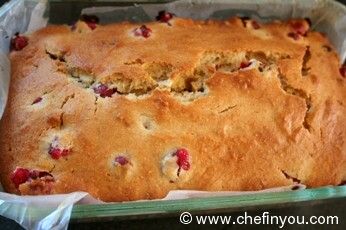 6
Let it cool in the pan for 5-10 minutes and remove. transfer it to wire rack.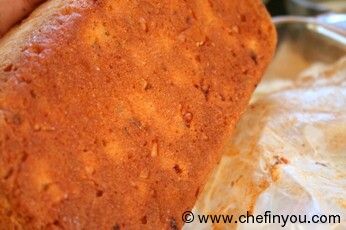 Serve thinly sliced with butter or just as it is. They taste great toasted and make great breakfast with some jam!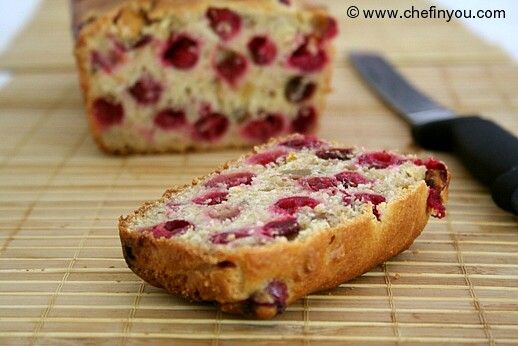 Related Recipes You May Like
Did you make this recipe?
Please click below to share your experiences while you were making this recipe. Thanks for your input!
Have a favorite recipe?
Know a family recipe your mom used to make? Or maybe a go to recipe that works everytime? Share it with your fellow foodies!