It all started out with a "
Cottage Pie
", then slowly just like it happens for almost everything, it sprouted branches by way of variations. Shepherd Pie came into existence and so did many others like cowboy pie, Pâté chinois, hachis Parmentier, Siniyet Batata, etc. Of course each boasts of a distinct ingredient which is different from the others although sometimes used interchangeably. With beefs and lambs playing the main role in these variations, can the humble legumes and soy be left far behind? I may not be right, but I have an inkling that the shepherd's in India at least cant really afford to have choicest cuts of the meat for their meal. They rather would sell them, make money out of it while eating frugal themselves. so sadly poor that they are! :(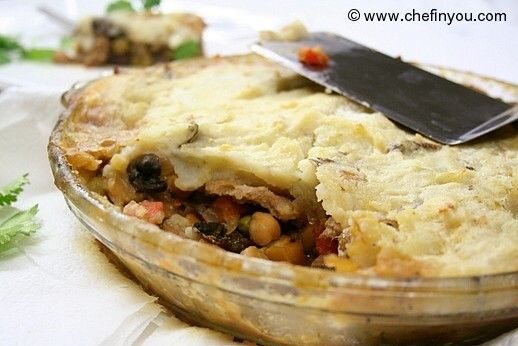 This variations is good for cleaning the fridge of those bits of assorted vegetables. You know, when at the end of the week you find yourself staring at 1 carrot, 2 parsnips, 2 'i am going to die soon' bell peppers etc - then this is it ;). Recently, I found Seitan Cutlets in my local food market. I was surprised since I always found the 'blob looking' type. I had bought some home and promptly forgotten about them. So come weekend and time comes for shopping anew, I see it happily sitting in the corner. I used that and the vegetables together to make the pie with the seitan , chickpeas and Portobello being the meat replacement. I don't have the right measures since it was all kinda chop and throw into the pot - but I have an approximate idea of the ingredients I used and how I made them - hence pls do use your discretion for the seasonings. This provides a generous portion for 2 and would be a good meal for 3.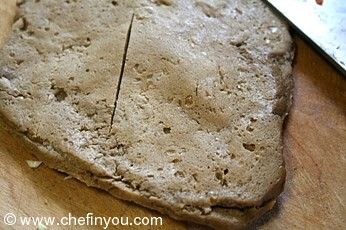 You might be interested in:
Vegetarian Meat Loaf
,
Vegan Sloppy Joe
,
Vegetable Pot Pies
,
African Jollof Rice
Basic Information
Yield
:
Makes a Generous portion for 2 and a hearty side for 3
Ingredients
2 large potatoes
1 large onion, chopped
1 large carrot, sliced
2-3 cloves of garlic
2 portobello mushrooms
1-2 parsnips, chopped
1 - 15oz canned garbanzo beans (chickpeas)
8 oz Seitan,chopped or minced or ground - your preference
1 cup frozen peas
1 tbsp tomato paste
2 - 3 cups vegetable broth
3-6 tbsp heavy cream, warmed (depending on the consistency you like)
1 tbsp butter,softened
1/2 - 1 tsp Italian seasoning (or use any dried herbs)
salt and pepper to taste
Method
1
Preheat Oven 450F. Steam the potatoes until tender.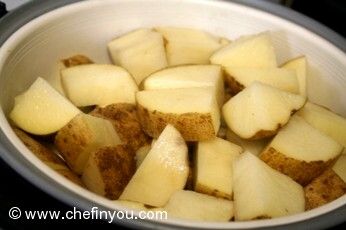 2
Meanwhile in a large skillet saute onions, tomato paste and garlic in 1 tsp oil (or butter)  and salt until soft and the rawness of the tomato paste goes away. Add the carrots and cook for another 1 minute. Add the mushrooms and the seasoning next until mushrooms gets soft.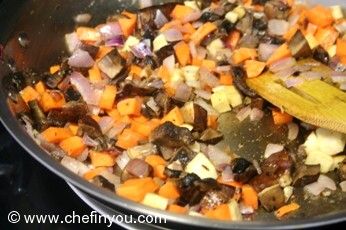 3
Add the Seitan and chickpeas to the mixture and cook for 1-2 minutes.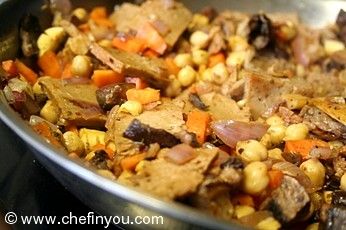 4
Now add the vegetable broth to the vegetables.  Mash the chickpeas a bit for the mixture to thicken. You can mix 1 tbsp all purpose flour and little water to make a thick paste and cook along with the mixture for 5 minutes. It will help it to thicken up. For me usually the chickpeas helps to bind the mixture.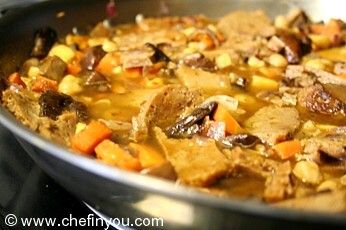 5
Add the peas last (its frozen hence does not need to really cook for long). Toss it until combined.  Taste and add more seasoning if required.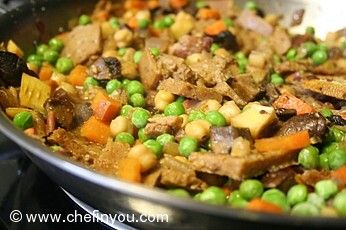 6
Take the potatoes hot and mash them to a smooth consistency. You can peel them if you want but I like the skin on my potatoes and keep them. Add in the butter and heavy cream. Season with salt and pepper to taste.
7
Place the vegetable mixture on a casserole dish or a deep pie pan. Then drop spoonfuls of the mashed potatoes around he perimeter of the dish.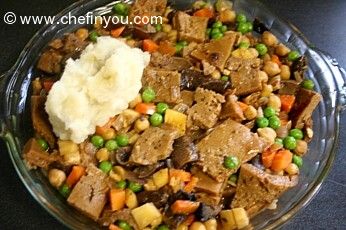 8
Use a rubber spatula to spread the potatoes making sure to attach them to the rim of the pie plate. Seal the edges to prevent the filling  from bubbling out of the plate in the oven. Place this dish on a baking sheet lined with foil just in case to catch any leeks.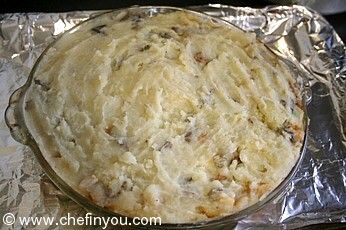 9
Bake for 30-45 minutes until the edges are bubbling and the top is lightly browned. Cool for few minutes before serving.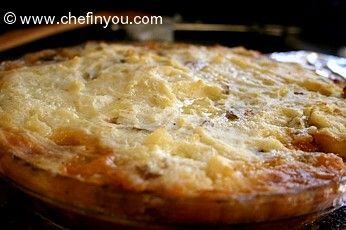 I garnished it with few cilantro leaves and this tasted even better the next day!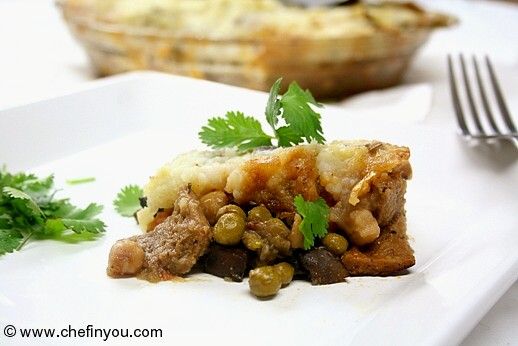 Related Recipes You May Like
Be the first to showcase this recipe!

Your Name
Did you make this recipe?
Please click below to share your experiences while you were making this recipe. Thanks for your input!
Have a favorite recipe?
Know a family recipe your mom used to make? Or maybe a go to recipe that works everytime? Share it with your fellow foodies!