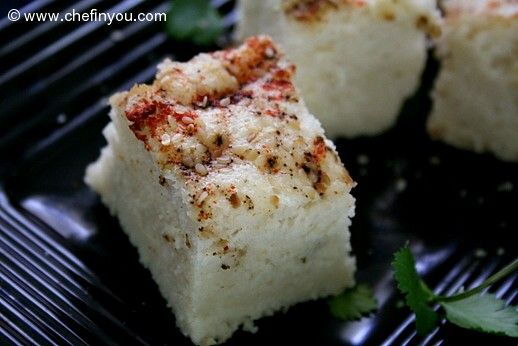 When I made
Khaman Dhokla
with amazing results, I had one reader
Kavita interact with me about Khatta Dhokla
! I promised her a recipe and here it is - 2 months later. Well its late indeed and I really apologize to many of my readers whose request is still in the queue. I assure you, its not cos I am slapdash about the request. Hell no! I am not! Its just that when I give you a recipe, I want to be first personally happy with the results. Like for example, I remember trying making the Khatta dhokla ages ago - so long ago that I really don't remember what the result was. Only that - it was not a disaster. Then I tried out the recipe I had and well it was clear that I was thoroughly spoilt by the spongy Khaman Dhokla since the recipe I had did not give me that level of sponginess. The pores were missing and then it had a more hardened batter type texture than the spongy one I was looking out for.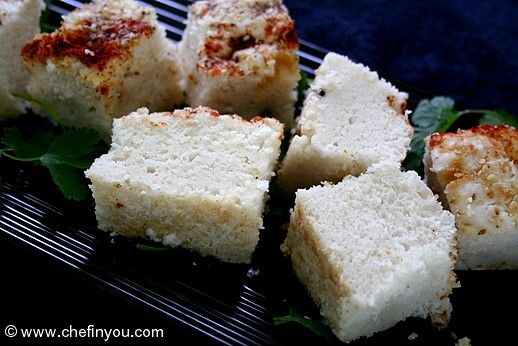 Thus started experiments where I tried out at least 7 different recipes each with not very satisfactory results. Then finally about a week ago, few modifications later, I finally got the texture I was looking out for. I am not sure the source of the recipe which I modified since Dhokla recipe is very common in India and almost everyone has a recipe for it. But whoever it is - thank you :)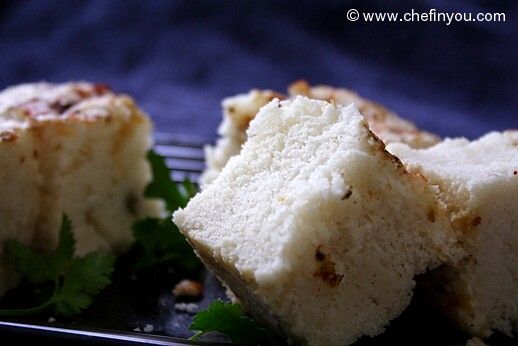 The result of this experiment was an airy and spongy Dhokla which has a slight tanginess (rightfully so since
Khatta
in Hindi means
sour
). The batter is almost same as
South Indian Idli
and so is the preparation with a slight variation. Addition of fruit salt gives it the airiness and that immensely spongy texture. You can top it with anything of your choice - roasted fenugreek seeds powder, Pepper powder, chilli powder and the list goes on. It's been raining a lot in my side of the world and as you can see I did go overboard with the chilli powder!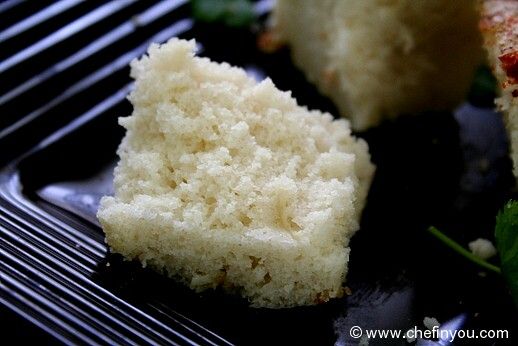 I am not complaining - I loved it! Only my better half had a tough time with the 'heat' of the dish! And you might think it weird but you will have a riot if you hear what we did with the leftovers! I made
Upma
with it the next day and it was amazing!!! Since its taste matches that of Idli, I thought a
upma
just like 'Idli-Upma' would not hurt it and it did not!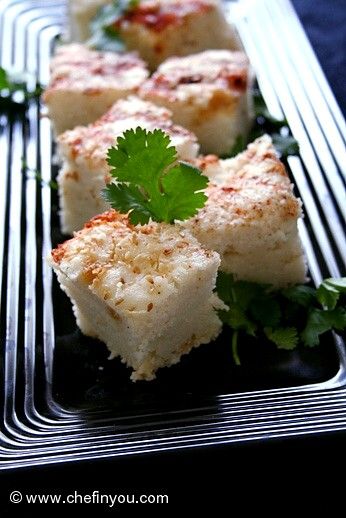 You could also enjoy it with
Idli-chutney powder
and you will know why I keep saying that it matches the taste of idlis. Esp. when enjoying it with
idli chutney powder
, the similarity becomes profound :). I have added green chillies in the recipe but you can add chilli paste to the batter for a spicier version.
If you like this, you might also like:
Indian Street Food/Snacks :
Khaman Dhokla
,
Batata Vada
,
Molaga Bhajji
,
Samosa Recipe
,
Pav bhaji
,
Sundal recipe
,
Masala Vadai
Basic Information
Yield
:
Makes one 8 inch (2" deep) pan worth
Ingredients
1-1/2 cups medium grained rice
1/2 cup split black gram (urad dal)
1/4 cup yogurt/curd, slightly beaten
1-2 green chillies, thinly sliced (or use 1/2 to 1tsp green chilli paste)
10-12 whole peppercorns
1 tsp oil
1 tsp fruit salt (Eno)
1 -2 tsp of roasted sesame seeds,coarsely ground black pepper, chilli powder (optional) for garnish
salt to taste
Method
1
Soak the rice and black gram separately, at least for 6-7 hours.
2
Drain the rice and grind it in your processor until it becomes a paste. The texture will still feel coarse/grainy.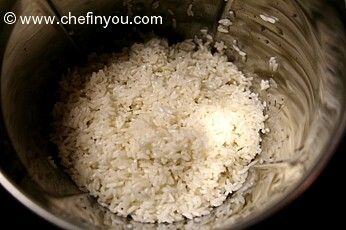 3
Pour it out into a large bowl.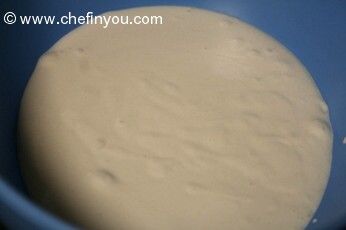 4
Next grind the black gram. Add water only if required.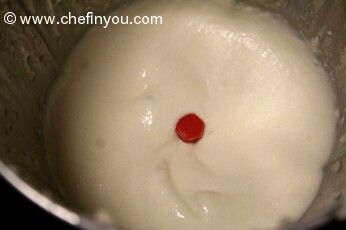 5
The texture of this is velvety and very smooth. Pour it into the same bowl with the rice batter.  Add the yogurt/curd, salt , peppercorns and mix well. Ferment overnight.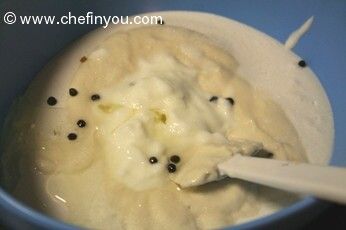 6
The next day - add the sliced green chillies (or chilli paste) and oil . Mix well.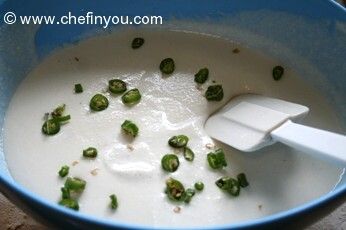 7
Now sprinkle the 1 tsp of fruit salt over the batter and add 2 tsp of water over it (again sprinkle it on top). You will see the bubbles forming as a reaction to the fruit salt when in contact with water.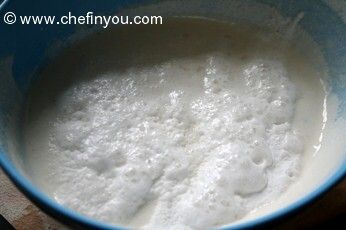 8
Take a thali (plate) which you are planning to use for steaming the dhokla. I used a Cake Pan since it fits well in my rice cooker and it was the only deep plate I have on hand. Though this is not necessary, I as a precaution additionally sprinkled a little bit of Fruit salton the plate. You don't have to do it per se.   Keep the steamer ready - there should not be a delay after the fruit salt is added to the batter. When its ready, pour the batter into the plate.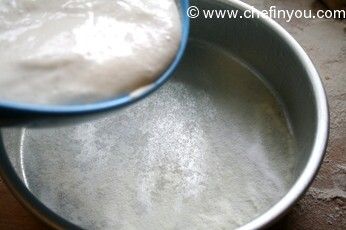 9
Once the bubbles start, very gently stir the batter for the salt to get mixed well with the batter.
10
Top it with the roasted seeds, powders etc. and steam for about 10 minutes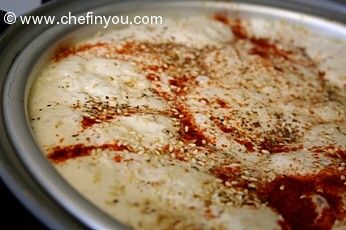 11
or until a knife/skewer inserted in the middle (check in multiple places) comes out clean
Let it cool for few minutes and then cut out pieces - diamond shaped or square - whatever strikes your fancy! Can you see the spongy texture?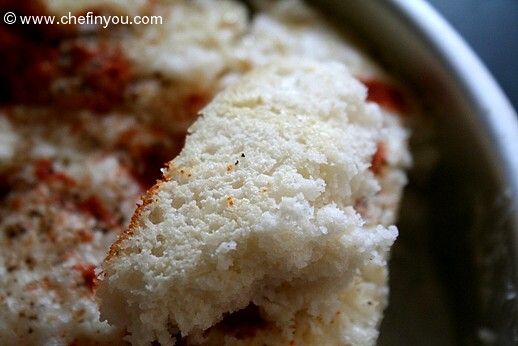 Of course, I tried very hard to get that spongy texture in the photos.....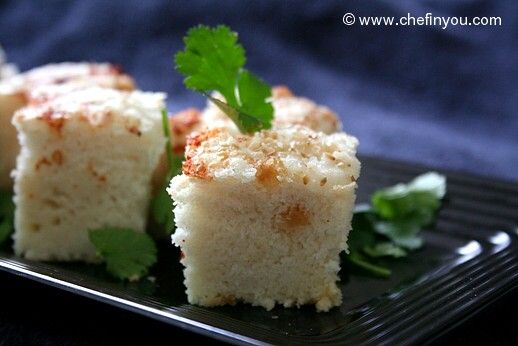 Hopefully - that has come through. Enjoy it as soon as you make them and with Tamarind/Mint chutney! It was good on its own too.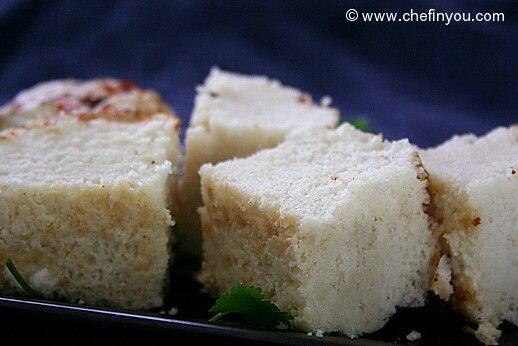 Be the first to showcase this recipe!

Your Name
Did you make this recipe?
Please click below to share your experiences while you were making this recipe. Thanks for your input!
Have a favorite recipe?
Know a family recipe your mom used to make? Or maybe a go to recipe that works everytime? Share it with your fellow foodies!