Masoor dal Pulao (Red Lentil Rice)
Lentils of all sizes, shapes, flavors and textures sit in my pantry. Being a vegetarian, its needless to say, Lentils do form a large part in our day to day diet. Being Indian on top of that, it becomes all the more essential cos lentils play a huge role in so many of our dishes. And when I say, day to day, I do not mean just in terms of consuming
dal
. I mention this cos recently I met with an American who was discussing Indian meals with me and she insisted that how we consume lots of dals and how that was our main source of protein. I agree but dals are not the only way we enjoy the lentils. Among the many ways, I use lentils in my kitchen, adding it the rice is also one variety we enjoy - like this
Red Lentil Rice
which in
Hindi
we refer to "
Masoor Dal Pulao"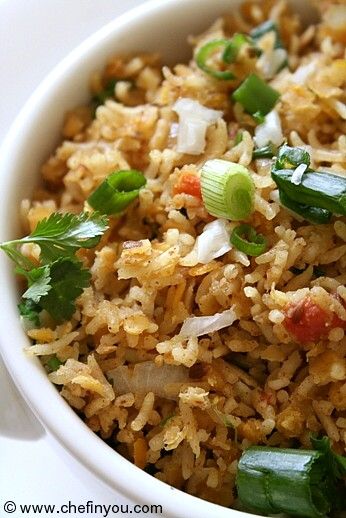 Any lentil can be used to enjoy along with rice though the cooking time will vary. I use Red lentils cos they are quicker than many other lentils and personally I love its flavor with this kind of pilaf. I also find it convenient to pack for lunch box. One pot meal is always welcome in my household - as if I care to do dishes! And no, I don't use the dishwasher - where everything is done using only one skillet. Depending on the time and my enthusiasm, I serve it with an elaborate side dish or stick to simple Papad -Raita - pickle combo. Don't get intimidated with the list of ingredients - this can be made with as minimal ingredients as possible (example - just onions, cumin, tomatoes, lentils and rice will do the trick too!)
Ingredients
1 cup basmati or any long grained rice, soaked in water for 10-15 minutes
1/2 cup red lentil (masoor dal - you can use more if you don't mind the final texture mushy. Tastes great though!)
1 tsp cumin / fennel seeds
1 medium onion, chopped
1 medium tomato
2-3 spring onions, sliced thinly
1 bay leaf
2-3 each of cloves and cardamom
pinch of turmeric
2 cloves of garlic, minced (optional)
1-2 green chillies, thinly sliced (or as per taste)
1 inch ginger, peeled and grated
1 tsp garam masala
2-1/2 cups coconut milk (optional. Just replace it with vegetable stock/water instead)
salt to taste
few sprigs of cilantro for garnish
fresh lemon juice to taste (optional)
Method
1
In a skillet in 1 tsp oil (or butter) saute the cumin, bay leaf, cloves, cardamom, garlic, chillies, ginger along with onion and salt.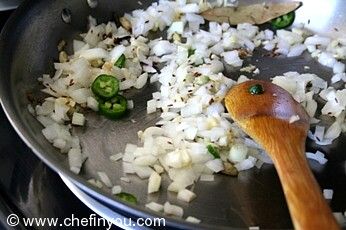 2
Once the onions get soft add the tomato along with turmeric and garam masala. Saute for another 1-2 minutes.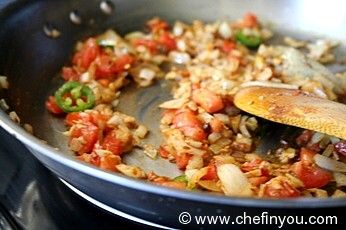 3
Add the lentils and rice. Give it a mix and saute for another min or two until the rice gets aromatic/translucent.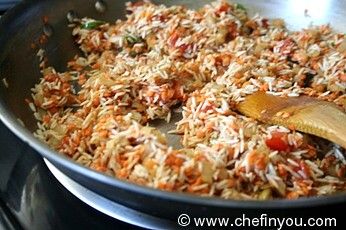 4
Add the coconut milk/water/stock. Mix well.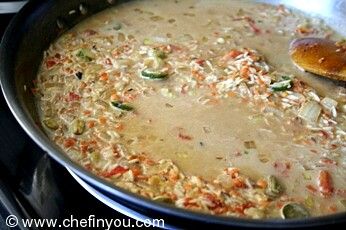 5
Cover and cook for 8-10 minutes or until the rice is cooked.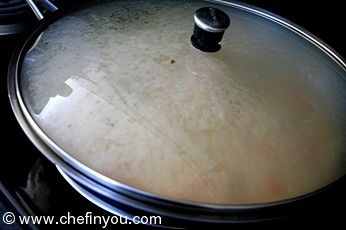 6
Fluff it gently. I sometimes add frozen peas to this mix too towards the end of cooking. You can add more vegetables if you want to.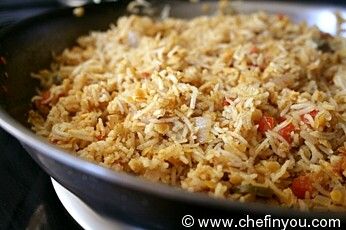 7
Now to add some color and more flavor. Garnish it with spring onions and cilantro. Even mint leaves go v well with this.  I squeeze some lemon to this rice for couple of reasons. Of course for the flavor. It also helps to reduce the sodium level and third - most importantly - the citrus helps to absorb the iron present in the lentils. So whenever I cook with lentils, I add lemon juice to the dish.
Serve hot with any side dish of your choice. A few drops of ghee optionally adds amazing flavor to this rice.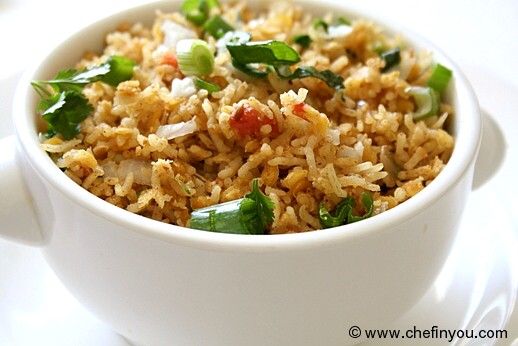 Related Recipes You May Like
Did you make this recipe?
Please click below to share your experiences while you were making this recipe. Thanks for your input!
Have a favorite recipe?
Know a family recipe your mom used to make? Or maybe a go to recipe that works everytime? Share it with your fellow foodies!