Roasted Romanesco Broccoli with Chickpeas & Olives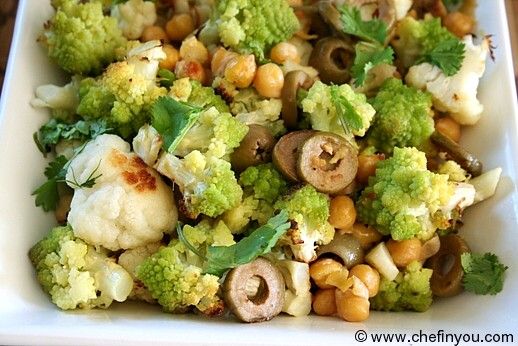 I know I have mentioned it before, but we have fallen in love with
roasted cauliflower
and have been enjoying it often last couple of months - thanks to the season. Its at its best during winter and I can feel it in the taste. Every time I make it, I try to add in a variation. So the last time I went in for my usual grocery shopping, I spotted these alien looking cauliflower thingies called as Romanesco Broccoli. I had a faint memory of reading about it in the internet - so I immediately took my phone to verify if they are
not
GMO.
With a green signal, I took one of them home. Just look at those beautiful patterns - aren't those simply amazing to look at?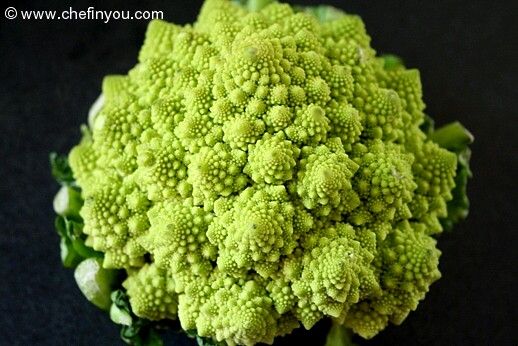 Turns out, that they are amazing to taste too. They taste like a cross between broccoli and cauliflower. They are nutritious and very low in calories. Since we love roasted broccoli and roasted cauliflower, I thought why not try the same method for these too. I am glad I did.  They were quite firm, retained their color after cooking and had a slight broccoli like taste although milder.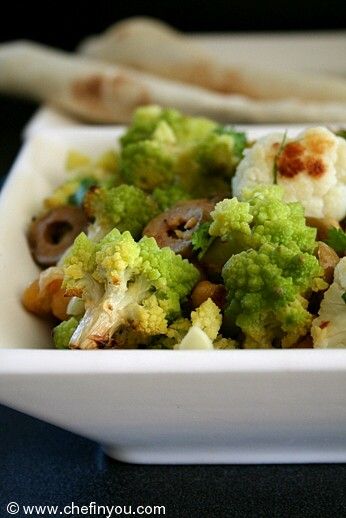 I used a recipe from a Cooking Light magazine, that used only cauliflower along with delicious additions. Instead of using all cauliflower, I used Romanesco predominantly along with other minor changes. We loved this combo a lot - thanks to which I have till date made it like 4-5 times already. This dish is immensely nutritious and filling. Chickpeas provide the protein thereby making it hearty.  The olives add tanginess and blends immensely well with the cauliflower and romanesco. We paired this side dish with
Mexican Rice
and tortillas along with a
spring onion yogurt sauce (raita).
Basic Information
Yield
:
Total around 6 servings with a serving size of 2/3 cups
Ingredients
10 Oz Romanesco Broccoli
6 Oz Cauliflower florets
10 large Spanish Olives, sliced (see Tips)
8-10 garlic cloves, coarsely chopped (or as per taste)
1/2 cup Chickpeas
1 Bay leaf
2-3 tbsp olive oil
Crushed Red Peppers to taste
1/4 tsp Sea salt, or to taste
Cilantro/Parsley leaves to garnish
Tips
1. Spanish Olives:
The original uses 24 green Spanish Olives. I had a bottle of Super Colossal Spanish Olives stuffed with Pimentos. I used 10 of them and sliced them thinly.
Method
1
Preheat oven to 450F. Soak the Chickpeas overnight and then cook it in a pressure cooker along with Bay leaf for 2-3 whistles.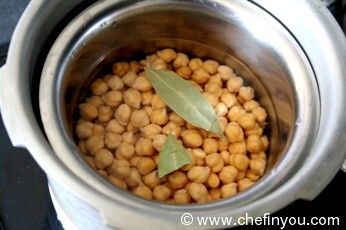 2
It should retain the shape yet be soft.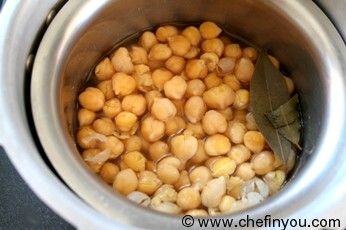 3
While that's cooking, prepare the cauliflower and romanesco. Chop them into florets and wash them well.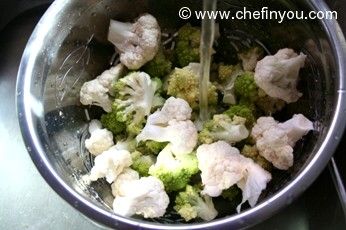 4
In an oven proof/roasting  pan, add the florets, olives, peppers and salt  together along with cooked chickpeas. Do not add the chickpeas cooking water. Retain it for some other use (soups, broth, instead of water to make parathas/rotis etc )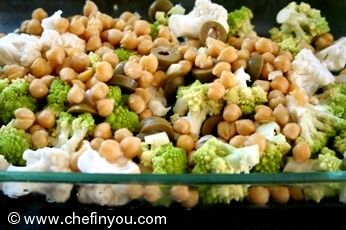 5
Add olive oil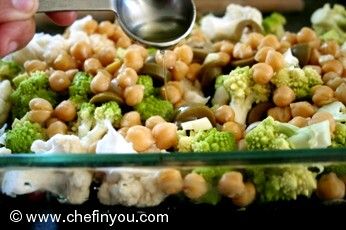 6
and toss the ingredients well.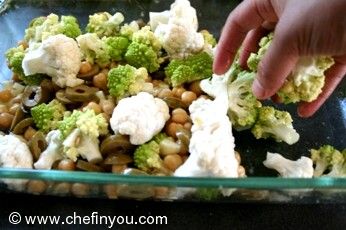 7
Bake at 450F for 20-25 minutes (give it a quick stir midway)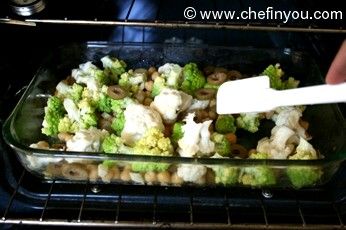 8
or until you find that the cauliflower and broccoli have browned and looking crisp.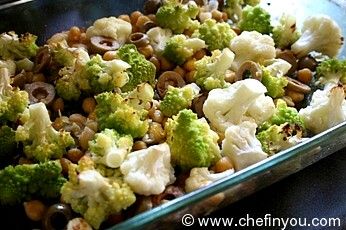 Serve hot garnished with cilantro/parsley. We enjoyed it by stuffing it into tortillas along with
Mexican Rice
, like a Burrito.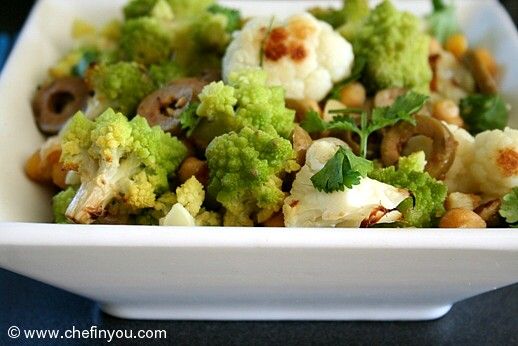 Related Recipes You May Like
Did you make this recipe?
Please click below to share your experiences while you were making this recipe. Thanks for your input!
Have a favorite recipe?
Know a family recipe your mom used to make? Or maybe a go to recipe that works everytime? Share it with your fellow foodies!