Seppankilangu Varuval (Colocasia/Taro Root Roast)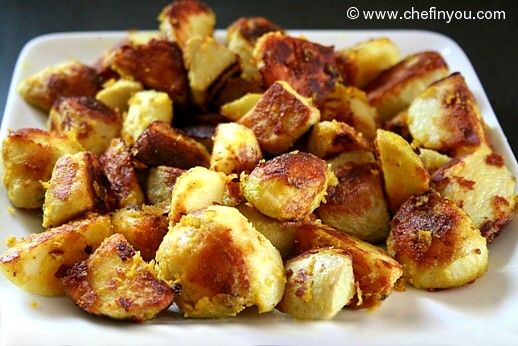 Recreating my mom's taro roast/fry has taken its time. I still don't think I have it pat down. Have you felt frustrated to find something amiss with your mom's recipe when you make it, but can't place a finger on what's wrong? I face it almost always! One of my mom's special is Taro Root roast. Paired with Onion sambar, this combo always managed to wow a crowd, however finicky it might be. There is one downside to it (but of course!) - calories. Too much oil is added to create that delicious crust. So I tried my own low calorie version with
Baked Taro Root Roast
with satisfying results.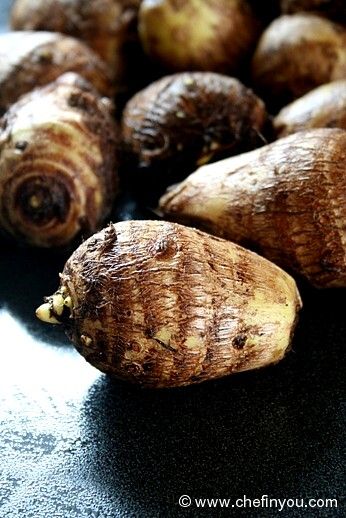 But on and off I do make the real thing. Yet, I feel horrendous about adding that generous load of oil. As they say "Ignorance is bliss!", which I at times agree. That's 'cos I find myself handicapped most of the time, to add ingredients randomly, knowing the effects it has on my body. No, its not the fat; I am not afraid of it. But its like eating food from a waiter known to spit on food. Would you eat it with that knowledge? Likewise, knowing that certain foods are not loved by our body ( though our palate craves it) has a way of putting a dampener in my cooking. So how I do stop myself being such a stuck up cook? Well I make these this way.
For only 2 tbsp of oil for almost 1 kilo of Taro root , this still manages to create a beautiful crust. Cast iron pan would do this job perfectly but I find that it uses up more oil than a non stick pan. The trick is to first make sure that you have uniform pieces and then do a high heat cooking for the initial 5-6 minutes (or until it creates the crust to your liking). Since we already cook the Taro root, creating this crust takes minimal time. I have provided more tips along the way which works for us.
References
my kitchen notes
Basic Information
Yield
:
Would serve around 3-4 people (might vary depending on how much you like this;))
Ingredients
850 grams (about 2 lbs) Taro Root (see Tips)
1 tbsp Chickpea flour/Besan
1 tbsp Rice flour
1/2 tsp Turmeric
1 tsp Red Chilli powder, or as per taste. I did not add any.
1/4 tsp Asafoetida
1 tsp salt, or to taste
Tips
1.
Taro Root :
If you are wondering about the quantity of 850 grams - well I thought I had a kilo which I certainly dint, hence it was a weird number of 850. But you can add however much you have and adjust the seasoning accordingly. Taro Root is also known as "
Arbi
", "
Colocasia
" and "
Cheppankizhangu
"
Method
1
I halved Taro root (those that were big)  and steamed them for about 10 minutes.
2
You can also boil them. My mom always boiled them or cooked them along with the rice in her pressure cooker. I somehow always manage to make it mushy in a pressure cooker, hence keep away from it :)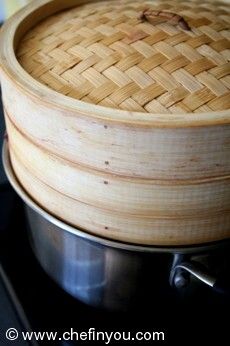 3
Make sure not to overcook them 'cos that hinders in making them crispy later on. You need don't even need to cook them completely. Just steam them enough to be able to peel the skin. Check with a fork or knife. If it goes through easily, its done.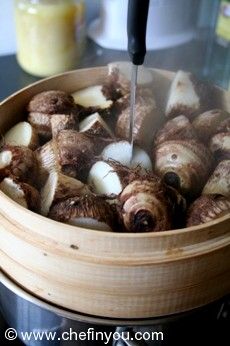 4
Set aside for few minutes when its easy enough to handle. I usually dip them for a second in cold water and peel them.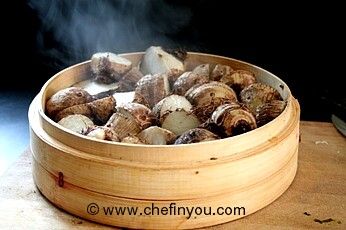 5
For beginners, keep in mind that these will be HOT. So make sure not to scald your fingers. If not overcooked, you will find that the skin peels easily but does not bring the flesh along with it. Otherwise it would turn into a slimy mush in your hands!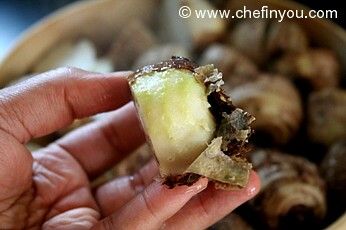 6
Chop them into smaller pieces and keep them uniform. I do that cos, I personally find that it needs much less oil to cook/roast.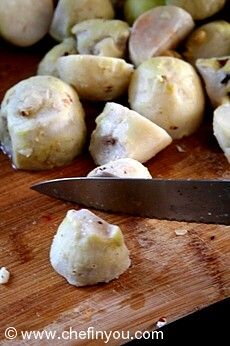 7
Drop them into a large bowl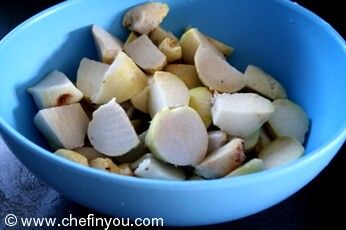 8
Add the seasoning and flour to it.
9
Toss with your fingers.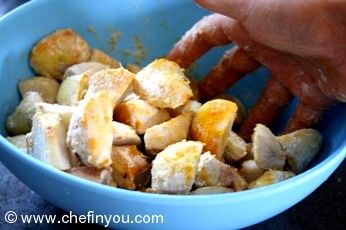 10
The heat and the slight stickiness from the taro root will help to coat the seasoning. But you can also sprinkle little water to help the seasoning coat well on all the taro root. My mom keeps them aside for few minutes for the flavors to mingle. I usually don't do these (owing to laziness) but it still turns out delish.
11
Take a non stick skillet and add 2 tbsp oil (or more if you like).  If you are using cast iron skillet, you would need more oil. Heat the skillet and when hot (shimmering not smokey), add the taro root to the skillet. The pan should be hot enough that it should make a sound when you add the taro root to it. This is essential to help create the crust (esp. when you aren't adding lots of oil). Spread it well in a single layer and let it sit for about 5-6 minutes without moving it.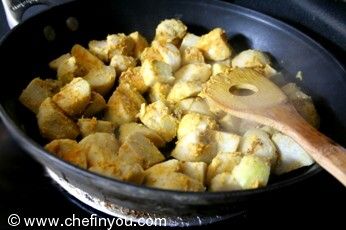 12
Check to see one if its roasted enough (to your satisfaction)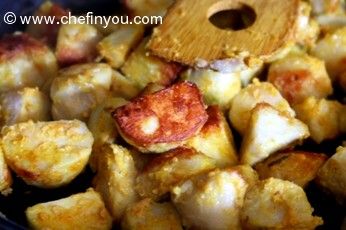 13
If yes, turn it around for the other side to roast as well. The amount of roasting will depend on how much crispy your family likes.
Serve it hot. I served it with steamed rice,
Vendhaya Kuzhambu
,
Lemon Rasam
,
Mango Pachadi
and yogurt. (Burp!)
Related Recipes You May Like
Be the first to showcase this recipe!

Your Name
Did you make this recipe?
Please click below to share your experiences while you were making this recipe. Thanks for your input!
Have a favorite recipe?
Know a family recipe your mom used to make? Or maybe a go to recipe that works everytime? Share it with your fellow foodies!