Zucchini Falafels with Yogurt Tahini Sauce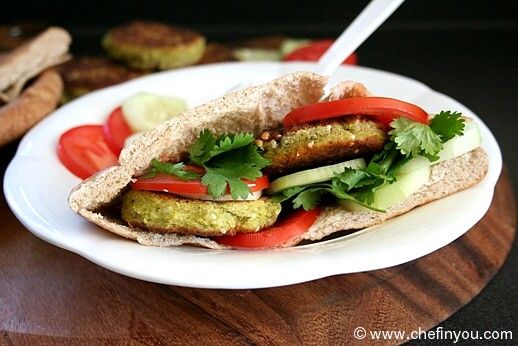 One of the necessities arising out of cooking seasonally is diversity. The chances of you buying some vegetables again and again.....and again is probably high. Or the fact that you planted it in your garden and you are reaping huge benefits. Either way, you are now in a fix with a family who are ready to run the other way the minute you say - "(place the oft repeated vegetable here)". This is a situation in my house as far as
Zucchini
goes. I went the whole mile and tried different recipes - the
"Garden" burger
,
Zucchini Soup
,
Zucchini Bread
,
Zucchini Patties
...you get the picture. But I still have Zucchini in my bag every single time I go grocery shopping.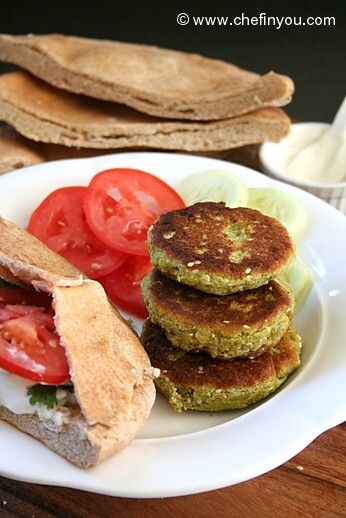 At this point, I have to mention few words about the Husband's cafeteria at his place of work. Though he doesn't care much for the vegetarian affair there, I LOVE that place! No - I haven't tasted even a morsel of their food. But what's attractive to me is their menu every day. The Chef there is Creative, with a capital C. They use a lot of seasonal produce and the chef comes up with some radical idea or the other, as far as the veggie fare goes. I try creating the same dish in my own way, that's palatable to the husband (and rest of us). The last time I blogged a dish like that was this
Vegetable Lo Mein
. This time around were these Zucchini Falafels. The minute I heard it, I was in a hurry to try the same. I dunno how they made it, but it looked similar to what I have here.
I used my recipe for
Baked Falafels Recipe
as a base, to create a pan fried version of these Zucchini falafels. You can bake them the same way, or go the original route of frying them up like this
Classic Falafel recipe.
Have to tell you, the fried version of these taste delicious with ketchup. These hide the zucchini well, so if you (or you family) is hating/bored of Zucchini right now, make these. Or make it even otherwise - we all need more vegetables in our diet anyways! They won't find out. But if you actually want the zucchini taste, then refer my Tip 1 for the details. These taste how a regular falafels does. Its crispy on the outside and soft in the inside. Protein rich and hence hearty. Will fill you up in no time without unnecessary calorie/fat baggage.
References
my kitchen notes
Basic Information
Prep Time
:
8 hours to 1 day
Yield
:
Makes around 10-12 sandwich Falafels. Serves 6 people as a main course and about 3-4 as snacks
Ingredients
For the Falafels
1 cup dried Chickpeas
2 small-medium (abt 8 oz/230 grams/1 cup) Zucchini (see Tips)
1 medium Onion, finely chopped
2-3 cloves Garlic, roughly chopped
2 tsp Cumin seeds
1 tsp Lime zest
2-3 green Chillies (optional)
1 tbsp Sesame seeds
few sprigs of Cilantro and Mint
Salt to taste
For the Yogurt Tahini Sauce (optional)
1 cup fat free Greek Yogurt, see Tips
1/4 tsp Garlic paste (see Tips)
2-3 tbsp Tahini (see Tips)
Lime juice to taste
Salt to taste
Optional Accompaniments
6 Whole wheat Pitas
4-5 Tomatoes, sliced into 1/4 inch rounds
1 large cucumber, sliced into 1/4 inch rounds
few sprigs of Cilantro
Tomato Ketchup if enjoying it as a snack (optional)
Tips
1.
Zucchini:
This recipe hides the Zucchini well. But if you want more Zucchini taste, you can decrease the amount of chickpeas in the recipe and increase zucchini instead. There might be binding issues for which you can use some flour (or breadcrumbs or both) to bind the dough - enough to make patties.
2.
Greek Yogurt :
You can use regular yogurt for this recipe. We always have only fat free Yogurt in hand, hence I tend to use that.
3.
Garlic Paste:
I carry a ready made Garlic paste, very commonly available at Indian Stores. Hence use that to make it easy for me. But you can use 1 large Garlic clove, minced finely to paste with little salt instead of store bought paste.
4.
Tahini:
Depending upon your Tahini (store bought/homemade), you might need to adjust the amount of tahini. Start with 1 tbsp and increase as per taste.
Method
1
Soak the Chickpeas overnight. You should get around 2-1/2 cups of soaked chickpeas. Refer Tip 1 for adjustments with respect to Zucchini-Chickpeas ratio.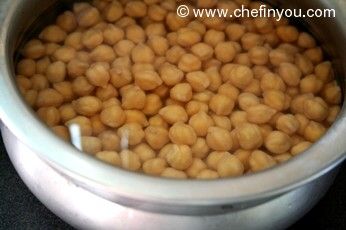 2
Grate the Zucchini - will make about 1 cup.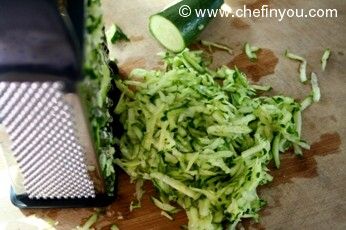 3
Add about 1 tsp salt to Zucchini and place it in a colander. Set aside for 30 minutes.
4
Using a cheesecloth or hands, squeeze out as much water as you can. Trust me, you won't believe the amount of water that comes out!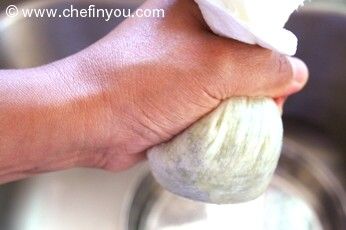 5
Set aside.
6
Meanwhile drain the chickpeas well.
7
Add it along with rest of the ingredients in the "Falafels" section except sesame seeds in a food processor.
8
Do not add water. You will have to stir the mixture now and then to be able to grind it into a paste. The moisture from the herbs, onion and some from zucchini should be enough. Pulse it now and then
9
until it comes together into a coarse paste. Adjust seasoning and add the sesame seeds. Stir to combine.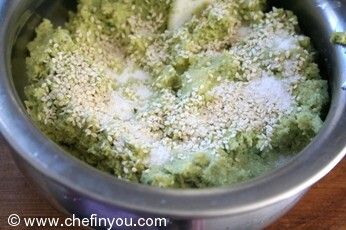 10
Make small patties. The mixture will be soft but with enough binding to be able to form patties. If you are not able to, you can refrigerate this mixture for 30 minutes and try again. If that's hard (which I suspect should not be the case for this recipe), you can add some flour to it.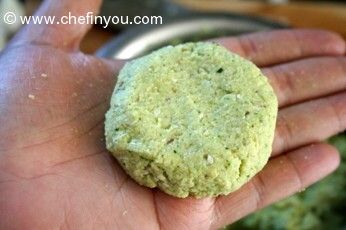 11
Heat some oil in a cast iron pan and place the patties in med-high flame.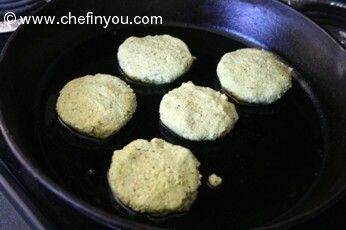 12
Cook until browned and turn the other side.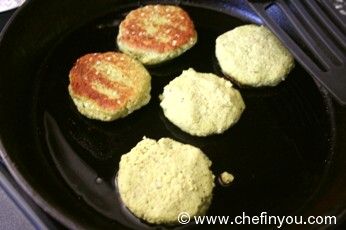 13
Prepare the rest of the patties in the same way. You can keep these warm in a 200F oven.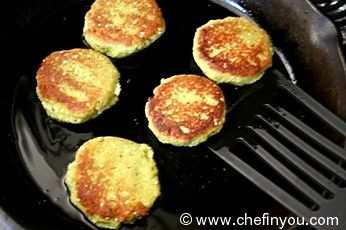 14
Meanwhile prepare the sauce. Add all the ingredients for the sauce together.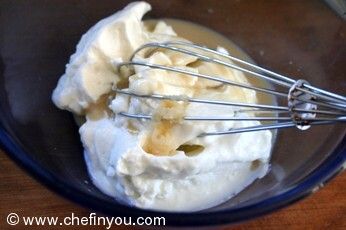 15
Give it a good whisk until well combined. Add water if required. Adjust seasoning to taste. Set aside.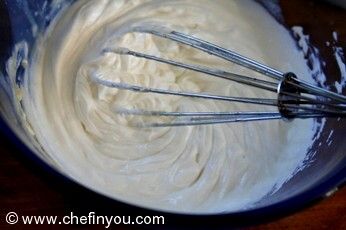 The husband loves these deep fried (like a
traditional Falafel recipe
) along with ketchup. While I tend to make a meal out of this by pan frying them into patties, stuffed inside a whole wheat pitta and the yogurt tahini sauce. Few slices of tomato and cucumber, with a garnish of cilantro, completes the picture of how my lunch turns out usually. These are best when served warm. Keeping it longer tends to dry it out.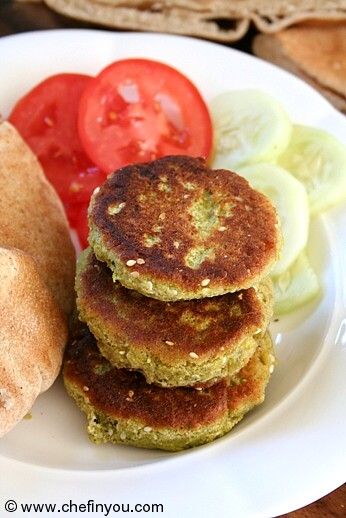 Related Recipes You May Like
Did you make this recipe?
Please click below to share your experiences while you were making this recipe. Thanks for your input!
Have a favorite recipe?
Know a family recipe your mom used to make? Or maybe a go to recipe that works everytime? Share it with your fellow foodies!