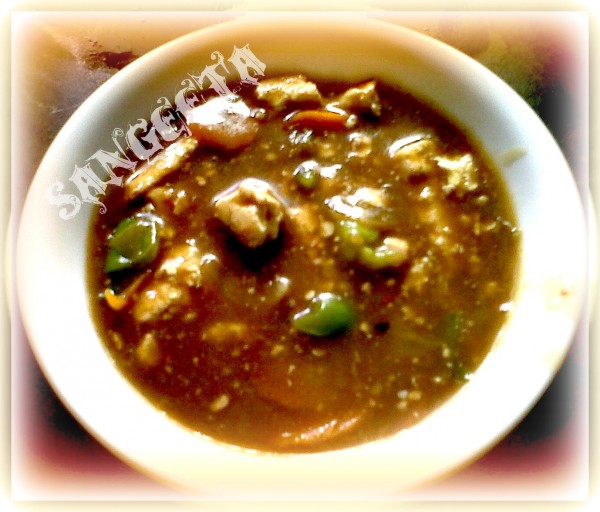 Chilli Paneer is a very popular Chinese Recipe, modified in Indian way,very quick n easy to make dish,very delicious n tempting...handy for any occasion..party n any meal course....i love it..:))
Ingredients
------------------------
For Paneer:
------------------------
250 gram paneer (cottage cheese)(cut in 1/2 inch thick rectangles)
cornflour as needed
salt as needed
oil for shallow frying
------------------------
For Gravy:
------------------------
1 tablespoon oil
1 tablespoon ginger (chopped)
2 tablespoon garlic (chopped)
1 tablespoon green chillies (chopped)
1 stick celery (chopped)
1 red onion (diced)
1 capsicum (diced)
1 seasoning cube
2 tablespoons soy sauce
1 tablespoon chilli sauce
1 teaspoon tomato sauce
1/2 teaspoon crushed pepper
salt to taste
1 cup water
1/4 cup cornflour slurry
Method
1
For Paneer:Heat oil,in a pan; Dust the paneer cubes in dry cornflour + salt mixture,and shallow fry the paneer till pinkish in color,keep aside.
2
For Gravy:In a pan heat oil,add ingredients from,8-11 and swat on high flame.Now add onion and capsicum and swat on high flame ,now add ingredients from 14-19 and mix well.
3
Now add fried paneer and mix well ,add water and cornflour slurry and bring to boil.Garnish with chopped spring onions and serve hot....with fried rice..noodles or steam plain rice or as it is...:):)
4
NOTE:If you wish you can add Ajinomoto or MSG (Monosodium glutamate)powder to it but I always avoid it for its side effects.
5
NOTE:If you wish you can add carrots,baby corn ,red and yellow pepper to the gravy.
6
NOTE:If you want it dry then just avoid the water and cut off the cornflour slurry to half.
7
NOTE: If you want to make it more spicy ,can add red chilli paste or hot sauce or szechuan sauce to it.
8
NOTE; VEGANS can make it with TOFU.
This recipe was contributed by a ChefInYou member.
Related Recipes You May Like
Be the first to showcase this recipe!

Your Name
Did you make this recipe?
Please click below to share your experiences while you were making this recipe. Thanks for your input!
Have a favorite recipe?
Know a family recipe your mom used to make? Or maybe a go to recipe that works everytime? Share it with your fellow foodies!