Chegodilu (Fried Rice Flour Rings)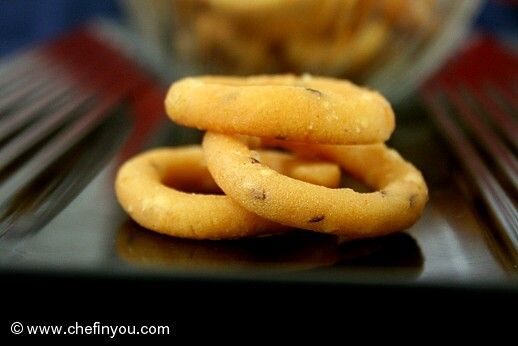 When Valli announced this
month's challenge for ICC
, I was ECSTATIC! The making of it sounded and in fact looked exactly like my childhood favorite which in Tamil is known by 'Kola Vadai'. There was this fav. restaurant in Chennai where they used to sell packets of these and we used to literally splurge! Of all the things to splurge on ;). Now don't ask me why in God's name something which does not taste anything like
Vadai
per se, is called similarly! I have no idea - may be cos it resembles slightly like one! Anyone who knows about the reason/origin for the name, kindly lemme know.
Anyways, I got to know that this is called as "Chegodilu", "Chekodilu/ Chekodi" in Andhra and is pretty famous snack - rightfully so, I might add. The minute you put one in your mouth, the next few seconds are followed by "Crunch","munch","crunch","crunch" and "gulp". That's how crispy they are!!! Valli had given us two recipes and we could choose any of them. I chose the one which I felt was closer to the one I have tasted and it sure was - almost. During the making of it, I made few observations and that which I have given by way of my notes below each of the steps (wherever applicable).
You might also like
:
Cashew Kunukku
,
Wheat Diamond Biscuits
,
Murukku (chakli)
,
Thattai
,
Uppu seedai
,
Vadai
Basic Information
Yield
:
Makes around 60-70 depending on the size and thickness
Ingredients
1 cup Rice Flour
1 cup Water
1-1/2 to 2 tbsp Split Yellow Moong dal / Pesara pappu / Mung Dal / Pasiparuppu
1 tsp Cumin Seeds
1 tsp - Sesame Seeds
1 tsp Chili powder
1 tbsp Ghee or oil
Salt to taste
Oil for deep frying
Method
1
Soak moong dal in water for half hour to 1 hour.
My Notes :
I used 2 tbsp and personally found it to be too much. I just wanted my Chekodis (or Ring Murukku ) to have hints or should I say sprinkling of yellow lentils. Using 2 tbsp was bit too much for that purpose. Next time I will use only 1 tbsp.
2
In a deep bottom pan, boil water, then add salt, ghee and moong dal.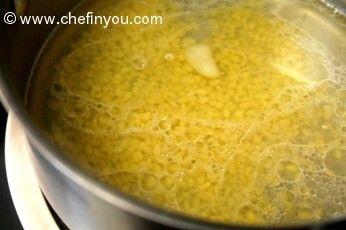 3
Bring it to boil, simmer and slowly add the rice flour. Using a rolling pin or the ladle, mix the flour with water by stirring it well. When the flour is mixed and done, turn off the heat immediately. Cover with lid and keep aside for 10 to 15 mins.
4
Once the dough is cool, add chilli powder, sesame seeds, cumin seeds and mix well. Knead till you get a smooth dough. Adjust the salt and spice depending on your preference.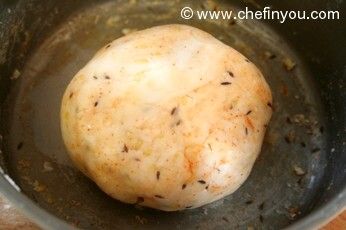 5
Heat a pan with oil, enough to fry 3 -4 at time, if you conscious of not using too much oil. Simmer once it gets hot. The temperature should not be smoking hot. Grease your fingers with oil and pinch out a small lemon size ball and roll between your palms to form a thick rope.
My Notes :
This is were I faced my first challenge. My ropes were pretty fragile (not falling apart as such) but the ends broke quite easily. I realized it could be because I was using Store bought Rice flour instead of the traditional way of grinding them at home! sigh!. I dunno the science behind this tip, but I simply added few tsps of the hot oil (which I was going to use for frying) to my dough and kneaded them some more. After that, I did not face an issue.
6
Bring the two ends to together and press to form a rope. Ensure the ends are firmly pressed as not to give out during frying.
My Notes:
The size and shape of these do not really matter that much. I remember the ones that I have enjoyed had very small holes in the middle. Hence chose to make half of the dough that way.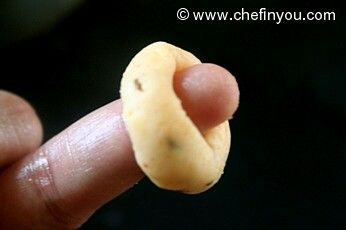 7
My Notes: But I saw from Google Images that many pictures depicted a bigger and a thinner round for Chekodi. Hence felt that may be they were traditionally made that way in Andhra - So made the other half of the dough aping the real version. Just roll out a thinner and longer rope and bring the ends together to make a bigger ring murukkus.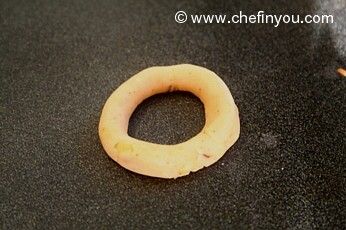 8
Continue with the rest of the dough until you are done with the entire batch. You can either cover it with a plate or a cloth to prevent the dough from getting dried. Check if the oil is in the correct temperature, by dropping a tiny bit into the oil. Then gently slide the rings or the chakodis in batches of 4 -5. The flame has to be on high until the chakodis come up to the surface,
9
then lower the flame to medium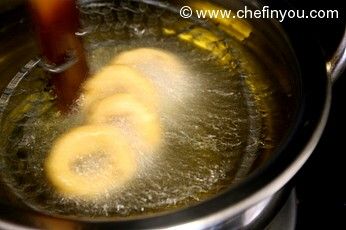 10
and cook till you get a golden colour on the chakodis.
My Notes:
If you notice from this picture below, the surface of my chekodi don't look that smooth. They were very crunchy yes and tastewise perfect. But as far as the looks department go, they did not have a smooth surface. I think this could be because of the store bought rice flour. But after I followed the tip I provided before - that is kneaded the dough for few more minutes with hot oil, it became smooth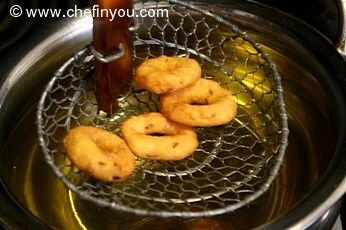 11
My Notes: See - this picture below has a smoother surface than above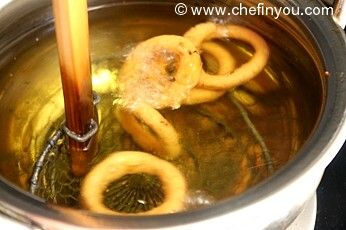 12
When the chakodis are golden all over, using a slotted ladle, remove to a kitchen towel and cool. The picture below shows the ones Done and the Undone ;)
Store in an air tight container for longer shelf life.
My Notes
: See the bowl below - it clearly shows that there were too much of the lentils. You can use it of course, if you dont mind the appearance. For me, I would use 1 tbsp next time. Oh yes - I am making them again of course! :)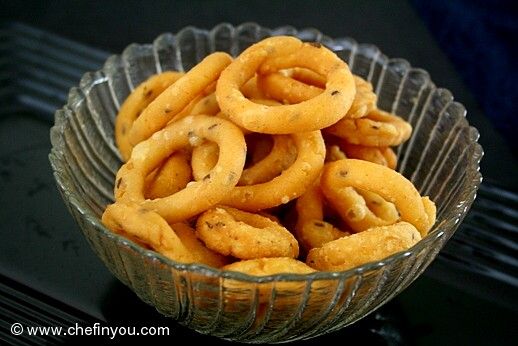 Notes: Remember to turn the heat to medium to high and high to medium for getting the chakodis to golden colour and also to be cooked evenly. Only this way you get crispy chakodis. These should not be cooked on low flame as they will absorb more oil and can turn soggy also at times.
Variation
: Instead of Cumin and Sesame seeds, 1 tsp of Ajwain (Oregano) or Omam can be used along with chili powder.
Related Recipes You May Like
Did you make this recipe?
Please click below to share your experiences while you were making this recipe. Thanks for your input!
Have a favorite recipe?
Know a family recipe your mom used to make? Or maybe a go to recipe that works everytime? Share it with your fellow foodies!