We happen to have a plum tree in our backyard which is in a generous mood. Too many plums and so little time before they fall to the ground - rotten. I am frantically trying to use as many as I can. I made the usual
Plum Jam,
(as a gift to someone),
Plum preserves with raisins
(for us),
plum Bread
, a
plum crumble cake
and recently an upside down
Plum and Berry Cake
(for a get together) and DRAT! I still have lots of plums in the tree. Because of all this immense  heat in our part of the world, we are gulping down liquid like a
Shrek Family
! I also happen to have a lemon tree and thus I was enjoying lemonade every evening. While going to pluck some plums for eating and also some fresh lemons for cooking, a thought suddenly struck me. Why not try and make Plum Lemonade? If strawberry lemonade and cranberry lemonade can be tasty why not plums?. How come I never see plum lemonade?  I set to work on the idea and was pleasantly surprised with the outcome. I told about this invention of mine(!!) to my colleague and she was like -
"Oh yes, I always make it during plum season" (!!!!).
The only consolation was the method. She makes it using a sugar syrup added to plum sauce and then add it to the frozen concentrated lemonade  while I have kept it simpler and without store bought ingredients.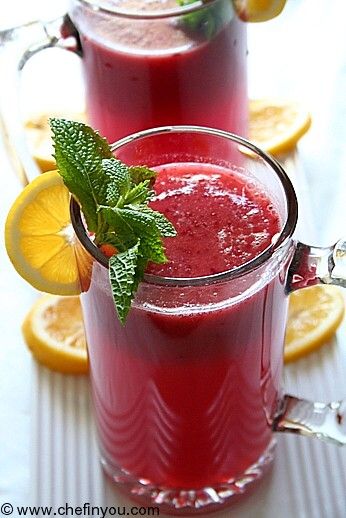 I love the lemon taste but the distinct flavor that the plums added to the lemonade was refreshing. It did not overpower the lemon to make me forget that this was lemonade but instead  added a unique sweetness to it. The ripe plums also helped to reduce the amount of sugar since the fruit was sweet by itself.  I have
provided very approximate measures so that you can work around this basic idea to customize it to your taste.
And it looked a beauty. You can make this more watery - I liked the color and hence kept it to about 6 cups of water I think. You can add more if you like.