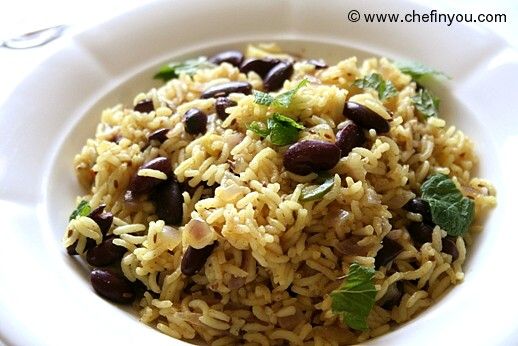 Be it a lazy morning or busy start to the day, recipes that are suitable equally for both the occasions are my favorites. They need to be delicious, healthy and most importantly very easy to make. As I have mentioned umpteenth times, I rely on  protein in our daily diet. I had already talked about my
chickpeas rice.
Likewise is this rice which is made with Kidney beans instead of Chickpeas as a protein source. Here I have kept it relatively simple without any addition of  vegetables but like many recipes in this site - this is a versatile dish and you can add in whatever your heart/palate desires.
This is a quick recipe and it can be made even more simpler if you have canned beans and cooked (leftover) rice on hand. Only make sure that if you are using the canned variety you drain out the beans and rinse it out well first. I also find this dish handy when I have extra cooked kidney beans on hand. Many times I find that I have cooked additional beans and  refrigerate them.  This rice is one such dish which makes use of such leftovers. Less fat, more protein makes this healthy along with no loss in flavor. I love the combo of kidney beans and mint in this rice where the herb makes it taste fresh (esp. useful if you are using leftovers :)). This is a more simplified version of the famous Indian rice dish called
Rajma Chawal.
Ingredients
1 cup Basmati Rice *
1 -2 cups cooked Kidney beans **
1 tsp cumin
1 onion, sliced
1/4 tsp turmeric
1 tbsp cumin-coriander powder
1 tbsp amchur (dry mango powder) (optional)
1-2 green chillies, thinly sliced (or as per taste)
salt to taste
1 bay leaf (optional)
few mint leaves for garnish
Tips
* To make this a quick meal you can replace the Basmati with leftover rice. Simply saute the onions along with spices, add the cooked beans and then toss rice with the mixture. ** You can make it more easy on yourself by using canned beans. Make sure to rinse it out well in cold water before use.
Method
1
In a pan, add 1 tsp of oil/ghee. Splutter the cumin seeds, bay leaf and then add the spices. Toss until aromatic - abt 20 seconds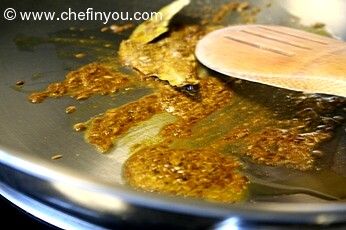 2
Add the chopped onion and chillies to this mixture along with salt. Cook until soft - about 1-2 min.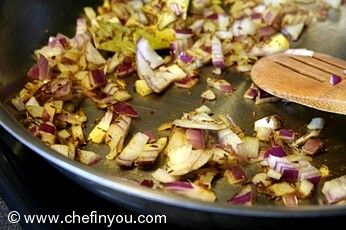 3
Add the rice and saute until aromatic and the rice turns translucent.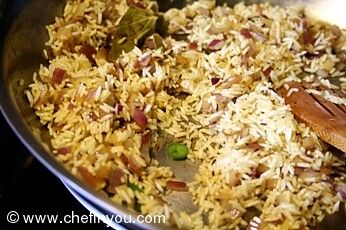 4
Add 2 cups water (or vegetable stock). The amount of water might vary with the quality of rice available to you. Close with a lid and cook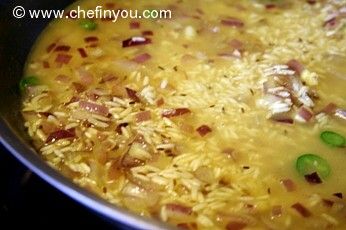 5
until the rice is almost done.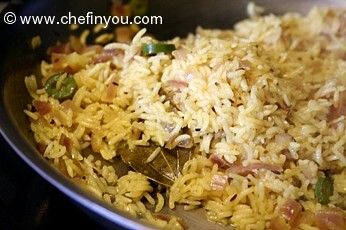 6
Add the cooked kidney beans to the rice.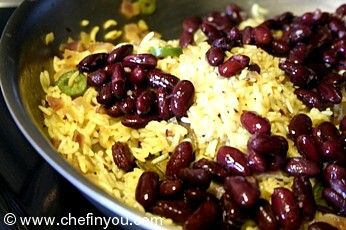 7
Give to a good toss until well incorporated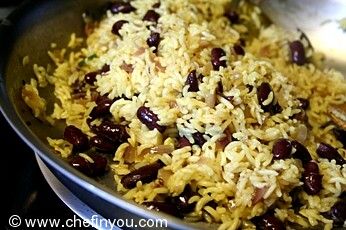 I find this rice extra flavorful with mint hence garnish with the same. Cilantro would work equally fine. Serve hot with
Raita.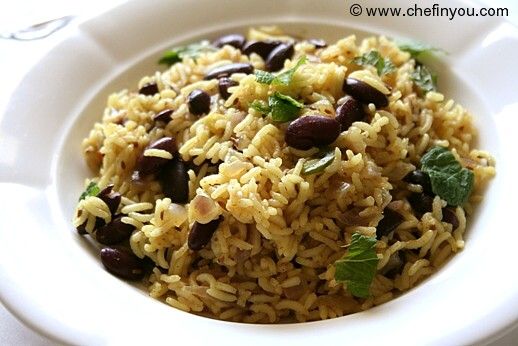 Related Recipes You May Like
Did you make this recipe?
Please click below to share your experiences while you were making this recipe. Thanks for your input!
Have a favorite recipe?
Know a family recipe your mom used to make? Or maybe a go to recipe that works everytime? Share it with your fellow foodies!