Rajma Chawal (Kidney Beans Rice)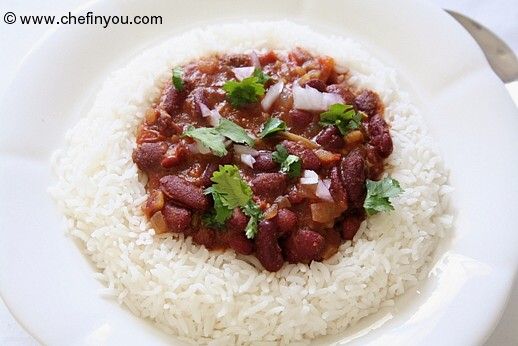 Since legumes provide the bulk of protein for vegetarians, its inevitable that it is one of my go to ingredients. I have so many variety in my pantry that it helps to vary my meals. They are abundant in protein and help to feel satisfied faster. Out of 250 odd recipe request I have in my "to-do" list, at least 150 of them are simple day to day recipes. So this Rajma Chawal is one such dish in this category.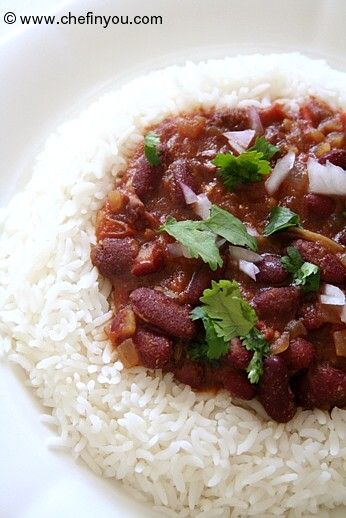 Rajma in Hindi means "Kidney Beans" and Chawal means "Rice". This, in short, you can call as Kidney Beans rice. But unlike pilafs where everything is mixed together as one pot meal ,this popular Punjabi dish,is enjoyed  in a different way. A side dish of kidney beans is prepared with spices and then enjoyed with rice. Two different elements cooked separately comes together as a final dish.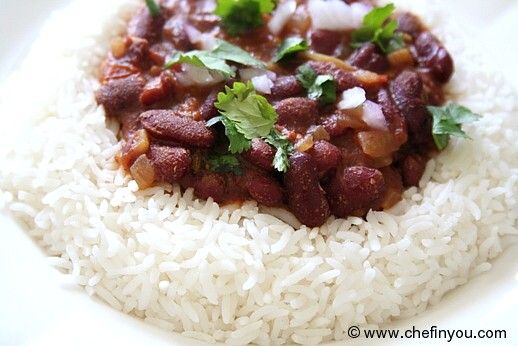 You can make this one day as a side dish for say Roti's, chapathi's etc. Since this tastes even better next day, if you have leftovers, enjoy them then with rice. This is what mostly happens in my house where I prepare this for dinner and I enjoy the leftovers the next day with steamed rice and curd.  Its immensely versatile and you can adjust the amount of spices according to your preference. A little dollop of ghee/butter towards the end while serving with rice completes this dish :)
References
my kitchen notes
Ingredients
1 cup Kidney beans (or use canned to make it even quicker)
1 onion, finely chopped (I used Red onions)
2-3 tomatoes, chopped
1 tsp fennel seeds (or use cumin)
about 1 inch ginger, peeled and grated
1-2 green chillies thinly sliced (or as per taste)
1/4 tsp turmeric powder
1 tbsp cumin-coriander powder
1 tbsp amchur powder (dry mango powder) (or use lemon juice)
salt to taste
cilantro and finely chopped onions for garnish
For the spice bag
3-4 cloves
2-3 whole green cardamoms
1 inch cinnamon stick
1 bay leaf
4-5 black pepper
Method
1
Soak the kidney beans overnight. Of course you can use store bought canned beans. Make sure to drain them well and rinse in cold water before using them.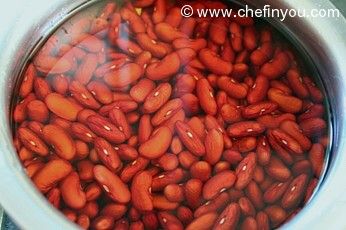 2
Before cooking the kidney beans, make a spice bag by packing the spices in the "spice bag" section of the ingredients list in a cheesecloth, tie it up and drop it in the water along with kidney beans.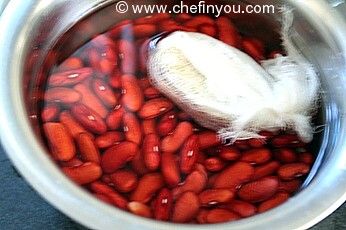 3
Once cooked, removed the spice bag and discard. I use Pressure Cooker and it takes about 10-12 minutes for it cook. While that's cooking I prepare the gravy. You can finish the complete dish within 15-20 minutes.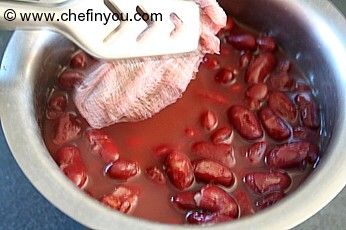 4
Meanwhile in a skillet, add 1 tsp of oil (for the traditional Punjab richness, add Ghee instead), saute the fennel seeds, onions, chilli and ginger along with little salt.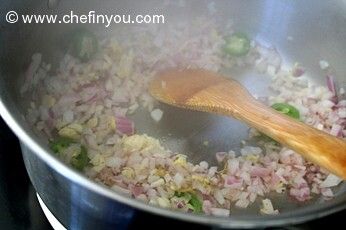 5
Once soft add the spice powders and saute for few more seconds.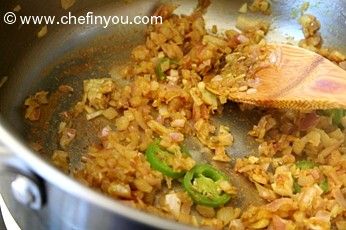 6
Add the tomatoes.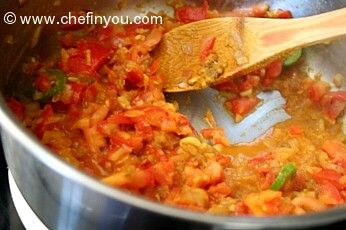 7
Add little water and Cook until tomatoes are soft.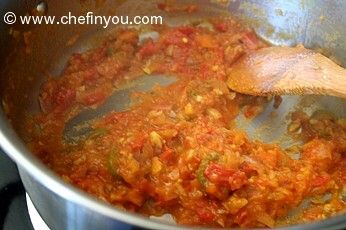 8
Add the kidney beans along with cooking water.
9
Cook for another 2-3 minutes. Taste and season if needed. You can add more water depending on the consistency you like. Break down some of the kidney beans to thicken the gravy.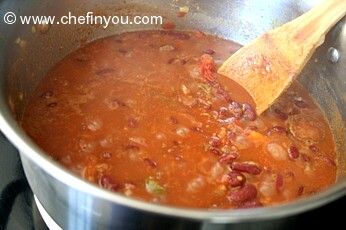 The traditional way is to enjoy it with plain rice. You can also serve it along with chapathi, roti, naan or any pulav if desired. I like to garnish it with finely chopped red onions and cilantro. This plate of hot Rajma Chawal finds its way to
Siri's MLLA this month.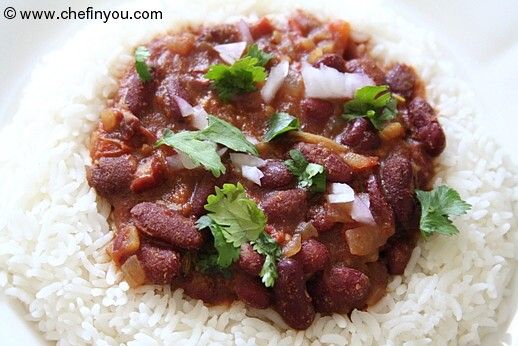 Related Recipes You May Like
Did you make this recipe?
Please click below to share your experiences while you were making this recipe. Thanks for your input!
Have a favorite recipe?
Know a family recipe your mom used to make? Or maybe a go to recipe that works everytime? Share it with your fellow foodies!