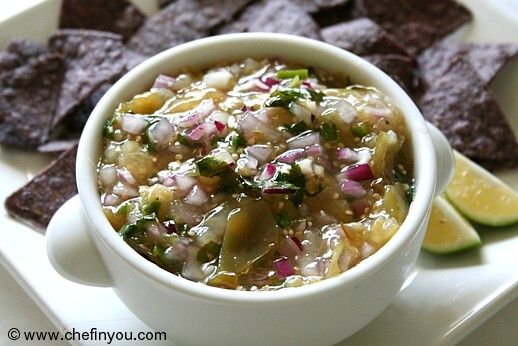 Though
Pico de gallo
seems to be the most commonly known Mexican salsa, I have come to know that this "
Green salsa
" or "
Green Sauce
",  which is what "
Salsa Verde
" stands for, is more common in a Mexican table! This version of salsa is very flexible - its enjoyed chunky, smooth, mildly hot or not hot at all, cooked or raw etc. etc. It all comes down to the diner's palate. We like our sauces/dips chunky and do not enjoy "hot" dishes. Hence have kept it simple and mild.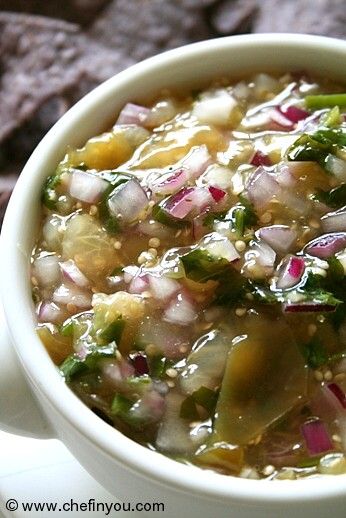 When I shifted to the US few years ago, I was an avid watcher of this show called "America's Test kitchen" which threw light on the intricacies and science of various dishes spanning different regions. I noted down their recipe and the methodology and I have followed it ever since cos I find it perfect to suit our requirements. Buy the freshest tomatillo cos the best ones gives the best flavors (duh!). The outer husk of the fresh tomatillos will be dry and papery. The tomatillos will be bright green with a fruity smell.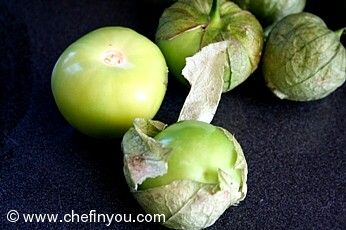 The show suggested that canned ones can be used as a substitute instead of fresh too although I have never done it personally.
Basic Information
Yield
:
Makes about 2-1/2 cups
Ingredients
1 pound fresh tomatillos (about 6-8), husked and washed
1 small onion, chopped coarse ( I diced them into small pieces)
1 medium jalapeno chile, seeds and ribs removed (retain them to add them into the salsa if you prefer the heat)
1 garlic clove, minced (garlic press works best)
about 1/2 cup fresh cilantro leaves
1 tbsp juice of 1 lime
salt to taste
Method
1
Bring about 2 quarts of water to a boil in a large pan. Add in 2 tsp of salt and the tomatillos into the water and cook till the color of the tomatillos dull slightly. They should be tender but not mushy. Takes about 6-10 minutes (depending on gas/electric range)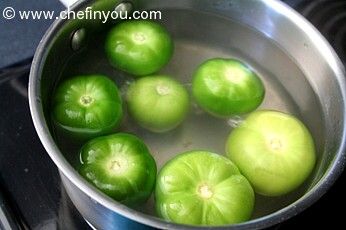 2
Drain them and drop them in ice cold water and let cool for few minutes. ( you can prepare an ice bath too).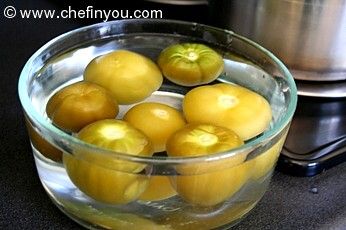 3
Drain them once again and transfer to a food processor. I instead chopped them into chunks.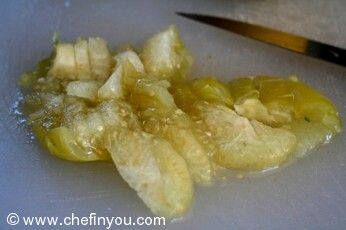 4
Add the remaining ingredients with salt (if needed) and give them a good toss.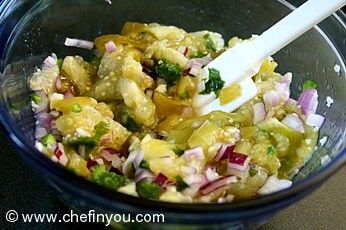 It keeps well in air tight container in a fridge for up to 5 days. Return to room temp. and season with salt and lime juice if needed before serving. I served them with baked Blue Corn Tortilla Chips.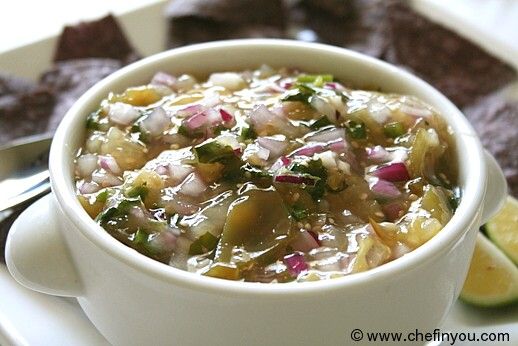 Related Recipes You May Like
Be the first to showcase this recipe!

Your Name
Did you make this recipe?
Please click below to share your experiences while you were making this recipe. Thanks for your input!
Have a favorite recipe?
Know a family recipe your mom used to make? Or maybe a go to recipe that works everytime? Share it with your fellow foodies!