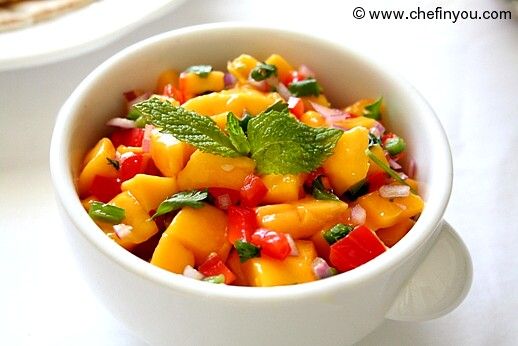 We belong to the think tank that does not believe in mixing anything sweet with savory. For example : I cannot come to understand Pineapple Rice,
Kashmiri Pulao
or
Zafrani Pulao
. With such a palate, I generally try to avoid adding sweet ingredients in my main dish. Having said that, Mango Salsa was quite intriguing to me. I could not for the life of me imagine how the sweet mangoes could co exist well with ingredients like bell peppers, onions and jalapeno(!!). Seemed v weird until I could take it no more and tried it myself. I was all prepared to make a horrible face and say "Blech!".  But oh boy! Was I glad??????? You bet I was. Mangoes sure can exist in harmony and yet be charming enough. We loved it so much that I made it 5-6 more times until I was left with no mangoes.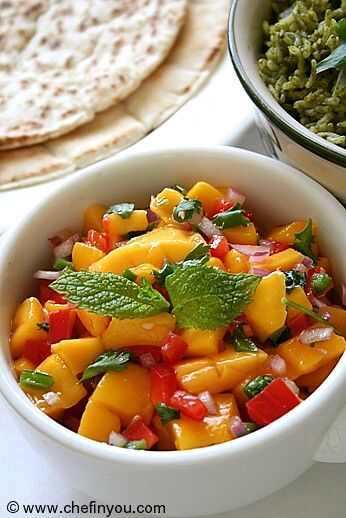 The crunch of the bell peppers, mild tasting onions, minimal heat from the jalapeno went hand in hand with the sweet mangoes so well. I salute the genius who even thought of putting these all together. I made a small batch of the salsa at first and having loved it so much, made a huge batch. I was curious to see my better half's reaction and well - he loved it too. It supposedly goes excellent with fish but being lacto Ovo vegetarians, I have tried them as a filling in my Taco Shells, Quesadillas, Burritos and even with Arroz Verde. It went well with all of them, in fact it was perfect accompaniment to Arroz Verde which was little hot for us and this salsa managed to counter balance its effects superbly.  Its ridiculously simple to put together and I just followed few recipes from the net and used them as a guideline to make mine.
Basic Information
Prep Time
:
30 min to 1 hour
Yield
:
Serves 2 as a side for main course or 4 as an appetizer
Ingredients
1 large ripe yet firm mango
1 medium red bell pepper, diced into small pieces
1 medium Jalapeno, seeded and diced into small pieces (if you can take the heat, add the seeds to the salsa)
1 small red onion, diced finely, about 1/4 cup - 1/2 cup depending on sharpness
1 -2 tbsp lemon/lime juice ( +/- depending on your taste )
salt to taste
little sugar to sprinkle if your mangoes are not sweet enough
few sprigs of cilantro, chopped
few mint leaves (optional)
Method
1
Dice the mango into small pieces. Add them to a bowl.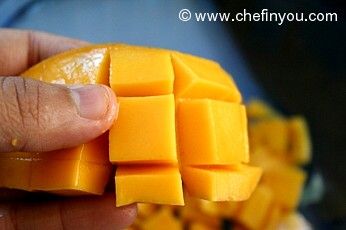 2
I seeded the jalapeno well before chopping into small pieces since we do not eat *hot* stuff. But you can leave in few seeds if you like the heat.
3
Now add rest of  the ingredients  to the bowl with the mangoes and jalapeno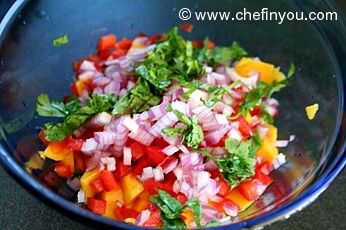 4
Toss well and cover it with a plastic wrap. Set in the fridge for at least 30 minutes. This helps the flavor to mingle well. You can optionally add few mint leaves too.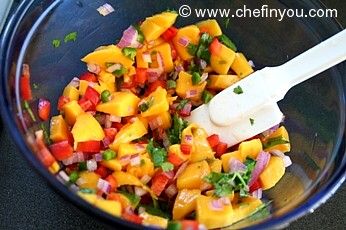 Serve with any main course you desire. There, wasn't that simple enough? And it looks mighty appetizing too :)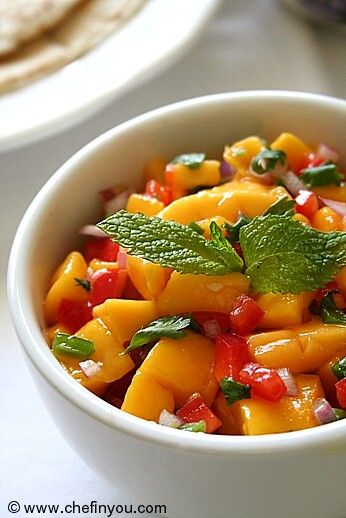 Related Recipes You May Like
Did you make this recipe?
Please click below to share your experiences while you were making this recipe. Thanks for your input!
Have a favorite recipe?
Know a family recipe your mom used to make? Or maybe a go to recipe that works everytime? Share it with your fellow foodies!