Our Indian neighbors planned to leave US for good and settle back in India. When we visited on their last few days, she told me that she had just got few wholegrain packets of Ragi and now since anyways she was leaving, she did not have any use for them. She informed me in a light manner, that since I was such a wholegrain freak, I would be able to appreciate Ragi. Was she kidding!!! Of course I would be! My joy knew no bounds and my husband even laughed at the way I was holding the bag - he told me he knew exactly how I would look if I found a Huge diamond somewhere! It was a precious gem indeed!
I have tried so many dishes and experiments with Ragi that its not even funny! Sprouting makes the grain extra nutritious and I wanted to use those sprouts in my dishes. There weren't many resources in the net which gave me dishes with the sprouts. It was all about grinding it into flour and using it in myriad dishes. It seemed such a waste of this grain to me. I had to rely on experiments. Of course not all were a hi-fi success, but one got to do what one got to do. After repeated requests for ragi recipes in my site (I have about 68 requests till date from the time I posted my
How to make Ragi Flour
Post), I thought I will post one of our favorites today.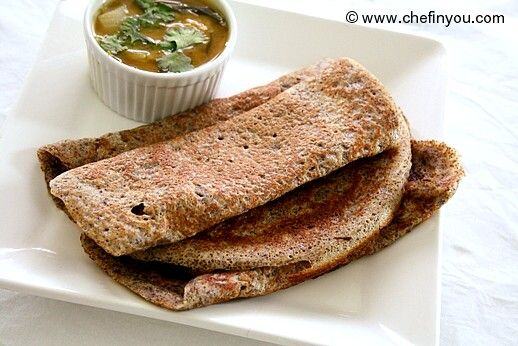 If you like Dosa, then you will surely like this dosa (Indian crepe) too. I just used the regular dosai recipe but enhanced it nutritionally with sprouted Ragi. The taste is very similar to regular dosa though you get the hint of ragi while tasting it. This batter is a boon to have and you can make pretty much anything you make with leftover dosa batter.
Other South Indian Breakfast Recipes
:
Rava Upma
,
Holy Basil (Tulsi) Tea
,
Onion Tomato Uthappam
,
Idli recipe
,
Medhu Vadai
,
Rava Pongal
,
Ven Pongal
,
Adai Recipe