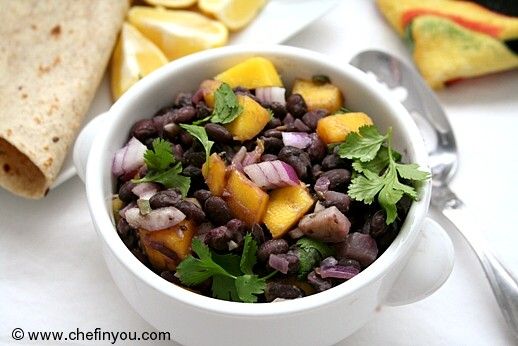 I love mangoes. Period.I know I have been doing lots of PR for mangoes in the last few days, to the point of exhaustion I guess - well, I won't blame ya! I am like that. Sometimes.:) But I have to talk about those luscious things yet again! (sorry!) Its like I have rediscovered mangoes. I hate adding sweet things into savory dishes. And a partner with similar tastes is not helping me either. But the day I made and tasted Mango Salsa, I was smitten. Never realized a fruity, sweet and ripe mango could make such a great non-dessert dish. And once in, I couldn't get out. The next thing where I tried mangoes was in this dish of black beans. It happened unintentionally. I was making this pot of black beans and enjoying mangoes on the side. When I realized that my beans were almost done, I wanted to do a taste test and immediately put a spoonful of beans in my mouth. The taste of creamy beans along with sweet mangoes in my mouth mingled and the sensations on my palate were enchanting. So I peeled another mango, chopped them and added it to my beans. It was so good and thus another mango savory dish became my friend. (Turns out, black beans and mango are a popular combo! - courtesy Google.)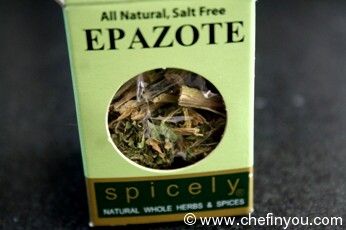 BTW, if you love beans, then
Epazote
is a worthwhile investment. A Mexican herb that helps in reducing the
nasty embarrassing Gas
abdominal discomfort caused from the "Buy Beans and Get One free" syndrome! Pre soaking the beans (and discarding the soaking liquid) , adding Bay leaves, ginger, fennel, turmeric, coriander etc also help in reducing it. Mexican Cuisine embraces the use of Epazote (with good reason!) where its used predominantly while cooking the beans. I use dried epazote and add it while pressure cooking the beans. Its optional of course.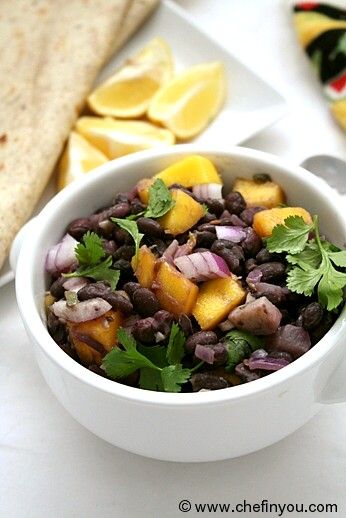 I normally cook my black beans this way and the only addition for this has been a Mexican mango, lemon juice  along with red onions for colorful garnish. The approximate measurements is cos of the mango! I remember weighing my mango which was about 420 gms. (yes a huge mango!). I remember chopping it up in small cubes. Unfortunately I also remember throwing in some cubes in my mouth cos of my addiction! So I do not remember how much mango I ultimately used. So, I would ask you to adjust the mango as per the taste, its sweetness etc :)
Basic Information
Prep Time
:
8 hours to 1 day
Ingredients
1 cup (about 250 gms) dry black beans (or use 3 cups of canned beans for a quick version)
1 bay leaf
1 tsp Epazote (optional)
1 large (about 300-320 gms) Mexican mango (or as per taste)
1 large red onion,chopped finely (with a little set aside for garnish)
1/2 tbsp ginger paste
1 tsp ground cumin or use cumin seeds
1 jalapeno, sliced (or as per taste. You can remove the seeds for mild heat)
Juice and zest of one large lemon (or as per taste)
salt to taste
Cilantro sprigs for garnish
Method
1
Rinse and then soak the black beans overnight in cold water. Drain well. Though black beans technically are not required to be soaked, I  personally vouch for soaking them for one main (and the biggest) reason. It helps to drastically reduce not only the cooking time but also in ..err...flatulence!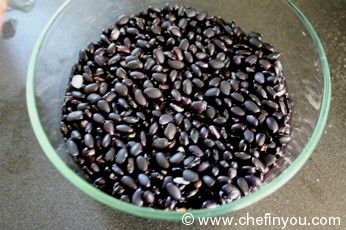 2
Add the beans with enough water to cover it along with bay leaves and Epazote, if using.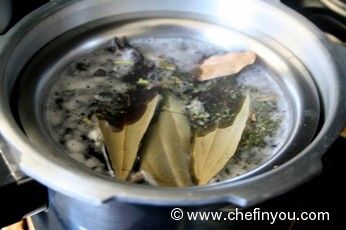 3
I pressure cook it for 3-4 whistles - about 10 minutes. You can cook it on a stove top too and it probably might take about 1 hour to 1-1/2 hour. Once cooked remove the bay leaves.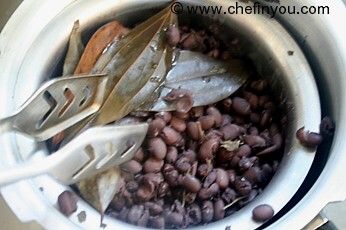 4
Meanwhile chop the mango into cubes after peeling the skin.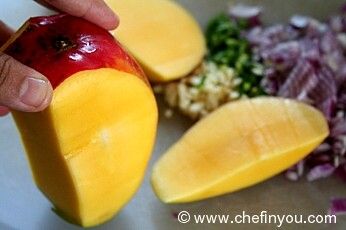 5
In a pan, add 1 tsp of oil and saute cumin, chopped onions, ginger paste and jalapeno along with salt. You can also add few cloves of chopped garlic if you like.
6
Add the cooked beans to this and give it a stir.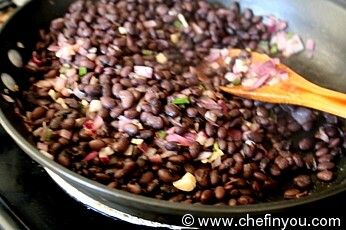 7
Next add half the mango to the beans and give it a stir. Mash some of the beans and mango together. It helps to get some of the mango sauce well combined with the beans for the flavor. Remove from heat and set aside for 10 minutes
8
Once slightly cooled, add them in a bowl, squeeze some lemon juice and zest to the beans.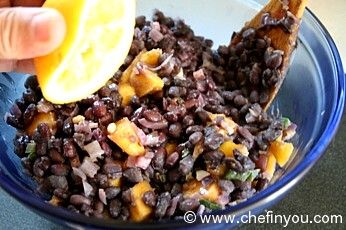 9
Add the remaining onion and mango to the mix along with cilantro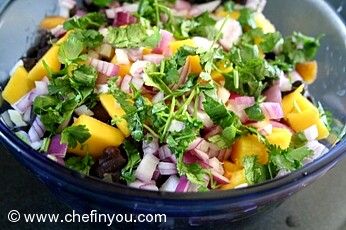 10
and toss it until well combined. You can add in more lemon juice or a mix of lemon and lime to it.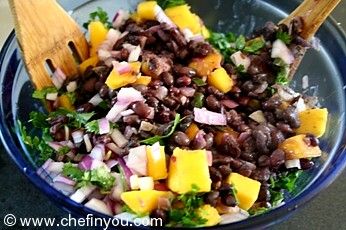 Serve this cold or warm  with tortillas, plain rotis or as a dip for some baked corn chips. Works as both an appetizer as well as a side dish.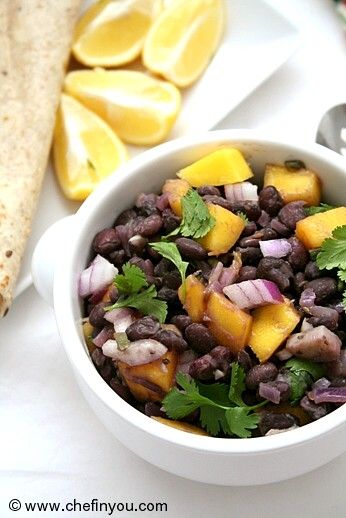 Related Recipes You May Like
Did you make this recipe?
Please click below to share your experiences while you were making this recipe. Thanks for your input!
Have a favorite recipe?
Know a family recipe your mom used to make? Or maybe a go to recipe that works everytime? Share it with your fellow foodies!