Caldo Verde (Portuguese Kale Soup)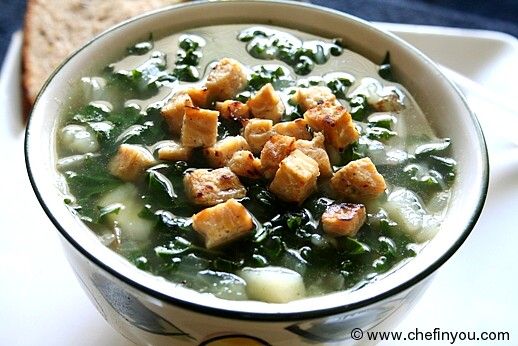 A well rested break is both a boon and a bane. Obviously, Boon is cos you get to enjoy a different scenery from the usual routine which suddenly now looks so mundane, you get to treat yourself specially instead of feeling even lesser than a mule's ass(!!), the very same 'what-kind-of-stupid-life-i-am-leading' starts looking much more meaningful and more importantly YOU DON'T HAVE TO COOK!
"Gasp!! Did we just hear you saying THE taboo food blogger line"
- asks your vertically arched eyebrows. Well Yes! you very well did. I sometimes get so weary of cooking that I can very well stay hungry than cook. I simply marvel at the energy of few bloggers who can maintain
more than one blog
and
cook like its going out of fashion
. Point to self - Steal some of their energy!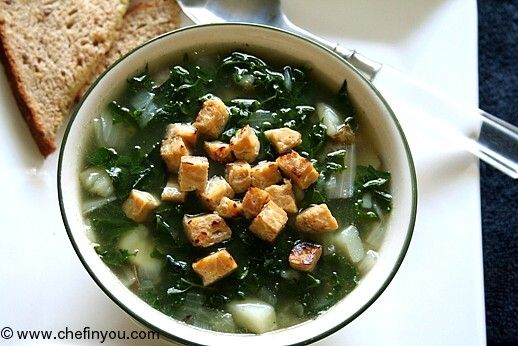 Anyways coming to the bane part. Now that one gets to indulge not only by way of having more time to do other stuff and forget the regular and to eat food cooked by someone else it becomes inevitable that one would overindulge. Oh well, at least I do and I very well did too. I ate too much of too many that I am sure its going to last me another whole year. To enjoy this at the end of this year, gotto get back to my normal routine which is what I did. Kick started it with earthy and simple foods the first of which was Caldo Verde, a wholesome uncomplicated Portuguese soup enriched with the nutrition of Kale.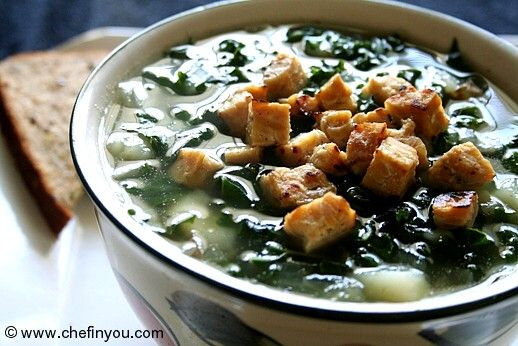 This is what
Wikipedia
has to say
"In Portugal, it is typically consumed during festivities, and almost always served with chouriço. Caldo verde originated from the province of Minho, located in northern Portugal. Although it originated from Minho, it is a national famous recipe used from the very north of Portugal to the south. The love for this soup has spread all over the world becoming a famous symbol of Portuguese cuisine. This traditional soup is mentioned in many books written by Camilo Castelo Branco. Since caldo verde is very simple and light, it is often consumed before a main course meal as well as a late supper. Caldo verde is also a favourite choice at many Portuguese festivities, celebrations, and weddings happening everywhere around the world."
Other soups that you might like:
Wheat Berry and Pinto Bean Soup
,
Celery Soup
,
Baked Onion Garlic Soup
,
Beetroot Soup (Borscht)
Ingredients
1 onion,chopped
2-3 garlic, minced
2-3 large potatoes,chopped
1 cup tempeh, cubed (optional)
1 bunch Kale (about 1/2 pound)
4-5 cups of Vegetable broth/water
salt and pepper to taste
Tips
Note:
Non-Vegetarians can replace tempeh with chouriço. You can also use collard/turnip greens instead of kale.
Method
1
Heat 1/2 tbsp of oil in a large saucepan. Saute the cubed tempeh until lightly fried about 2-3 min. I wanted to not only replace the traditional sausage in the soup but also wanted to incorporate protein in my soup. If you are not finicky like me about Protein, you can skip it for this recipe. Set the lightly fried tempeh aside.
2
In the same pan, add the onions and garlic along with salt. No oil is needed. The salt will help to sweat the onions out in 1-2 min. Add the potatoes and stir for another 1-2 minutes.
3
Add the vegetable broth (or water) along with pepper, close the lid and cook for 5-8 minutes or until the potatoes are cooked and mushy.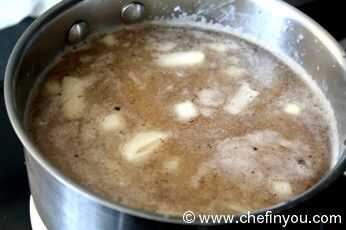 4
At this point you can either blend the potatoes in a processor or if you want it chunky like me (I keep it that way when a soup is my main course), simply mash the mixture lightly with a masher. You can also blend it using hand blender. Whatever works for you.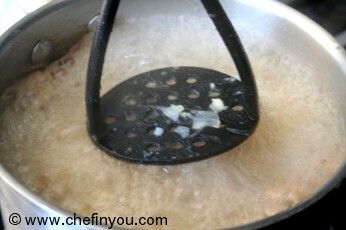 5
Chop the kale into very fine julienne. You can add as much as you like - more the better. Its a Kale soup after all.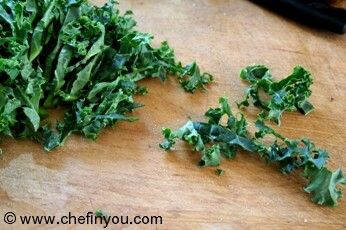 6
Add the kale directly to the soup and let it simmer for 2-3 minutes or until the greens have wilted.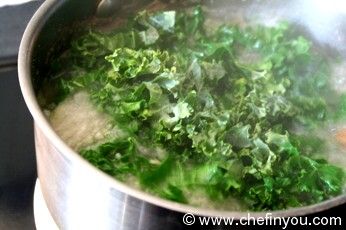 Serve warm topped with tempeh. We enjoyed it with
home made crusty whole wheat bread
Related Recipes You May Like
Did you make this recipe?
Please click below to share your experiences while you were making this recipe. Thanks for your input!
Have a favorite recipe?
Know a family recipe your mom used to make? Or maybe a go to recipe that works everytime? Share it with your fellow foodies!